01.12.2012 | Research article | Ausgabe 1/2012 Open Access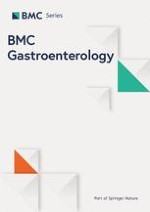 Mitochondrial uncouplers inhibit hepatic stellate cell activation
Zeitschrift:
Autoren:

Eduardo L Guimarães, Jan Best, Laurent Dollé, Mustapha Najimi, Etienne Sokal, Leo A van Grunsven
Wichtige Hinweise
Electronic supplementary material
The online version of this article (doi:
10.​1186/​1471-230X-12-68
) contains supplementary material, which is available to authorized users.
Competing interests
The authors declare that there is no duality of interest associated with this manuscript.
Authors' contributions
ELG: study concept, experimental design, acquisition of data, drafting of the manuscript. JB and LD: acquisition and isolation of human HSCs. MN and ES: acquisition of human liver donors and liver material; LAvG: study supervision, experimental design and critical revision of the manuscript. All authors read and approved the final manuscript.
Background
Hepatic stellate cells (HSCs) are liver pericytes, located between hepatocytes and sinusoidal endothelial cells, participating in different aspects of liver physiology, with a fundamental function in vitamin A metabolism [
1
]. HSCs are extensively studied due to its role as the major extracellular matrix producing cell upon hepatic injury, playing a key role in the progression of chronic liver diseases. In the healthy liver it presents a so-called quiescent phenotype, containing lipid droplets rich in retinol and with a balanced extracellular matrix production. Upon chronic liver injury HSCs activate, a process where the cell loses its quiescent phenotype and acquires an activated myofibroblastic one. This phenotype presents a high proliferation rate, produces large amounts of extracellular matrix and inflammatory cytokines, stimulating a positive feedback of inflammatory cell recruitment and collagen deposition [
2
].
Mitochondria are well established contributors to alcohol induced liver disease. For instance, chronic alcohol intake reduces ATP levels in hepatocytes through decreased translation of mitochondrial proteins or damaging mitochondrial DNA, further increasing cell damage [
3
,
4
]. Recently, mitochondria activity has also been recognized as a possible factor in the development of non-alcoholic fatty liver disease (NAFLD) [
5
]. One of the first links between NAFLD and mitochondria disturbance came from studies showing that obesity induces the expression of uncoupling proteins in hepatocytes, which decrease the mitochondrial proton gradient and hepatic ATP levels [
6
]. Reduced ATP levels can sensitize and induce hepatocyte apoptosis and aggravate liver injury [
5
].
Even though mitochondrial uncoupling and ATP depletion is associated with different pathologies, several studies indicate that mild uncoupling, a modest decrease in ATP levels, can elicit a number of physiological beneficial effects when applied to diseases related to obesity, such as diabetes and NAFLD. For example, chemical uncouplers, molecules that stimulate the leakage of protons through the mitochondrial inner membrane, are known to induce mitochondrial biogenesis, a process that ameliorates diabetes type 2 [
7
]. Mild mitochondrial uncoupling also inhibits lipid accumulation in adipocytes, indicating such mechanism as an appealing anti-obesity strategy [
8
]. Interestingly, mild chemical uncoupling can mimic the effects of calorie restriction, increasing life span and reducing reactive oxygen species (ROS) levels in mice [
9
]. Although the consequences of mitochondrial activity have been extensively studied in hepatocytes, little is known about its role in HSC physiology. We studied the effect of mild mitochondrial uncoupling in HSCs using the two different chemical uncouplers Carbonyl cyanide-p-trifluoromethoxyphenylhydrazone (FCCP) and Valinomycin. We show that mild chemical uncoupling is able to reduce several aspects of HSC activation indicating that HSC mitochondrial metabolism may be a new target in the prevention of liver fibrosis.
Methods
Isolation of mouse and human hepatic stellate cells
Animals were used in accordance with institutional ethical guidelines. The mouse HSC isolation method, from approximately 20 week old male mice (30 grams), used in this study was previously described [
10
]. Human HSCs were isolated as follows: human liver non-parenchymal cells were obtained from the left liver segment originating from a healthy cadaveric donor. These cells were obtained after two step collagenase perfusion of the liver segment, filtration and two low speed centrifugations of the cell suspension [
11
]. Next, human HSCs were isolated by nycodenz (Myegaard, Oslo, Norway) gradient centrifugation. For protein analyzes, 250 × 10
3
human HSCs were plated in 10 cm
2
dishes, while 40 × 10
3
and 20 × 10
3
were plated in 6 well and 24 well plates for RNA and proliferation analyzes, respectively. The protocol and experiments were approved by the ethical committees of the St-Luc Hospital and faculty of Medicine of Université Catholique de Louvain.
After isolation, human and mouse cells were cultured in Dulbecco's modified Eagle's medium with 10% fetal bovine serum at 37°C, in a humidified atmosphere with 5% CO2. Treatment with chemical uncouplers or DMSO as a vehicle was performed from day one of culture and after every two days, until cells were collected for the different assays. Bright field images were taken with an Axioskop light microscope (Carl Zeiss, Zaventem, Belgium).
RNA expression
After treatment with uncouplers and transforming growth factor-β (TGF-β) (R&D Systems), total RNA was extracted using the RNeasy Mini-kit (Qiagen, Hilden, Germany). RNA was reverse-transcribed using the RevertAid™ Premium Reverse Transcriptase (Fermentas, St. Leon-Rot, Germany), performed at 25°C for 10 minutes and at 37°C for 40 minutes. For human HSCs, Maxima® SYBR green qPCR Master Mix (Fermentas) was used. For the semi-quantitative PCR of mouse HSCs we used an Applied Biosystems 7500 Real-Time PCR System (Applied Biosystems, Foster City, CA, USA). Primers (view Table
1
for details) were produced by Invitrogen (Paisley, UK) and probes by Roche (universal probe library, Mannheim, Germany). A 2x Maxima Probe qPCR Master Mix was used (Fermentas, St. Leon-Rot, Germany) to analyze gene expression as described previously [
12
].
Table 1
Primer sequences, probes and accession numbers of transcripts, used for RT PCR quantification
|   Gene | Primers sequence (Left primer/Right primer) | Probe | GenBank accession number | Product lenght |
| --- | --- | --- | --- | --- |
| 18S | 5′-aaatcagttatggttcctttggtc-3′/ | 55 | AY_248756 | 67 |
| | 5′gctctagaattaccacagttatccaa-3′ | | | |
| PGC1α | 5′- cagtcgcaacatgctcaag-3′/ | 6 | NM_008904 | 73 |
| | 5′- tggggtcatttggtgactct-3′ | | | |
| Tfam | 5′- caaaggatgattcggctcag-3′/ | 97 | NM_009360 | 92 |
| | 5′- aagctgaatatatgcctgcttttc-3′ | | | |
| CoxIV | 5′- tcactgcgctcgttctgat-3′/ | 7 | NM_37829.1 | 67 |
| | 5′- cgatcgaaagtatgagggatg-3′ | | | |
| Ndufs7 | 5′- gtggtgaccaagctggatg-3′/ | 104 | NM_029272 | 67 |
| | 5′- cgaaggtcataggccacag-3′ | | | |
| HO-1 | 5′- gtcaagcacagggtgacaga-3′/ | 4 | NM_010442 | 77 |
| | 5′- atcacctgcagctcctcaaa-3′ | | | |
| Smad6 | 5′- gttgcaacccctaccacttc -3′/ | 70 | NM_008542 | 76 |
| | 5′- ggaggagacagccgagaata -3′ | | | |
| Smad7 | 5′- acccccatcaccttagtcg -3′/ | 63 | NM_001042660 | 75 |
| | 5′- gaaaatccattgggtatctgga -3′ | | | |
| α-SMA | 5′-ccagcaccatgaagatcaag-3′/ | 58 | NM_007392 | 70 |
| | 5′-tggaaggtagacagcgaagc-3′ | | | |
| Pdgfrβ | 5′-tgcagagacctcaaaaggtg-3′/ | 63 | NM_008809.1 | 112 |
| | 5′- cctgatcttcctcccagaaa-3′ | | | |
| Procol1a1 | 5′-acctaagggtaccgctgga-3′/ | 19 | NM_007742 | 97 |
| | 5′-tccagcttctccatctttgc-3′ | | | |
| α-SMA* | 5′-ctgttccagccatccttcat-3′/ | | NM_001141945 | 70 |
| | 5′-tcatgatgctgttgtaggtgg-3′ | | | |
| PROCOL1A1* | 5′-gacacagaggtttcagtgg-3′/ | | NM_000088.3 | 264 |
| | 5′-cacccttagcaccaacag-3′ | | | |
| 18S* | 5′-aagacggaccagagcgaaag-3′/ | | K03432 | 98 |
| | 5′-tcggaactacgacggtatct-3′ | | | |
| PDGFR-β* | 5′-cccttatcatcctcatcatgc-3′/ | | NM_002609.3 | 60 |
| | 5′-ccttccatcggatctcgtaa-3′ | | | |
Western blotting
Cells were exposed to lysis buffer (170 mM NaCl, 10 mM EDTA, 50 mM Tris pH 7.4, 50 mM NaF, 0.2 mM dithiothreitol and 0.5% NP-40) plus protease and phosphatase inhibitors. Protein concentration was measured using a bicinchoninic acid (BCA) determination kit (Pierce Chemical Co., Rockford, IL, USA). Ten microgram of protein was separated on 12% Tris–glycine SDS-Polyacrylamide gels and transferred onto polyvinyldifluoride (PVDF) membranes (Amersham Biosciences, Little Chalfont, UK) using a semidry blotting apparatus (ApolloTM, Continental Lab Products, San Diego, CA, USA). Following, membranes were blocked in 5% milk in TBS-Tween. After overnight incubation with primary antibodies at 4°C (anti-α-smooth muscle actin, 1/1000; anti-β-actin, 1/10000, both from Sigma, St Louis, MO, USA) and 1 hour incubation with horseradish peroxidase conjugated secondary antibodies (1/20000) (Dako, Glostrup, Denmark), proteins were visualized with the ECL chemiluminescence detection system (Pierce Chemical Co.). Densitometry analysis was performed using Image J.
Immunocytochemistry
Freshly isolated mouse and human HSCs were cultivated on glass cover slips in a 24 well plate and fixed with 4% paraformaldehyde for 10 minutes. Cells were permeabilized by 0.1% Triton-X 100 (in PBS with 1% bovine serum albumin) for 30 minutes followed by washing. Mouse HSCs were incubated with monoclonal antibody against α-Smooth Muscle actin (α-SMA) coupled with Cy3 while human HSCs were incubated with unlabeled anti-α-SMA (both from Sigma-Aldrich, St. Louis, MO, USA), at 4°C, overnight. After washing with PBS, human HSCs were incubated with secondary antibody conjugated with Alexa 488 (1:300) (Molecular Probes, Eugene, USA) for 1 hour at room temperature. Following washing and mounting with ProLong® Gold antifade reagent with DAPI (Invitrogen), cells were analyzed by fluorescent microscopy (Carl Zeiss, Zaventem, Belgium).
Measurement of ROS
Intracellular ROS levels were determined by measuring the fluorescence of 2′,7′- dichlorofluorescein diacetate (DCFH-DA) as described previously [
10
]. In experiments using FCCP and Valinomycin (purchased from Sigma-Aldrich, St. Louis, MO, USA), cells were pre-incubated for the indicated time points with uncouplers. Cell samples were analyzed by using a fluorometer (Wallac 1420 Victor multilabel counter, Wallac Oy, Turku, Finland) with 485 nm excitation and 535 nm emission wavelenghts.
Viability assay
Cell toxicity and apoptosis induction upon mitochondrial uncoupler treatment was measured using the CytoTox-Fluor™ Cytotoxicity Assay and Caspase 3/7 Assay (Promega, Madison, USA) as indicated in the manufactures protocol. In brief, one thousand human or mouse HSCs were plated in dark 96 well plates and treated with increasing concentrations of FCCP, Valinomycin or cycloheximide (Sigma-Aldrich). After 2 and 24 hours, cells were loaded with the cytotoxicity fluorescent marker bis-alanylalanyl-phenylalanyl-rhodamine 110 and incubated at 37°C for 30 minutes. Following, fluorescence was quantified (Wallac 1420). Subsequently, cells were lysed and loaded with a luminogenic caspase-3/7 substrate and incubated for more 30 minutes at room temperature, followed by quantification of light emission as a function of caspase 3/7 activity.
Cell proliferation assay
Cell proliferation was analyzed by measuring DNA synthesis with the Click-it EdU Cell Proliferation Assay Kit (Invitrogen). 3,750 cells per cm2 were plated in the presence or absence of FCCP or Valinomycin in combination with Tin protoporphyrin IX dichloride (SnPP) (Tocris Bioscience, USA) from the first day of culture. After 24 hours, EdU labeling was initiated. After 18 or 48 hours, for human and mouse HSCs respectively, cells were formalin fixed and visualization of the EdU incorporation was obtained according to the manufacturer's instructions.
ATP levels measurement
ATP levels were determined using the ATP Determination Kit (Invitrogen). Briefly, 3000 cells/well were plated in white 96 well plates (Sigma, St. Louis, MO, USA). After two days in culture, cells were treated with FCCP and Valinomycin for 24 hours, followed by ATP determination as determined by manufacturer's instructions.
Statistical analysis
Statistical analyzes was performed using SPSS 16.0 (SPSS Inc., Chicago, USA). Data are expressed as mean ± standard mean. Differences among groups were analyzed for statistical significance by one-way ANOVA followed by Tukey. Results were considered significant when p < 0.05. All data shown are representative results of at least three independent experiments.
Results
Discussion
Conclusion
The present study shows, for the first time, that mild mitochondrial uncoupling can inhibit HSC activation. Importantly, we also observed a reduction in fibrogenic features of human derived HSCs. Contrarily to mouse HSCs, which were treated with FCCP and Valinomycin still at the quiescent phenotype, the human HSCs used in this study presented an activated phenotype when treated (passage 7). Nonetheless, we still observed a decrease in fibrogenic features on both gene and protein levels. These last results show that mild mitochondrial uncoupling, additionally to its capacity to inhibit the first steps of HSC activation, is able to induce a decrease in activation features of already myofibroblastic HSCs. This is an important characteristic when considering possible applications in the treatment of liver fibrosis. In summary, we show that mild mitochondrial uncoupling can inhibit several aspects of HSC activation and indicates HSC mitochondrial metabolism as a possible new target for liver fibrosis therapy.
Acknowledgements
We would like to thank Tom Schouteet for his technical assistance. The work was funded by a Ph.D. grant from the research council of the Vrije Universiteit Brussel to E. L.M. Guimarães, an IWT project (SBO, "Hepstem") and a European Union FP7/Cosmetics Europe cofunded project (HeMiBio, ECGA #266777 only related to the human HSC experiments) to L.A. van Grunsven and funding from the Brussels region (ISRIB/"Brustem") to L.A. van Grunsven and E. Sokal.
Competing interests
The authors declare that there is no duality of interest associated with this manuscript.
Authors' contributions
ELG: study concept, experimental design, acquisition of data, drafting of the manuscript. JB and LD: acquisition and isolation of human HSCs. MN and ES: acquisition of human liver donors and liver material; LAvG: study supervision, experimental design and critical revision of the manuscript. All authors read and approved the final manuscript.