01.12.2008 | Review | Ausgabe 1/2008 Open Access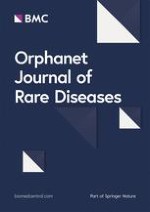 Mixed cryoglobulinemia
Zeitschrift:
Autor:

Clodoveo Ferri
Wichtige Hinweise
Electronic supplementary material
The online version of this article (doi:
10.​1186/​1750-1172-3-25
) contains supplementary material, which is available to authorized users.
Competing interests
The author declares that they have no competing interests.
Abbreviations
MPGN
membranoproliferative glomerulonephritis
B-CLL
B-cell chronic lymphocytic leukemia
MLDUS
monotypic lymphoproliferative disorder of undetermined significance
PCR
polymerase chain reaction
VLDL
very low-density lipoprotein
MALT
mucosa-associated lymphoid tissue
HIV
human immunodeficiency virus
pSS
primary Sjögren's syndrome
LAC-diet
low-antigen-content diet.
Disease name and synonyms
Mixed cryoglobulinemia (type II or type III), cryoglobulinemic vasculitis.
Definition
Epidemiology
The prevalence of MC presents great geographic heterogeneity; the disease is more common in Southern Europe than in Northern Europe or Northern America [
3
–
13
]. It is considered to be a rare disorder, however, yet there are no adequate epidemiological studies regarding its overall prevalence. Given its clinical polymorphism, a single manifestation (skin vasculitis, hepatitis, nephritis, peripheral neuropathy,
etc
.) is often the only apparent or clinically predominant feature, so that MC patients are often referred to different specialties (Fig.
3
). A correct diagnosis might thus be delayed or overlooked entirely. Consequently, the actual prevalence of MC might be underestimated.
×
For the same reasons, the clinical pattern of the MC syndrome may vary largely among patients series referred to different tertiary care facilities [
3
,
6
,
8
–
14
] (Fig.
3
).
It has been estimated that low levels of circulating mixed cryoglobulins can be detected in over 50% of HCV-infected individuals, while overt cryoglobulinemic syndrome develops in about 5% [
3
,
15
,
16
]. Because of the wide diffusion of HCV infection worldwide, a growing incidence of HCV-related MC can be expected, especially in underdeveloped countries where HCV in the general population is rather prevalent [
3
,
17
].
The prevalence of 'essential' MC is reported as approximately 1:100,000 but this term is now referred to a minority of MC patients. The female-to-male ratio is 3:1.
Clinical description
Etiopathogenesis
Diagnostic methods
Differential diagnosis
Management
Considering its complex etiopathogenesis and clinical polymorphism, the treatment of MC syndrome is particularly challenging. For a correct therapeutic approach, three important factors (Fig.
6
), namely, the HCV infection, the presence of autoimmune disorder, and the possible neoplastic complications should be considered [
3
,
25
]. Following the main steps of the etiopathogenetic process, from HCV infection to B-lymphocyte proliferation, and lastly to cryoglobulinemic vasculitis (Fig.
8
), the disease can be treated at different levels by means of etiologic, pathogenetic, and/or symptomatic therapies. Since HCV represents the main causative factor of the disease by exerting a chronic stimulus on the immune-system [
3
,
8
–
12
,
14
,
24
], an attempt at HCV eradication by alpha-interferon treatment should be done in all cases of HCV-associated MC [
3
,
11
,
12
,
24
,
105
–
109
]. However, the beneficial effect observed with this drug is often transient and possibly associated with important immune-mediated side effects such as peripheral sensory-motor neuropathy, thyroiditis, and rheumatoid-like polyarthritis [
51
–
54
]. Probably, in predisposed subjects alpha-interferon (which is both antiviral and immunomodulating agent) can trigger or exacerbate some pre-existing, often subclinical, symptoms. Unfortunately, there are no available parameters for predicting this harmful complication; thus, alpha-interferon therapy should be avoided at least in those patients with clinically evident peripheral neuropathy. On the whole, the usefulness of alpha-interferon treatment in MC patients is limited by the low rate of responders and frequent side effects. The association of alpha-interferon and ribavirin might achieve the eradication of HCV infection in a higher number of treated subjects, even if the long-term effects are inconstant and often unpredictable [
3
,
11
,
12
,
24
,
105
–
114
]. After careful patient's evaluation of contraindications and/or possible side effects, a standard treatment with alpha-interferon and ribavirin [
111
] should be attempted in MC patients with prevalent clinico-pathological findings of chronic hepatitis (Fig.
9
,
10
). Controlled clinical trials might establish the actual usefulness of antiviral therapy in HCV-associated MC and better evaluate the predictive markers of response to treatment (HCV genotypes, host HLA alleles?). Hopefully, with the rapid growth of molecular biology a vaccine against HCV might be available in the near future. A vaccine-based therapy [
115
] with recombinant HCV proteins in HCV-infected individuals could be able to prevent the progression of viral infection and possibly to interrupt the self-perpetuating autoimmune mechanism underlying the MC.
×
×
×
In patients with 'essential' MC the immunosuppressive treatment,
i.e
. cyclophosphamide or rituximab, is still the first-line intervention (Fig.
9
,
10
). For HCV-associated MC, immunomodulating/immunosuppressive treatments should be considered, especially in patients with more severe complications. These treatments include steroids, low-antigen-content (LAC) diet, plasma exchange, and immunosuppressors [
3
,
11
,
12
,
24
,
116
–
122
]. In particular, both traditional plasma exchange and double-filtration plasma exchange are able to markedly reduce the levels of circulating immune-complex, especially the cryoglobulins [
24
,
121
,
122
]. Oral cyclophosphamide (50–100 mg/day for 2–6 weeks) during the tapering of apheretic sessions can reinforce the beneficial effect of plasma exchange; moreover, it can prevent the rebound phenomenon that may be observed after the aphaeresis discontinuation [
24
]. Plasma exchange is particularly useful in severe MC complications such as active membranoproliferative glomerulonephritis (Fig.
8
,
9
,
10
).
LAC-diet is a particular dietetic treatment that can improve the clearance circulating immune-complexes by restoring the activity of the reticulo-endothelial system, overloaded by large amounts of circulating cryoglobulins [
122
,
123
]. LAC-diet has been designed to reduce the input of alimentary macromolecules crossing the mucosal barrier of the gut; some foods, particularly dairy products and eggs, present a potential antigenic activity, and consequently might be involved in the pathogenesis of some diseases in humans. The reduction of the alimentary input of macromolecules directed to mononuclear phagocytic system may improve its function in those conditions characterized by abnormal endogenous production of immune-complexes responsible for organ damage,
i.e
. mixed cryoglobulinemia and other immune-complex mediated diseases. An impaired function of mononuclear phagocytic system has been also demonstrated in patients with IgA nephropathy [
123
]. Given the above pathogenetic considerations, LAC-diet has been usefully employed in patients with clinically mild MC symptoms and IgA nephropathy (reduction of 24-hour proteinuria). Usually, LAC-diet and/or low dosage of steroids (6-methyl-prednisolone 2–4 mg/day) may be sufficient to improve mild manifestations (arthralgias, sporadic purpura,
etc
.) of the MC (Fig.
8
,
9
,
10
); patients with mild-moderate symptoms, such as palpable purpura, are particularly sensitive to the smallest variations of daily steroid dosage (1–2 mg).
In clinical practice, MC treatment should be tailored for the single patient according to the severity of clinical symptoms (Fig.
9
,
10
). Therefore, patients with severe vasculitic manifestations must be promptly treated with high doses of steroids and/or plasma exchange and/or cyclophosphamide or rituximab. Some recent clinical studies suggested that sequential or combined antiviral/immunosuppressive treatment could represent a rather useful therapeutic strategy [
124
,
125
]. The rationale of such aggressive therapies could be particularly indicated in MC patients with major clinical manifestations and partial/transitory remission after standard treatments [
25
,
124
,
125
]. On the contrary, clinically asymptomatic patients usually do not need any treatment, even in the presence of high levels of cryocrit. In all cases, a careful clinical monitoring of the disease is mandatory, with particular attention to neoplastic complications. Preliminary studies suggested the synergic affect of some therapies in association with antiviral treatment, namely the cyclosporine A or tumor necrosis factor inhibitors, in the setting of chronic hepatitis type C [
126
–
128
]. These agents may contribute to viral clearance and/or to improve the immune-mediated hepatic and extrahepatic inflammatory manifestations; future clinical trials might evaluate their potential usefulness even in MC, possibly in selected patient subsets.
Prognosis
The natural history of MC is not predictable and strongly depends on concomitant diseases and complications and response to treatment. Morbidity due specifically to cryoglobulinemia may also be significant (infections, cardiovascular diseases, progressive renal failure, advanced neuropathy). The overall prognosis is worse in patients with renal disease, liver failure, lymphoproliferative disease, and malignancies. Mean survival is estimated to be approximately 50–60% at 10 years after diagnosis [
24
]. Careful monitoring of life-threatening MC complications (mainly nephropathy, widespread vasculitis, and B-cell lymphoma or other malignancies) should be carried out in all MC patients.
Unresolved questions
MC was first described as distinct disorder in 1966 [
5
]; 25 years later the discovery of the strong association between MC and HCV infection [
3
,
11
,
12
,
25
,
70
] represented a decisive contribute for a better understanding of the etiopathogenetic mechanisms responsible for the disease, and consequently for an adequate therapeutic strategy.
However, the following points remain still to be clarified:
1- Since the etiopathogenesis of HCV-associated MC syndrome is a multifactorial and multistep process, two important aspects need further investigations: a) HCV may represent the simple triggering factor or it could also contribute to self-perpetuating mechanism of the disease: b) nature and role of other etiopathogenetic co-factors;
2- The etiopathogenesis of 'essential' MC syndrome;
3- The actual role of HCV eradication on the natural history of HCV-associated MC syndrome;
4- The usefulness of sequential or combined antiviral/immunesuppressive treatments compared to traditional therapeutic approach.
This article is published under license to BioMed Central Ltd. This is an Open Access article distributed under the terms of the Creative Commons Attribution License (
http://​creativecommons.​org/​licenses/​by/​2.​0
), which permits unrestricted use, distribution, and reproduction in any medium, provided the original work is properly cited.
Competing interests
The author declares that they have no competing interests.