01.12.2018 | Research article | Ausgabe 1/2018 Open Access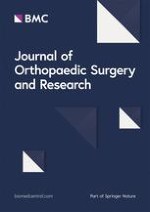 Modic changes in the cervical endplate of patients suffering from cervical spondylotic myelopathy
Zeitschrift:
Autoren:

Pan Qiao, Tian-Tong Xu, Wen Zhang, Rong Tian
Abstract
Background
The distribution and related factors of Modic changes (MC) in the lumbar spine has been evaluated. In the present study, the MC in the cervical endplate of patients with cervical spondylotic myelopathy (CSM) was investigated.
Methods
A total of 6422 cervical endplates of 539 patients suffered from CSM (259 males and 280 females) with mean age of 46 ± 5.2 years. All patients underwent MRI scans and X-ray for evaluating the distribution of MC. The clinical information were recorded.
Results
It was observed that 13.0% of patients and 2.4% of endplates showed MC. There were 3.7, 7.6, and 1.7% of cases diagnosed as types I, II, and III, respectively, suggesting MC were corrected with disc degeneration. The incidence rates of MC were 0, 0.3, 0.6, 0.9, 0.7, and 0.2%, respectively, in different intervertebral disc segments C2–3, C3–4, C4–5, C5–6, C6–7, and C7T1. Disc degeneration, segment, disease course, and age were statistically related to the MC. Patients over the age of 40 more easily suffered from MC.
Conclusions
MCs manifested as type II mainly in patients with CSM. The incidence was highest in the C5–6 segment. Disc degeneration greatly contributed to the occurrence of MC.