01.12.2014 | Brief Report | Ausgabe 12/2014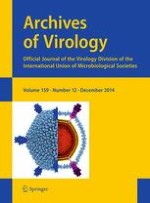 Molecular characterization of yam virus X, a new potexvirus infecting yams (
Dioscorea

spp) and evidence for the existence of at least three distinct potexviruses infecting yams
Zeitschrift:
Autoren:

Isabelle Acina Mambole, Lydiane Bonheur, Laurence Svanella Dumas, Denis Filloux, Rose-Marie Gomez, Chantal Faure, David Lange, Fabiola Anzala, Claudie Pavis, Armelle Marais, Philippe Roumagnac, Thierry Candresse, Pierre-Yves Teycheney
Wichtige Hinweise
I. A. Mambole and L. Bonheur contributed equally to this work.
The nucleotide sequences reported in this work have been deposited in the GenBank database under accession numbers KJ711908, KJ729592 to KJ729598, and KJ815096 to KJ815104.
Abstract
The genome of yam virus X (YVX), a new member of the genus
Potexvirus
from yam (
Dioscorea trifida
), was completely sequenced. Structural and phylogenetic analysis showed that the closest relative of YVX is nerine virus X. A prevalence study found YVX only in plants maintained in Guadeloupe and showed that it also infects members of the complex
D. cayenensis rotundata
. This study provides evidence for the existence of two additional potexviruses, one of which infects
D. nummularia
in Vanuatu and the other,
D. bulbifera
and
D. rotundata
in Haiti and
D. trifida
and
D. rotundata
in Guadeloupe. This work also shows that existing potexvirus-specific degenerate primers targeting the ORF1-encoded polymerase domain are well suited for the identification of the three potexviruses reported here.