01.12.2019 | Original Article | Ausgabe 1/2019 Open Access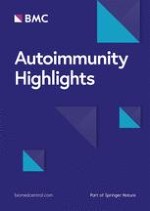 Neutrophil/lymphocyte ratio and lymphocyte/monocyte ratio in ulcerative colitis as non-invasive biomarkers of disease activity and severity
Zeitschrift:
Autoren:

Ashraf M. Okba, Mariam M. Amin, Ahmed S. Abdelmoaty, Hend E. Ebada, Amgad H. kamel, Ahmed S. Allam, Omar M. Sobhy
Introduction
Methodology
Patient selection
This case–control study included eighty patients newly diagnosed as ulcerative colitis. Participants were recruited from the gastroenterology and internal medicine department, Ain Shams University hospital over a period of 2 years (January 2015 to January 2017). We further classified the eighty patients into two groups of forty each based on clinical, laboratory, radiological, endoscopic, and histological findings. Group 1 (40 patients with active disease) and group 2 (40 patients with inactive disease). None of the participants was on medical treatment (e.g. corticosteroids, azathioprine) or had infectious colitis (based on positive stool culture). Patients with any infections, hematological or neoplastic disorders, chronic renal failure, chronic liver or heart diseases or autoimmune diseases were excluded. Another 40 group-matched healthy individuals were recruited for this study and served as a control group. The study protocol was approved by the Research, Ethical Committee of Ain Shams University. All participants did sign an informed written consent.
Study design
All participants were subjected to detailed history and clinical examination with special prominence on abdominal pain, significant weight loss, rectal bleeding, diarrhea, constipation, nausea, tenesmus, abdominal distension, passage of mucus, vomiting, low-grade fever, and positive family history of inflammatory bowel diseases. Complete blood count with differential leukocyte ratios (NLR and LMR), CRP, ESR, total serum protein, serum albumin and stool analysis were done as routine laboratory investigations. Stool culture and sensitivity to exclude the presence of infection were done whenever needed. Radiological investigations including abdominal ultrasound to exclude the presence of associated diseases or complications were performed.
Colonoscopy and Mayo score
Total colonoscopy with intubation of terminal ileum was performed and multiple biopsies were taken. The disease was divided according to the site and extent of the colonic involvement as the following according to the Montreal classification: ulcerative proctitis, proctosigmoiditis, left side colitis, extensive colitis (> splenic flexure) and pancolitis. The endoscopic assessment of ulcerative colitis was categorized according to the endoscopic pictures as the following: inactive disease (normal mucosa), mild (erythema, decreased vascular pattern, mild friability), moderate (marked erythema, erosions, marked friability) and severe (spontaneous bleeding, ulcerations, pseudo-polyps). The disease activity of UC was evaluated using Mayo UC score and the disease was considered active if the score was > 2 and in remission if the score was = 0–1 [
20
].
White blood cells (WBC) with differential count (NLR and LMR)
Complete blood picture with WBC differential was analyzed using a Coulter counter (T660; Beckman Coulter, Brea, CA). Each type of leukocyte was expressed as a percent of the total number of WBCs. The percent value was multiplied by the total leukocytic count to calculate the absolute value. The NLR was calculated from the differential count by dividing the absolute neutrophil count by the absolute lymphocyte count. The LMR was calculated from the differential count by dividing the absolute lymphocyte count by the absolute monocyte count.
Statistical analysis
Data management and analysis were performed using IBM Statistical Package of Social Sciences (SPSS) version 23, USA. Descriptive data were generated for all variables. Qualitative data were expressed as (numbers and percentages) and compared using Chi-square test. Quantitative data were expressed as mean ± standard deviation for parametric and median with inter-quartile range (IQR) for non-parametric. Comparison between more than two groups with quantitative data of parametric distribution was done by using One Way ANOVA test followed by post hoc analysis using LSD test. Comparison between more than two groups with quantitative data of non-parametric distribution was done by using Kruskal–Wallis test followed by post hoc analysis using Mann–Whitney test. Comparison between two groups with quantitative data of parametric distribution was done by Independent t-test. Spearman's correlation was used to analyze the correlation between quantitative parameters. A multivariate logistic regression analysis model was applied to take the activity as the dichotomous outcome to assess predictors of activity with its odds ratio and 95% confidence interval. Receiver operating characteristic curve (ROC) was used to assess the best cut off value with its sensitivity, specificity, positive predictive value, negative predictive value and area under the curve (AUC) for the predictors of activity. The confidence interval was set to 95% and the margin of error accepted was set to 5%. So, the p values < 0.05 was considered statistically significant [
21
].
Results
Discussion
The current study demonstrated significant elevation of both absolute neutrophilic count and NLR in patients with active UC compared with inactive UC patients and controls while the absolute lymphocytic count was significantly lower. Moreover, in the multivariate logistic regression analysis, NLR together with CRP were found to be an independent markers that were capable of differentiating active UC from inactive UC. These results match those observed in earlier studies.
The current study found significant elevation of absolute monocytic count and decrease of LMR in active UC patients compared with inactive UC patients and controls. The LMR cut off value for determining the UC disease activity was ≤ 2.88 with sensitivity and specificity of 90% and 90%. Also, after adjusting for the other inflammatory markers (ESR, and CRP), the LMR was found also to be an independent marker for discrimination of disease activity.
In conclusion, NLR and LMR had higher sensitivity and specificity than total WBCs and ESR with the benefit of being readily available with an affordable price. They are more useful when utilized together with serum laboratory inflammatory indices (CRP). NLR and LMR were independent indicators of active ulcerative colitis. NLR can also detect the degree and extent of endoscopic involvement. NLR and LMR could be used for assessment of endoscopically active UC activity to reduce the need for invasive endoscopies. NLR and LMR may guide in assessment of UC activity and mucosal injury, when colonoscopy is not available. We do need prospective multi center studies with large cohort of patients with long term follow up with studying various treatment effects on NLR and LMR ratios in UC patients. Besides, it would be prudent to analyze the efficacy of these biomarkers in Crohn's disease and their role as possible phenotypic markers.
Authors' contributions
Conception and design: AMO, MMA and AS; endoscopy for patients: AS, AK; collection and assembly of data: OS; data analysis and interpretation: HE, AK, AA; manuscript writing: AMO, MMA and AS. All authors read and approved the final manuscript.
Competing interests
The authors declare that they have no competing interests.
Ethical approval and consent to participate
All procedures performed in studies involving human participants were in accordance with the ethical standards of the institutional and/or national research committee and with the 1964 Helsinki declaration and its later amendments or comparable ethical standards.
Informed consent
An informed consent was obtained from all participants.
Publisher's Note
Springer Nature remains neutral with regard to jurisdictional claims in published maps and institutional affiliations.
Open Access
This article is distributed under the terms of the Creative Commons Attribution 4.0 International License (
http://​creativecommons.​org/​licenses/​by/​4.​0/​
), which permits unrestricted use, distribution, and reproduction in any medium, provided you give appropriate credit to the original author(s) and the source, provide a link to the Creative Commons license, and indicate if changes were made.