01.12.2014 | Research article | Ausgabe 1/2014 Open Access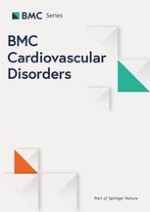 Optimal cutoff of the waist-to-hip ratio for detecting cardiovascular risk factors among Han adults in Xinjiang
Zeitschrift:
Autoren:

Shuang-Shuang Li, Shuo Pan, Yi-Tong Ma, Yi-Ning Yang, Xiang Ma, Xiao-Mei Li, Zhen-Yan Fu, Xiang Xie, Fen Liu, You Chen, Bang-Dang Chen, Zi-Xiang Yu, Chun-Hui He, Ying-Ying Zheng, Nuremanguli Abudukeremu, Jialin Abuzhalihan, Yong-Tao Wang
Wichtige Hinweise
Electronic supplementary material
The online version of this article (doi:
10.​1186/​1471-2261-14-93
) contains supplementary material, which is available to authorized users.
Shuang-Shuang Li, Shuo Pan contributed equally to this work.
Competing interests
The authors declare that they have no competing interests.
Authors' contributions
SSL, SP, YTM, and YNY conceived and designed the experiments. SSL, SP, YTM, YNY, XM, XML, ZYF, XX, FL, YC, BDC, ZXY, CHH, YYZ, NA, JA, and YTW performed the experiments. SSL, SP, and FL analyzed the data. YTM, YNY, XM, XML, ZYF, and XX contributed reagents, materials, and analysis tools. SSL, SP, and YTM wrote the manuscript. All authors read and approved the final manuscript.
Abstract
Background
The optimal cutoff of the waist-to-hip ratio (WHR) among Han adults in Xinjiang, which is located in the center of Asia, is unknown. We aimed to examine the relationship between different WHRs and cardiovascular risk factors among Han adults in Xinjiang, and determine the optimal cutoff of the WHR.
Methods
The Cardiovascular Risk Survey was conducted from October 2007 to March 2010. A total of 14618 representative participants were selected using a four-stage stratified sampling method. A total of 5757 Han participants were included in the study. The present statistical analysis was restricted to the 5595 Han subjects who had complete anthropometric data. The sensitivity, specificity, and distance on the receiver operating characteristic (ROC) curve in each WHR level were calculated. The shortest distance in the ROC curves was used to determine the optimal cutoff of the WHR for detecting cardiovascular risk factors.
Results
In women, the WHR was positively associated with systolic blood pressure, diastolic blood pressure, and serum concentrations of serum total cholesterol. The prevalence of hypertension and hypertriglyceridemia increased as the WHR increased. The same results were not observed among men. The optimal WHR cutoffs for predicting hypertension, diabetes, dyslipidemia and ≥ two of these risk factors for Han adults in Xinjiang were 0.92, 0.92, 0.91, 0.92 in men and 0.88, 0.89, 0.88, 0.89 in women, respectively.
Conclusions
Higher cutoffs for the WHR are required in the identification of Han adults aged ≥ 35 years with a high risk of cardiovascular diseases in Xinjiang.