22.02.2018 | Original Article | Ausgabe 1-2/2018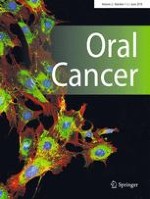 Oral and oropharyngeal cancer in Colombia: an experience in a middle-income country cancer institute (2004–2013)
Zeitschrift:
Autoren:

Constanza Pardo, Esther de Vries
Abstract
Aims
To provide demographical and clinical characteristics and estimations of 2-year overall survival (OS) of oral and oropharyngeal cancer (OOC) patients treated in the Colombian National Cancer Institute (INC) between 2004 and 2013.
Methods
All 1108 patients first treated at INC for OOC in the three periods, without a prior cancer diagnosis, were included in this study. The INC hospital-based cancer registry was cross-linked with governmental databases to obtain follow-up information on all patients. Probability of surviving 24 months since the date of entry at INC was estimated using Kaplan–Meier methods, using the log-rank test to evaluate differences between groups. In order to evaluate the relative effect of age, sex, clinical stage, anatomical site and type of health insurance on survival, we constructed a multivariate Cox proportional hazard model.
Results
The overall survival probability at 24 months was 48.2% (95% CI 45.3; 51.1), which was stable over time. Advanced age and clinical stage substantially affected overall survival, being 30.3% (95% CI 25.2; 35.4) for age > 70 and 34.7% (95% CI 29.4; 40.0) for stage IV disease. Hazard ratios were significantly higher for patients aged 70 and over [HR 1.99 (95% CI 1.41–2.79)] and advanced stage cancers [HR 2.16 (95% CI 1.55–3.01)], whereas patients with cancers of the tonsils or salivary glands had a strongly reduced risks compared to tongue and oral cavity cancer [HR 0.56 (95% CI 0.43–0.72)].
Conclusions
Oral and oropharyngeal cancer has a very poor prognosis which was stable over time. Considering the late stage at diagnosis, much can be gained by improving early detection and treatment.