01.12.2015 | Original clinical investigation | Ausgabe 1/2015 Open Access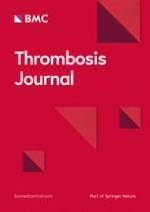 Oral rivaroxaban for Japanese patients with symptomatic venous thromboembolism – the J-EINSTEIN DVT and PE program
Zeitschrift:
Autoren:

Norikazu Yamada, Atsushi Hirayama, Hideaki Maeda, Satoru Sakagami, Hiroo Shikata, Martin H Prins, Anthonie WA Lensing, Masaharu Kato, Junichi Onuma, Yuki Miyamoto, Kazuma Iekushi, Mariko Kajikawa
Wichtige Hinweise
Electronic supplementary material
The online version of this article (doi:
10.​1186/​s12959-015-0035-3
) contains supplementary material, which is available to authorized users.
Competing interests
Bayer Yakuhin supported this study, was involved in the design of the trial, and collected and analyzed the data. MHP has received research support and honoraria, and has participated in advisory boards for Bayer HealthCare, Sanofi-Aventis, Boehringer Ingelheim, GlaxoSmithKline, Daiichi Sankyo, LEO Pharma, ThromboGenics, and Pfizer. AWAL, MKato, JO, YM, KI, and MKajikawa are employees of Bayer HealthCare Pharmaceuticals. NY has received honoraria for oral presentations from Daiichi Sankyo. AH has received research grants from Astellas Pharmaceuticals, AstraZeneka, MSD, Otsuka Pharmaceutical, Kissei Pharmaceutical, Kyowa Hakko Kirin, Kowa Pharmaceuticals, Sanofi, Daiichi Sankyo, Takeda Pharmaceuticals, Mitsubishi Tanabe Pharma, Boehringer Ingelheim, Nihon Medi-Physics, and Bayer Yakuhin, and has received funding from Sanofi, Daiichi Sankyo, Toa Eiyo, Novartis, and Bayer Yakuhin for participation in clinical trials. AH has received funding for endowed courses from Otsuka Pharmaceutical, Fukuda Denshi, Hokushin Medical, Boston Scientific, and Vega Life Corporation. SS has received funding from Bayer Yakuhin, Daiichi Sankyo, Takeda Pharmaceuticals, Otsuka Pharmaceutical, Novartis Pharma, and Boehringer Ingelheim for participation in clinical trials. The other authors declare that they have no competing interests.
Authors' contributions
NY, AWAL, and MKajkawa designed and supervised the study. NY, AWAL and MHP created the initial draft version of this manuscript. MKato performed the statistical analysis. All authors made critical revisions of the manuscript for important intellectual content, approved the final version of the manuscript for submission, and contributed to the study concept, design and implementation.
Abstract
Background
The global EINSTEIN DVT and PE studies compared rivaroxaban (15 mg twice daily for 3 weeks followed by 20 mg once daily) with enoxaparin/vitamin K antagonist therapy and demonstrated non-inferiority for efficacy and superiority for major bleeding. Owing to differences in targeted anticoagulant intensities in Japan, Japanese patients were not enrolled into the global studies. Instead, a separate study of deep vein thrombosis (DVT) and/or pulmonary embolism (PE) in Japanese patients was conducted, which compared the Japanese standard of care with a reduced dose of rivaroxaban.
Methods
We conducted an open-label, randomized trial that compared 3, 6, or 12 months of oral rivaroxaban alone (10 mg twice daily or 15 mg twice daily for 3 weeks followed by 15 mg once daily) with activated partial thromboplastin time-adjusted intravenous unfractionated heparin (UFH) followed by warfarin (target international normalized ratio 2.0; range 1.5–2.5) in patients with acute, objectively confirmed symptomatic DVT and/or PE. Patients were assessed for the occurrence of symptomatic recurrent venous thromboembolic events or asymptomatic deterioration and bleeding.
Results
Eighty-one patients were assigned to rivaroxaban and 19 patients to UFH/warfarin. Three patients were excluded because of serious non-compliance issues. The composite of symptomatic venous thromboembolic events or asymptomatic deterioration occurred in 1 (1.4%) rivaroxaban patient and in 1 (5.3%) UFH/warfarin patient (absolute risk difference, 3.9% [95% confidence interval, -3.4–23.8]). No major bleeding occurred during study treatment. Clinically relevant non-major bleeding occurred in 6 (7.8%) patients in the rivaroxaban group and 1 (5.3%) patient in the UFH/warfarin group.
Conclusions
The findings of this study in Japanese patients with acute DVT and/or PE suggest a similar efficacy and safety profile with rivaroxaban and control treatment, consistent with that of the worldwide EINSTEIN DVT and PE program.