01.12.2016 | Research article | Ausgabe 1/2016 Open Access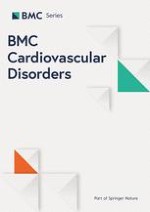 Osteopontin is elevated in patients with mitral annulus calcification independent from classic cardiovascular risk factors
Zeitschrift:
Autoren:

Michael Sponder, Christian Reuter, Monika Fritzer-Szekeres, Brigitte Litschauer, Thomas Binder, Jeanette Strametz-Juranek
Abstract
Background
Osteopontin (OPN) regulates the Ca++-deposition in bone and coronary arteries. Elevated OPN were also associated with (aortic) valve calcification in healthy individuals. This study aimed to investigate the association between OPN levels and mitral annulus calcification (MAC) in patients with coronary artery disease (CAD).
Methods
In this cross-sectional study OPN-levels were measured in 223 non-or ex-smoking patients (160 male, mean age: 61,09 ± 11,02 years; 63 female: mean age: 67,49 ± 7,87 years) with CAD. Plasma OPN levels were measured by ELISA and MAC was evaluated by echocardiography.
Results
Forward stepwise logistic regression analysis (likelihood quotient) showed significantly higher OPN-levels in patients with MAC compared to patient without calcified mitral annulus independent from the classic risk factors age and severity of coronary artery disease (CAD). In addition to age and the severity of CAD, the circulating OPN amount was a significant predictor for MAC.
Conclusions
This is the first clinical trial which observed increased circulating OPN levels in MAC, suggesting a distinct role of OPN in the process of MAC. Considering the current knowledge about OPN it is more likely that OPN does not promote but counteracts valve calcification and therefore is elevated in course of a calcification processes.