01.09.2009 | Original Article | Ausgabe 9/2009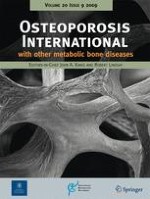 Osteoporosis management among residents living in long-term care
Zeitschrift:
Autoren:

L. M. Giangregorio, M. Jantzi, A. Papaioannou, J. Hirdes, C. J. Maxwell, J. W. Poss
Abstract
Summary
Fractures in long-term care (LTC) residents have substantial economic and human costs. Osteoporosis management in residents with fractures or osteoporosis is low, and certain subgroups are less likely to receive therapy, e.g., those with >5 comorbidities, dementia, and wheelchair use. Many LTC residents who are at risk of fracture are not receiving optimal osteoporosis management.
Introduction
The objective of this study was to describe the prevalence and predictors of osteoporosis management among LTC residents with osteoporosis or fractures.
Methods
In a retrospective study, LTC residents of 17 facilities in Ontario and Manitoba, Canada were investigated. The participants were 65+ years old with osteoporosis, history of hip fracture, or recent fracture. Comprehensive assessments were conducted by trained nurse assessors between June 2005 and June 2006 using a standardized instrument, known as the Resident Assessment Instrument 2.0.
Results
Among residents (
n
 = 525) with osteoporosis or fractures, 177 (34%) had had a recent fall. Bisphosphonate use was reported in 199 (38%) residents, calcitonin use in six (1%), and raloxifene use in six (1%). Calcium and vitamin D supplementation were reported in 140 (27%) residents. Fifty-four (10.3%) residents were on a bisphosphonate but were not taking vitamin D or multivitamin. Variables negatively associated with osteoporosis therapy [OR (95% CI)]: six or more comorbidities [0.46 (0.28–0.77),
p
 = 0.028], wheelchair use [0.62 (0.40–0.95),
p
 = 0.003], cognitive impairment [0.71 (0.55–0.92),
p
 = 0.009], depression [0.54 (0.34–0.87),
p
 = 0.01], swallowing difficulties [0.99 (0.988–0.999),
p
 = 0.034] or Manitoba residence [0.47 (0.28–0.78),
p
 = 0.004]. Prescription of 10+ medications was positively associated with therapy [3.34 (2.32–4.84),
p
 < 0.001].
Conclusion
Osteoporosis management is not optimal among residents at risk of future fracture. Identifying at-risk subgroups of residents that are not receiving therapy may facilitate closing the osteoporosis care gap.