07.10.2016 | Original Research | Ausgabe 2/2017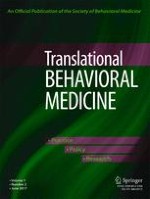 Predictors of and health- and fall-related program outcomes resulting from complete and adequate doses of a fall risk reduction program
Zeitschrift:
Autoren:

Thelma J. Mielenz, Laura L. Durbin, Fern Hertzberg, Diana Nobile-Hernandez, Haomiao Jia
Wichtige Hinweise
Implications
Practice
: Understanding factors that encourage individuals to complete the AMOB/VLL program and understanding if incomplete, yet adequate attendance can still have the same anticipated positive health effects can help inform program developers and deliverers about how to handle attrition concerns.
Policy
: The AMOB/VLL program has proven its worth for older adults who complete the program to adopt fall prevention strategies, but knowing if the program can still benefit individuals with incomplete attendance will help inform program delivery sites when tough financial decisions must be made regarding which programs to continue offering.
Research
: The reality of community-based health promotion programs, particularly those focused on falls prevention, is that complete attendance from all participants is unlikely even when transportation is provided, so future research on program success should continue to investigate the impact that varying programmatic session attendance levels can have for program participants.
The authors do hereby declare that the findings presented here have not been previously published and that this manuscript is not being simultaneously submitted elsewhere. The data reported here have been previously presented in a 2015 late breaking poster session with the Society of Behavioral Medicine.
The authors hereby declare that they have full control over all primary data and agree to allow
Translational Behavioral Medicine
to review the data if requested after appropriate approvals have been received.
Abstract
Falls are dangerous and costly for older adults. The A Matter of Balance/Volunteer Lay Leader (AMOB/VLL) program is an evidence-based fall risk reduction program that could help reduce this burden. This study introduced a door-through-door transportation program to improve program delivery (
N
= 126). Characteristics predicting completion of all eight AMOB/VLL sessions were identified using logistic regression. Individual growth models were employed to determine the immediate, intermediate, and long-term goal outcomes resulting from receiving an adequate dose of the program (five to eight sessions). Self-restriction of activities due to fear of falling (OR 5.04, 95 % CI 1.86–13.69) and a lower frequency of moderate and vigorous physical activity (OR 1.14, 95 % CI 1.04–1.27) were significantly predictive of receiving a complete dose. Three outcome goals were significant, including (1) immediate—improved self-efficacy of managing medications and treatments, (2) intermediate—reduced activity limitations, and (3) intermediate—reduced physical disability. Self-restriction of activities due to a fear of falling and physical activity levels may be simple and effective screening questions to prevent AMOB/VLL attrition. In our study, those who did receive the program improved on a specific type of self-efficacy and on self-reported physical functioning.