01.12.2017 | Reaearch | Ausgabe 1/2017 Open Access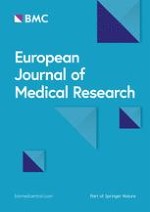 Preventing graft restenosis after coronary artery bypass grafting with tissue-type plasminogen activator
Zeitschrift:
Autoren:

Ruixiong Li, Bin Lan, Tianxiang Zhu, Yanlong Yang, Muyan Cai, Zhongmin Fang, Chensheng Ma, Shu Chen
Abstract
Objective
To explore the feasibility and safety of using tissue-type plasminogen activator (t-PA) to prevent graft restenosis after coronary artery bypass grafting (CABG).
Methods
In this prospective observational study, 37 patients underwent CABG between June 2009 and May 2013. These patients were grouped according to the anti-coagulation strategy after surgery: t-PA (
n
= 12) and conventional treatments (
n
= 25). In the t-PA group, the patients received acetylsalicylic acid (ASA) and clopidogrel plus intravenous infusion of t-PA (0.25 mg/kg/day) starting at 24 h after surgery and that lasted for 3 days. In the conventional group, the patients received only ASA and clopidogrel. 64-row spiral computed tomographic coronary angiography was performed at 1 week, 1, and 3 months after surgery to evaluate the patency of the graft vessel.
Results
The mean stenosis severity of the saphenous vein grafts was lower in the t-PA group compared with the conventional group at 3 months after surgery (
p
< 0.05), but there was no significant difference at 1 week and 1 month (
p
> 0.05). The patency rate of the grafts was not significantly different between the two groups at 1 week, 1, and 3 months after surgery (
p
> 0.05).
Conclusion
Early application of t-PA after CABG was feasible and safe, and might help prevent early restenosis of SV grafts. Additional clinical randomized trials are necessary to address this issue.