01.12.2019 | Case report | Ausgabe 1/2019 Open Access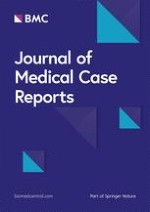 Primary extramedullary plasmacytoma with diffuse lymph node involvement: a case report and review of the literature
Zeitschrift:
Autoren:

Leonard Naymagon, Maher Abdul-Hay
Abstract
Background
Primary plasmacytomas are localized proliferations of clonal plasma cells occurring in the absence of a systemic plasma cell dyscrasia such as multiple myeloma. Primary plasmacytomas most commonly manifest as solitary lesions of the bone or of the upper aerodigestive tract. Presentation in a lymph node is very uncommon and can often be initially mistaken for lymphoma. Because they are local phenomena, primary plasmacytomas are managed with local therapies such as radiation or, less commonly, excision. Multifocal presentations are rare and are often not amenable to local treatment modalities, thus requiring systemic therapies. Because of their rarity, standardized treatment guidelines are not established, and treatment paradigms borrow heavily from those employed in multiple myeloma. Multifocal presentation in lymph nodes is nearly unheard of with only seven such cases reported in the existing literature, only four of which were diffuse enough to require systemic therapy. Here we describe the most diffuse and widely distributed instance of primary lymph node plasmacytoma yet reported and present a description of its successful treatment with systemic therapy.
Case presentation
A 71-year-old Asian man presented with progressive fatigue in the setting of diffuse hypermetabolic lymphadenopathy throughout his chest, abdomen, and pelvis. A diagnosis of lymphoma was initially suspected; however, a lymph node biopsy was consistent with plasmacytoma. A bone marrow biopsy was unremarkable, and no monoclonal protein was identified, establishing a diagnosis of primary extramedullary plasmacytomas of the lymph nodes. He was treated with a myeloma-like regimen consisting of four cycles of bortezomib/dexamethasone followed by two cycles of thalidomide/prednisone with improvement in symptoms and near complete resolution of prior hypermetabolic lymphadenopathy. He remains in remission over 18 months following completion of therapy.
Conclusion
This case report and accompanying literature review highlight the exceedingly rare and easily misclassified entity of primary plasmacytoma of diffuse lymph nodes. Importantly, we demonstrate that this entity may be treated with, and demonstrate excellent response to, systemic therapies often employed in multiple myeloma.