01.12.2018 | Research | Ausgabe 1/2018 Open Access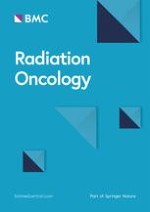 Primo software as a tool for Monte Carlo simulations of intensity modulated radiotherapy: a feasibility study
Zeitschrift:
Autoren:

Alessandro Esposito, Sofia Silva, Jorge Oliveira, Joana Lencart, João Santos
Abstract
Background
IMRT provides higher dose conformation to the target and dose sparing to surrounding tissues than 3DCRT. Monte Carlo method in Medical Physics is not a novelty to approach dosimetric problems. A new PENELOPE based code named PRIMO recently was published. The most intriguing features of PRIMO are the user-friendly approach, the stand-alone property and the built-in definition of different linear accelerators models. Nevertheless, IMRT simulations are not yet implemented.
Methods
A Varian Trilogy with a Millennium120 MLC and a Varian Novalis with 120HD MLC were studied. A RW3 multi-slab phantom was irradiated with Gafchromic films inserted between slabs. An Expression 10000XL scanner (Seiko Epson Corp., Nagano, Japan) was used to digitalize the films. PTW-Verisoft software using the global Gamma Function (2%, 2 mm) was used to compare simulated and experimental results.
The primary beam parameters were adjusted to best match reference data previously obtained in a water phantom. Static MLC simulations were performed to validate the MLC models in use. Two Dynamic IMRT preliminary tests were performed with leaves moving with constant and variable speed. A further test of an in phantom delivery of a real IMRT field allowed simulating a clinical-like MLC modulation.
Results
Simulated PDD, X- and Y-profiles in reference conditions showed respectively 100.0%, 100.0% and 99.4% of Gamma points < 1 (2%, 2 mm). Static MLC simulations showed 100.0% of Gamma points < 1 with the 120HD MLC and 99.1% with the Millennium compared with the scanned images.
The fixed speed test showed 99.5 and 98.9% of Gamma points < 1 respectively with two different MLC configuration-sampling algorithms when the 120HD MLC was used. The higher modulation MLC motion simulation showed 99.1% of Gamma points < 1 with respect to the experimental. This result depends on the number of the fields to reproduce the MLC motion, as well as calculation time. The clinical-like simulation showed 96.2% of Gamma points < 1 using the same analysis conditions.
Conclusions
The numerical model of the Varian Trilogy and Novalis in the PRIMO software was validated. The algorithms to simulate MLC motion were considered reliable. A clinical-like procedure was successfully simulated.