01.12.2018 | Study protocol | Ausgabe 1/2018 Open Access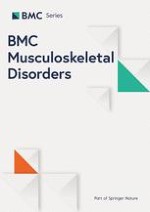 Quadriceps combined with hip abductor strengthening versus quadriceps strengthening in treating knee osteoarthritis: a study protocol for a randomized controlled trial
Zeitschrift:
Autoren:

Yujie Xie, Chi Zhang, Wei Jiang, Juan Huang, Lili Xu, Guoyin Pang, Haiyan Tang, Ruyan Chen, Jihua Yu, Shengmin Guo, Fangyuan Xu, Jianxiong Wang
Abstract
Background
Lower limb
s
trengthening, especially the quadriceps training, is of much necessity for patients with knee osteoarthritis (KOA). Previous studies suggest that strengthening of the hip muscles, especially the hip abductor, can potentially relieve the KOA-associated symptoms. Nevertheless, the effects of quadriceps combined with hip abductor strengthening remain unclear. Therefore, the current randomized controlled trial is designed aiming to observe whether quadriceps in combination with hip abductor strengthening can better improve the function and reduce pain in KOA patients than quadriceps training alone.
Methods
A total of 80 subjects with symptomatic KOA will be recruited from the communities and hospital outpatient, and will be randomly assigned to the experiment group (Quadriceps-plus-hip-abductor-strengthening) or the control group (Quadriceps-strengthening). Specifically, participants in the experiment group will complete 4 exercises to train the quadriceps and hip abductor twice a day for 6 weeks at home, while those in the control group will only perform 2 exercises to strengthen the quadriceps. Besides, all patients will also receive usual care management, including health education and physical agent therapy when necessary. Knee pain will be measured using the Visual Analogue Scale (VAS) at baseline, in every week during the course of treatment, as well as 8 and 12 weeks after randomization. Furthermore, knee function will be measured using the Western Ontario and McMaster Universities Osteoarthritis Index (WOMAC) scale, and the quality of life will be measured using the MOS Item Short-form Health Survey (SF-36). In this study, several simple tests will be applied to assess the objective function. All the assessments except for VAS will be carried out at baseline, and in the 6th, 8th and 12th weeks respectively.
Discussion
Our findings will provide more evidence for the effects of hip abductor strengthening on relieving pain and improving function in KOA patients. Hip abductor strengthening can be added into the muscle training program for KOA patients as a supplementary content if it is proved to be effective.
Trial registration
The current study has been registered with the Chinese Clinical Trials Registry (the registration number is
ChiCTR-IOC-15007590
, 3rd December, 2015).