01.12.2019 | Research article | Ausgabe 1/2019 Open Access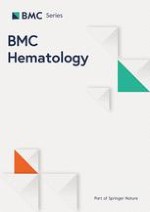 Response to Imatinib therapy is inferior for e13a2
BCR-ABL1

transcript type in comparison to e14a2 transcript type in chronic myeloid leukaemia
Zeitschrift:
Autoren:

Graeme Greenfield, Ross McMullan, Nuala Robson, Julie McGimpsey, Mark Catherwood, Mary Frances McMullin
Abbreviations
CML
Chronic Myeloid Leukaemia
ESMO
European Society of Medical Oncology
EUTOS
European Treatment and Outcome Study
FISH
Fluorescent in situ Hybridisation
HSCT
Haematopoietic Stem Cell Transplantation
PCR
Polymerase Chain Reaction
RT-PCR
Real time Polymerase Chain Reaction
TKI
Tyrosine Kinase Inhibitor
Background
On the basis of these findings, we set out to establish if the underlying transcript type was relevant for prognosis in our regional population for patients treated with imatinib first line with a focus on achievement of a deep molecular response.
Methods
Our laboratory database of all positive diagnostic
BCR-ABL1
transcripts within the Northern Ireland region from 14/11/2011 was reviewed. Patients were excluded from further analysis if the diagnosis was not chronic myeloid leukaemia, if less than three months had passed since diagnosis or if the transcript type was not known. A retrospective audit of therapy and clinical outcomes was then undertaken for seventy-four patients (
n
 = 74). Regional electronic patient records and local laboratory database were used to obtain data. Exclusions from further analysis were as follows; One patient with an atypical transcript type, three patients as were not initially commenced on imatinib therapy and one patient who presented in blast phase of disease as per WHO criteria. This left sixty-nine patients for analysis (
n
 = 69).
Real-time quantitative PCR (RQ-PCR) was performed using RNA extracted from Peripheral blood for monitoring BCR-ABL1 transcript levels reported on the International Scale (IS) [
18
]. The IS conversion factor was derived from a sample exchange scheme performed by Professor Nick Cross (Wessex Regional Genetics Laboratory). RT-PCR was performed to determine transcript type as previously described [
19
].
Statistical analysis was performed using Microsoft Excel Software. Unpaired, two tailed t test was used to determine significance of quantitative data whilst Chi-square test of fit was used for assessment of qualitative results. A multivariate regression analysis was performed using all variables available for assessment. Binary variables (transcript type, gender and meeting optimal criteria) were coded as 0 and 1 for this analysis.
P
values less than 0.05 were considered statistically significant. Kaplan-Meier analysis was undertaken to determine overall survival, event free survival and probability of maintaining MMR. A log rank test was used to generate
p
values for Kaplan-Meier curves.
Results
Discussion
Conclusion
Our own approach over the past seven years has been homogenous with regards to front line therapy. With the critical importance of obtaining optimal early response to TKI therapy in allowing patients to attempt and sustain a treatment free remission, early personalised decisions regarding therapy may help to optimise treatment. Our results are in keeping with other published series in suggesting an inferior response in patients with an e13a2 transcript type. Prospective studies evaluating alternative TKI use in this group as up front therapy may overcome these findings in real world population studies may help to guide physician and patient decision making at the outset.
Acknowledgements
Not applicable.
Funding
No external funding was received.
Availability of data and materials
The datasets generated and/or analysed during the current study are not publicly available but are available from the corresponding author on reasonable request.
Ethics approval and consent to participate
This study was a retrospective audit of care provided to each patient group in our region as a comparison to guidelines and published data. Implied consent for clinical audit purposes in line with standard practice. Data presented is not intended to be transferable and therefore as per Health Research Authority, UK guidelines does not require ethical approval.
Consent for publication
Not applicable.
Competing interests
GG, RM, JM, NR, MC – no competing interests to declare.
MFM – Novartis: Honorarium, speaker fee. Celgene: Speaker fee. Bristol Myer Squibb: Honorarium.
Publisher's Note
Springer Nature remains neutral with regard to jurisdictional claims in published maps and institutional affiliations.
Open Access
This article is distributed under the terms of the Creative Commons Attribution 4.0 International License (
http://​creativecommons.​org/​licenses/​by/​4.​0/​
), which permits unrestricted use, distribution, and reproduction in any medium, provided you give appropriate credit to the original author(s) and the source, provide a link to the Creative Commons license, and indicate if changes were made. The Creative Commons Public Domain Dedication waiver (
http://​creativecommons.​org/​publicdomain/​zero/​1.​0/​
) applies to the data made available in this article, unless otherwise stated.