01.12.2016 | Research article | Ausgabe 1/2016 Open Access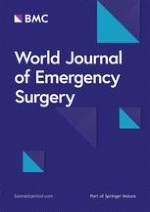 Risk factors for delayed neuro-surgical intervention in patients with acute mild traumatic brain injury and intracranial hemorrhage
Zeitschrift:
Autoren:

Fu-Yuan Shih, Hsin-Huan Chang, Hung-Chen Wang, Tsung-Han Lee, Yu-Jun Lin, Wei-Che Lin, Wu-Fu Chen, Jih-Tsun Ho, Cheng-Hsien Lu
Wichtige Hinweise
Competing interest
None of the authors have any commercial association, such as consultancies, stock ownership, or other equity interests or patent-licensing arrangements that may influence this study.
Authors' contributions
SFY and CHH participated in the design of the study and drafted the manuscript. Wang HC, LYJ, LTH, HJT, and CWF participated in the sequence alignment and clinical evaluation of patients. WHC and LWC interpreted the imaging studies. SFY and WHC performed the statistical analysis. WHC and LCH conceived the study, participated in its design and coordination, and helped draft the manuscript. All authors read and approved the final manuscript.
Abstract
Background
Mild traumatic brain injury (TBI) patients with initial traumatic intracranial hemorrhage (tICH) and without immediate neuro-surgical intervention require close monitoring of their neurologic status. Progressive hemorrhage and neurologic deterioration may need delayed neuro-surgical intervention. This study aimed to determine the potential risk factors of delayed neuro-surgical intervention in mild TBI patients with tICH on admission.
Methods
Three hundred and forty patients with mild TBI and tICH who did not need immediate neuro-surgical intervention on admission were evaluated retrospectively. Their demographic information, clinical evaluation, laboratory data, and brain CT was reviewed. Delayed neuro-surgical intervention was defined as failure of non-operative management after initial evaluation. Risk factors of delayed neuro-surgical intervention on admission were analyzed.
Results
Delayed neuro-surgical intervention in mild TBI with tICH on initial brain CT accounted for 3.8 % (13/340) of all episodes. Higher WBC concentration, higher initial ISS, epidural hemorrhage (EDH), higher volume of EDH, midline shift, and skull fracture were risk factors of delayed neuro-surgical intervention. The volume of EDH and skull fracture is independent risk factors. One cubic centimeter (cm3) increase in EDH on initial brain CT increased the risk of delayed neurosurgical intervention by 16 % (
p
 = 0.011; OR: 1.190, 95 % CI:1.041–1.362).
Conclusions
Mild TBI patients with larger volume of EDH have higher risk of delayed neuro-surgical interventions after neurosurgeon assessment. Longer and closer neurological function monitor and repeated brain image is required for those patients had initial larger EDH. A large-scale, multi-centric trial with a bigger study population should be performed to validate the findings.