01.12.2017 | Debate | Ausgabe 1/2017 Open Access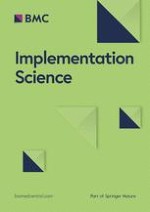 Safety analysis over time: seven major changes to adverse event investigation
Zeitschrift:
Autoren:

Charles Vincent, Jane Carthey, Carl Macrae, Rene Amalberti
Background
Main text
Understanding the whole patient journey: an illustrative case
To assist our reflections on the future of safety analysis, it is helpful to reflect on an illustrative story of the death of a person with mental health problems from a cardiac arrest while being treated as an inpatient and after having been prescribed a new generation of anti-psychotic drugs (Table
1
). The story demonstrates the valuable insights we can get from seeing events through the eyes of the patient and how the time frame for analysis needs to cover the patient's journey from the point of them presenting with symptoms across multiple healthcare providers.
Table 1
A mental health service user dies of a cardiac arrest
A mental health service user died from a cardiac arrest whilst being treated as an inpatient after being admitted to an acute mental health ward. Patient B had been prescribed a new generation anti-psychotic drug used in the treatment of schizophrenia (clozapine). Review of patient B's notes over a 4-year time frame identified several recorded entries where she had raised concerns about the cardiac side effects of clozapine. She had been experiencing heart palpitations and was diagnosed with tachycardia following referral for cardiac review.
During this 4-year time frame, patient B was living independently in the community, supported by her family, a community mental health team and GP. She made repeated requests for her medication to be changed to the GP and community mental health team. Her concerns were not acted on even though the National Institute for Health and Care Excellence (NICE) guidelines on the prevention and management of schizophrenia emphasise that the choice of anti-psychotic medication should take the patient's views into account:
The United Kingdom NICE Guideline CG 178, Psychosis and Schizophrenia in Adults: prevention and Management states: 'The choice of antipsychotic medication should be made by the service user and healthcare professional together, taking into account the views of the carer if the service user agrees. Provide information and discuss the likely benefits and possible side effects of each drug, including:
 • metabolic (including weight gain and diabetes)
 • extrapyramidal (including akathisia, dyskinesia and dystonia)
 • cardiovascular (including prolonging the QT interval)
 • hormonal (including increasing plasma prolactin)
 • other (including unpleasant subjective experiences).'
Because of the physical symptoms she was experiencing, patient B repeatedly stopped taking clozapine. The healthcare professionals involved in her care focused on persuading patient B she should keep taking clozapine. There is no evidence anyone considered 'Patient B is experiencing physical side effects from taking clozapine. The heart palpitations she is experiencing are causing considerable anxiety. She is at high risk of medication non-compliance.' She eventually died of a cardiac arrest while in hospital for her mental health problems.
Supporting and treating patients with co-existing mental ill health and physical health symptoms can be very challenging, and it is perhaps easy with hindsight to say that this person's own account of her cardiac symptoms should have been taken more seriously. It is clear however that the healthcare professionals involved became fixated on persuading patient B to take a medication she was reluctant to use. Over time, her feelings of anxiety about taking clozapine increased and she exhibited increasing paranoia, believing the healthcare team were encouraging her to take a medication that was harmful to her cardiac health. She was in fact entirely correct in her assessment.
The scope of the hospital investigation into patient B's death focused on the period from the time of her acute inpatient admission to her death on the ward. The fact that she had been seen as a 'non-complaint' patient and the events leading up to her admission were hardly considered at all. The care given by the hospital in the last days of the patient's life was in fact of good quality and shed little light on the reasons for her decline and untimely death. Had the time frame for analysis been extended to capture the last months and years of the patient's healthcare journey and investigated how the drift away from treatment recommended in guidelines occurred, the findings from the analysis may have been very different. They would, for instance, have focused more on how using persuasion as a strategy to convince a mental health service user who is raising concerns about their prescribed medications leads to a breakdown in the therapeutic relationship between care provider and patient and prolonged psychological harm.
This illustrative story serves to introduce some of the changes needed in our approach to analysing the risks of healthcare. We clearly need to examine much longer time periods, but the changes needed are much more than an extension of the current methodology, even though many of the underlying concepts and methods can still provide a relevant foundation. In particular, we need to look at fewer incidents in much greater depth, to be led much more by patients, to seek to understand success and recovery as well as failure and finally to consider an expanded repertoire of responses and recommendations.
Seven major changes to adverse event analysis
Conclusions
Healthcare is changing rapidly with more care being provided in the home and community to an ageing population suffering chronic diseases over long time periods. Our previous concepts of quality and safety have to evolve to reflect these changes. Rather than thinking primarily in terms of specific incidents, we need to consider the balance of benefit and harm over long time periods and encompass the social and psychological impact of healthcare as well as physical effects. We have argued that we need to look at the evolution of patient journeys in much greater depth, be more proportionate and strategic in analysing safety issues, assume that patients and families will be partners in investigation, seek to understand success and recovery as well as failure and develop a much broader and more thoughtful approach to recommendations (Table
2
). The longer term perspective has important implications for the subsequent safety strategies that we implement. These changes are profound and will require major adjustments in both practical and cultural terms and research to explore and evaluate the most effective approaches.
Table 2
Seven major changes in adverse event analysis
| Change in practice | Current | Future |
| --- | --- | --- |
| Select some events identified by patients and families | Decision to investigate determined by organisational and regulatory priorities | Select some events with longer term chronologies identified by patients and families Ask patients to tell their story of the episode of care, focusing both on what went well and poorly. |
| Widen the time frame of analysis: review the patient journey | Determine recent accident chronology | Widen the timeframe to the whole patient journey |
| Fewer, deeper analyses | Give equal attention to all serious incidents | Prioritise events which must be explained to patients and families, thereafter, triage events to identify those with maximum potential for system-wide learning |
| Success and failure in detection and recovery | Identify problems in process of care and contributory factors | Identify benefits of care as well as problems, and include detection and recovery from problems |
| Examining safety issues and contributory factors at different time points | Identify contributory factors | Identify contributory factors to each individual problem and to detection and recovery |
| Reflecting on the workability of the underlying care process | Assume the current standard of care as a given | Reflect on the feasibility and workability of current standards and practices and whether these need to be adjusted |
| Broadening our repertoire of responses and recommendations | Recommendations and developing an action plan | Select from the full portfolio of strategies and interventions |
First and foremost, the involvement of patients and families will need to become the default option in an investigation. This has already been mandated by the Dutch Safety Inspectorate, with the important proviso that healthcare organisations do not have to involve patients and families where there is good reason not to do so [
38
]. The routine inclusion of patients and families in inquiries should increase the attention given to emotional and social aspects of care and give more emphasis to communication and coordination of care over time and across organisations. We will need to develop new approaches to analyses which allow the inclusion of patient perspectives without burdening families unduly.
Second, everyone involved in investigation needs to reflect on what proportion of the current investigative activity is really meaningful and how information gained from incident analysis should be linked to system improvement. The effectiveness of investigations needs to be evaluated in terms of the quality of the analysis and the depth and seriousness of the ultimate recommendations rather than simply in terms of meeting deadlines and the signing off action plans. Both regulators and healthcare organisations also need to realise that generating recommendations on the basis of a single incident may not be optimal. Aggregate analyses of safety investigations over a year, integrated with other related safety and quality data, will allow examination of major system issues and the production of more meaningful action plans [
6
,
8
,
72
,
73
]. For instance, poorly organised handover may be a factor in multiple safety incidents but be regarded as too difficult to tackle in a single incident action plan. A hospital reviewing a year's worth of events however can see a pattern emerging and prepare a serious plan for improving handover across the whole organisation.
Third, safety analyses are commonly limited by the boundaries of the organisations in which the ultimate harm occurred. Analysing the patient journey, and seeing safety through the eyes of the patient, will necessitate the development of more sophisticated ways of conducting safety analyses across organisations including the home and community environment. Such activities will likely require the building of new investigative infrastructures, along with the development of norms and social agreements that support data sharing, collaborative analysis and coordinated improvement across organisational boundaries. This broader approach will require a new type of forum, supported by technical tools such as video conferencing, covering longer periods in the patient's medical history and involving the participation of both hospital and community practitioners jointly with relatives and the patient. It would also require the development of new indicators and electronic traces, such as tools to monitor individual patients' laboratory results, to record the nature and duration of all breakdowns in the continuum of care.
Fourth, implementing some of the changes we propose also requires us to improve the evidence available to those who lead safety analyses. Compared with other industries, healthcare investigations use a limited evidence base mainly consisting of the medical record and unstructured interviews [
43
,
74
,
75
]. The limited scope of information and evidence is a major contributor to the limited nature of many investigations and the lack of attention to system issues. All too often, current investigations are superficial because the quality of the evidence available to those leading the analysis is fragmented across different IT systems used by multiple providers or is of poor quality; for example, the scenario in which a medication error occurs and the infusion device memory has a 4-h capacity and an automatic over-ride built in, so the actual dose administered to a patient is never known because the device's memory has been over-written by the time the investigation commences. With the introduction of new technologies and information systems, there are considerable opportunities to support the capture, retention and analysis of safety-relevant data [
76
,
77
].
We recognise that the challenges of analysing even a small proportion of safety issues over longer time periods are considerable. Even with active patient and family involvement, it will be hard to track all relevant clinical information and to get an accurate sequence of events and contributory factors. In the British NHS and other national systems, the patient is at least notionally receiving care from a single provider although in practice the care is often provided by a mixture of publicly funded healthcare, social services and private providers. The challenges will be greater still in more fragmented systems such as the USA where the patient may receive care from a number of disparate and often unconnected healthcare providers. Even within those integrated systems in the USA, such as the Department of Veterans Affairs (VA) healthcare system, patients can receive care delivered or managed by the VA but also care from other providers for which VA has no regulatory authority. In many cases, it would not be clear who might initiate such safety analyses or be accountable for any identified system improvements. We would suggest however that it is nevertheless critical to attempt these analyses across multiple providers because this is the reality that patients and families face as they navigate these complex systems. We believe that many major safety issues are currently neglected precisely because they concern the coordination and integration of care across multiple providers.
Finally, there is a need for significant research and investment in the development of both current and new approaches. While the methods of incident analysis proposed 20 years ago have spread widely, there has been distressingly little research into the concepts, methods, reliability and outcomes of such analyses. We need, for instance, to develop and evaluate means of involving patients and families, to develop methods of assessing and monitoring the quality of investigations and to consider how the reliability and validity of the findings and recommendations from investigations might be meaningfully assessed. This period of revision offers an opportunity for a more critical and scientific vision to emerge which is truly linked to organisation and system-wide learning and improvement.
Acknowledgements
Charles Vincent is supported by the Health Foundation. We also wish to thank two reviewers for helpful comments and suggestions on an earlier draft of the manuscript.
Funding
Charles Vincent is supported by the Health Foundation.
Availability of data and materials
Not applicable.
Ethics approval and consent to participate
Not applicable.
Consent for publication
Not applicable.
Competing interests
The authors declare that they have no competing interests.
Publisher's Note
Springer Nature remains neutral with regard to jurisdictional claims in published maps and institutional affiliations.
Open Access
This article is distributed under the terms of the Creative Commons Attribution 4.0 International License (
http://​creativecommons.​org/​licenses/​by/​4.​0/​
), which permits unrestricted use, distribution, and reproduction in any medium, provided you give appropriate credit to the original author(s) and the source, provide a link to the Creative Commons license, and indicate if changes were made. The Creative Commons Public Domain Dedication waiver (
http://​creativecommons.​org/​publicdomain/​zero/​1.​0/​
) applies to the data made available in this article, unless otherwise stated.