01.12.2017 | Original Contribution | Ausgabe 1/2017 Open Access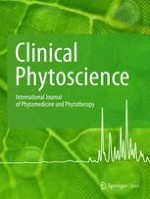 Sinupret® as add-on therapy to saline irrigation for children with acute Post-Viral Rhinosinusitis
Zeitschrift:
Autoren:

Vasyl I. Popovich, Ivanna V. Koshel
Abstract
Background
The present randomized controlled study investigated the efficacy of the complex herbal medicine Sinupret® syrup in the treatment of acute post-viral rhinosinusitis in children.
Methods
The patients were children aged from 6 to 11 years (mean 9.4 years old).
They were randomized into two groups. Both groups received a standard treatment including a symptomatic therapy and a saline therapy. Isotonic sea salt solution was given four times daily for a period of 14 days. The treatment group received an additional treatment with Sinupret® syrup 3-times daily.
Using a 5-point scale (0–4 points), the physician evaluated the following symptomatic parameters at four successive visits (days 0, 5, 10 and 14): nasal congestion, nasal discharge, post-nasal drip and headache. Presence of cough in each group was recorded separately. Also using a 5-point scale (0–4 points), each patient gave a daily self-assessment of the following parameters from day 1 to day 10: rhinorrhea, headache, facial pain.
Results
Relative to symptomatic therapy + saline irrigation, significant improvements were found in seven of the eightsymptomatic parameters under complex treatment including Sinupret® syrup. The differences in facial pain and the incidence of cough in groups were not significant. The need for prescription of antibiotics in the treatment group was 28.5% less than in the control group. No adverse reactions to the herbal medicine occurred during the study period.
Conclusion
The complex herbal medicine Sinupret® syrup alleviates effectively the symptoms of acute post-viral rhinosinusitis in children. Furthermore, the prescription of antibiotics was also reduced.