01.12.2015 | Research article | Ausgabe 1/2015 Open Access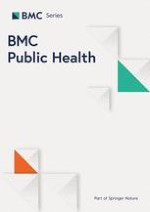 Six-months follow-up of a cluster randomized trial of school-based smoking prevention education programs in Aceh, Indonesia
Zeitschrift:
Autoren:

Teuku Tahlil, Richard J. Woodman, John Coveney, Paul R. Ward
Wichtige Hinweise
Competing interests
This study was supported by a Seeding Grant from the Faculty of Medicine, Nursing and Health Sciences at Flinders University, Australia. The authors declare no conflicts of interest.
Authors' contributions
Authors' contributions were as follows. TT wrote grant proposal for funding, led study design, data collection and analysis, and wrote the first draft of this paper. RW contributed in grant writing, helped design the study, participated in data analysis and interpretation, and reviewed and revised the manuscript. JC involved in grant writing, participated in the study design, data collection, interpretation, and reviewed and revised the manuscript. PW helped in grant writing, study design, data collection, interpretation, and critically reviewed and revised the manuscript. All authors have provided their agreement on the manuscript for publication. All authors read and approved the final manuscript.
Abstract
Background
Smoking prevention programs have been taught in schools to reduce the high smoking prevalence and its related problems among adolescent populations. Although short-term benefits have been observed, the long-term effectiveness of such programs appear to be inconsistent. This study aims at investigating the long-term impact of both health and Islamic focused interventions amongst students in Indonesia.
Methods
At 6 months after completion of the interventions, 427 of the original 447 participants (control group = 128, intervention groups = 299) from a school-based cluster randomized control trial were re-assessed for their smoking knowledge, attitudes, intentions and behaviours using a self-report questionnaire. Data was analyzed according to the study's 2 × 2 factorial design with adjustment for baseline scores, school and classroom clustering effects and multiple comparisons.
Results
Compared to the control group, significant long term effects were found for the health-based intervention program in improved health (β = 4.3 ± 0.4,
p
 < 0.001), Islamic (β = 1.1 ± 0.4,
p
 = 0.01) knowledge and a reduction of smoking attitudes (β = −11.5 ± 1.8,
p
 < 0.001). For the Islamic-based intervention programs there was an improvement of health (β = 3.7 ± 0.4,
p
 < 0.001) and Islamic (β = 2.2 ± 0.5,
p
 < 0.001) knowledge and a reduction towards smoking attitude (β = −6.0 ± 1.9,
p
 < 0.01) and smoking behaviors in the past month (OR = 0.1, 95 % CI = 0.0–0.8,
p
 = 0.03). The effects were greater but less than additive in the combined group for health (β = −3.2 ± 0.9,
p
 < 0.001 for interaction) and Islamic knowledge (β = −2.3 ± 0.9,
p
 = 0.01 for interaction) but were additive for smoking attitudes (β = 6.1 ± 3.2,
p
 = 0.07 for interaction). No significant effects on smoking intentions were observed at 6 months follow-up in the health or Islamic-based intervention programs.
Conclusion
School-based programs can provide long term benefits on Indonesian adolescents' smoking knowledge and attitudes. Tailoring program intervention components with participants' religious background might maximise program effectiveness. A larger and more encompassing study is now required to confirm the effectiveness of this new Indonesia culturally-based program. Adolescents in similar areas might also benefit from this type of school-based smoking cessation program.