01.12.2011 | Research article | Ausgabe 1/2011 Open Access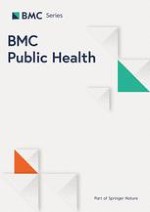 Spatial distribution and characteristics of injecting drug users (IDU) in five Northeastern states of India
Zeitschrift:
Autoren:

Gajendra Kumar Medhi, Jagadish Mahanta, Rajatashuvra Adhikary, Brogen S Akoijam, Buno Liegise, Kalpana Sarathy, Chelliah Joshua Thomas, Bhupen Sarmah
Wichtige Hinweise
Electronic supplementary material
The online version of this article (doi:
10.​1186/​1471-2458-11-64
) contains supplementary material, which is available to authorized users.
Competing interests
The authors declare that they have no competing interests.
Authors' contributions
JM and RA conceived and designed the study; GKM contributed in study design, oversaw the data collection, led data analysis, drafted the manuscript and incorporated suggestions form other authors. JM reviewed the manuscript. All the co-authors (BSA, BL, KD, CJT and BS) contributed in data collection, interpretation of the data and drafting of the manuscript, and all the authors approved the final version of the manuscript.
Abbreviations
CBO
Community based organization
DDC
Drug De-addiction Centres
HIV
Human Immunodeficiency Virus
IBBA
Integrated Biological and Behavioural Assessment
ICMR
Indian Council of Medical Research
NACO
National AIDS Control Organization
NGO
Non-governmental Organization
NSEP
Needle and Syringe Exchange Program
PLWH
People Living with HIV/AIDS
RMRC
Regional Medical Research Centre
STI
Sexually Transmitted Infections
SACS
State AIDS Control Society
VCTC
Voluntary Counseling and Testing Centre.
Background
Abuse in injecting drugs and its association with human immunodeficiency virus (HIV) infection has become an important public health concern during last two decades in many countries worldwide. Some serious blood borne viral infections, e.g. hepatitis B (HBV) and hepatitis C (HCV) viruses adds to the misery. In India, illicit injection of drugs is already recognized as a major public health problem in Northeastern states. Heroin injection among IDU became popular in 1980s among the youths of the Northeast, particularly in Manipur [
1
]. The proximity of the Northeast to the Golden Triangle, the world's major point of illicit drug production, has traditionally been viewed as the most important reason for the increase.
Perhaps due to large scale sharing of needle syringes, seroprevalence of HIV among IDUs reached 50% by 1990 in Manipur [
2
,
3
]. Within a short span, 2 other northeastern states of India bordering Myanmar (Nagaland and Mizoram) also experienced a similar epidemic. The estimated prevalence of HIV among IDUs was 13% in Nagaland in 1998, and reached almost 10% in Mizoram by 2000 [
4
]. Prevalence also exceeded the 5% level in Assam in 2002 [
5
]. Subsequently, the epidemic spread to the wider populations from injecting drug users (IDU) through their sexual partners [
6
,
7
]. Manipur and Nagaland are 2 of the 6 HIV high prevalence states of India, where HIV among antenatal mothers is >1% [
5
]. Different strategies have been adopted to prevent HIV transmission among injecting drug users under the aegis of National AIDS Control Organization (NACO) since 1990s, including the supply of sterile injecting equipments and condoms; awareness and education programs on HIV prevention; clinical services for treating sexually transmitted infections (STI); referral to the voluntary counselling and testing Centre (VCTC); and peer-led outreach programs. A steady decline of HIV prevalence among IDUs in Manipur, Nagaland and Mizoram, possibly due to harm reduction efforts has occurred in recent times. Although declining, Manipur in 2007 still reported ~18% prevalence of HIV among the drug injecting population [
8
]. According to the last published report of the HIV sentinel surveillance in India, HIV prevalence in Nagaland, Mizoram, Meghalaya and Assam among IDUs were 2, 7.5, 4.2 and 2.2%, respectively [
8
]. However, recent reports suggest that, although HIV is declining, nevertheless other blood-borne pathogens, e.g. HCV, are creating even bigger problems in this region [
9
–
11
]. One recent report in 2009 indicated a 71% prevalence of HCV among IDUs in Mizoram [
11
]. Similarly, up to 78% prevalence of HCV among IDUs was reported from Manipur in 2008 [
9
]. Despite intervention programs in this region, there remain longstanding epidemics of HIV and other blood-borne pathogen problems among IDU populations. Further assessment is needed to find out the reasons for this and the spread of these problems to new areas.
Better understanding of the geographical extent of the drug injecting problem, key characteristics of the IDU population, their risk behavior, and societal attitude towards IDUs, is expected to help strengthen HIV prevention interventions in the region. Therefore, the study was conducted in 5 Northeastern states of India to: 1) map and assess the characteristics of locations where the IDUs could be found; 2) explore and describe the key characteristics of IDUs and their injection related risk behaviour, along with and their perception about attitude of community and healthcare professionals (HCP) towards them.
Methods
Settings
The study was carried out in 2004. The Northeastern region of India consists of 7 states that include Arunachal Pradesh, Assam, Nagaland, Manipur, Mizoram, Tripura and Meghalaya. For operational reasons, only 5 states (Assam, Nagaland, Manipur, Mizoram, and Meghalaya; see Figure
1
) were chosen. Three northeastern states (Manipur, Nagaland and Mizoram) share a common international border with Myanmar and have close proximity to the infamous golden triangle, the hub of the heroin trade. Except some parts of Manipur and Assam, the topography of the region is characterized by a hilly terrain. Assam is the most populous state of the region, with 26.6 million people. The population of other 4 states ranges from 0.9 to 2.4 million at the last population census in 2001.
×
Design
Mapping was done to identify the locations where 2 or more IDUs congregated for injection of drugs or other purposes (purchasing, injecting and staying). Since 2 IDUs are the minimum requirement for sharing of injecting equipment, we considered a minimum threshold of two IDUs in defining an IDU location. An IDU was defined as a person of either sex, aged 18 years or older, who had injected drugs for non-medical reasons at least once in the last 6 months. Mapping process was facilitated by local KIs (Key Informants) who were knowledgeable about current and previous IDUs. To assess the characteristics of mapped IDU locations, multiple qualitative data collection methods were used, including observation, interviews with KIs and IDUs from the location. This data helped in cross-checking the accuracy of collected data and synthesizing the desired information. We also conducted structured and semi-structured interviews with IDUs to understand their injecting practices and other key characteristics. Separate study teams were formed for each state under the leadership of a state coordinator (BSA for Manipur, BL for Nagaland, KSD for Mizoram, CJT for Meghalaya and BS for Assam) to implement the study in their respective states. Before the mapping exercise, the study teams - led by the state coordinators - interviewed KIs from stakeholders associated with the drug using population in each state. The KIs were selected based on their ability to provide vital information on IDUs for the state. Initial interviews with KIs from major stakeholders provided preliminary insight about the geographical extent of the problem, and the probable locations where IDUs could be accessed. KIs also helped in selecting the district and sub-district level personnel who could facilitate mapping exercise, help in developing study tools, and plan our field work. They were included from the State AIDS Control Societies (SACS; 2 from each state), non-governmental organizations (NGOs)/community-based organizations (CBOs) working with IDUs (3-9 from each state), drug de-addiction centres (DDC; 2-5 from each state), narcotic/excise departments (2 from each state), police departments (2-3 from each state), health departments (2-3 from each state), pharmacies (2-3 in each state), people living with HIV/AIDS (PLWH) (1-3 from each state, but none from Meghalaya and Mizoram) and social welfare department (2 from each state). Altogether, 118 interviews were conducted (30 each in Manipur and Nagaland, 20 each in Mizoram and Meghalaya, and 18 in Assam).
Data Collection
Mapping of the locations were carried out by the field teams through extensive field visits in all the 5 states, covering every district and sub-division. People acquainted with IDUs (e.g. outreach workers and other persons from NGOs associated with IDU intervention programs, current and ex-IDUs) acted as KIs to facilitate contact with IDUs.
The snowballing technique (chain of referrals) was used to identify the locations. The initial KIs were asked to provide further information about other people able to provide more information about places of IDUs congregation. This process of identifying KIs continued until no more new information was forthcoming. Similarly, IDUs in one location were also requested to act as KIs for further identification of IDU locations. This process continued until no new information about IDU locations was forthcoming. The KIs were requested to lead the study teams to the locations during peak time of congregation. Visiting during the peak time helped in better assessment of the characteristics and activities of the study population. To ensure quality data, >10% of locations identified by the field teams were cross-verified by the state coordinators and other investigators. The research teams involved in the execution of the study were trained by social scientists on various methods and techniques to be adopted for collecting data. After identifying the locations, the field teams prepared a hand-drawn sketch of the identified location with its key landmarks, boundaries and other features. The field teams spent some time in the locations interacting with the drug users to build up a rapport with them. The current/ex-IDUs in the team introduced the field teams to IDUs in the locations and helped in building trusting relationship between the field team members and IDUs. The field teams in this process assessed the characteristics of identified locations through direct observations, interaction with IDUs and the KIs. All the information during mapping process was collected using a format developed for this purpose. The data included a geographical description of the identified location (e.g. state, district, urban/rural, name of the village/town, important landmark by which the location could be identified), types of locations (physical characteristics of locations), the nature of the location (drug and sex work site, shooting gallery), demographic information of IDUs (age and gender), and average numbers of IDUs congregated in the locations per day. Based on information obtained during preliminary exploratory interviews with KIs, types of locations were pre-coded into 8 categories (such as home, pharmacy, parks, abandoned building, cemeteries/graveyards, riverside, public toilet, and tea stalls). However, any new locations found during the survey were also noted in the format apart from these 8 categories. The average number of IDUs usually assembled in each location was determined by asking the KIs or IDUs available in the locations. Similarly, information about the age ranges of IDUs assembled in each location was also determined by asking the KIs or IDUs. A shooting gallery was defined as a place where injecting equipments were readily available, where it could be purchased, borrowed or rented. A drug and sex work site was defined as an IDU location where IDUs had sex within the group.
Semi-structured qualitative interviews with IDUs were also conducted to learn about participants' needle/syringe sharing behaviour and sharing relationships, network size, sources of acquisition of sterile needles and syringes, and their perception about attitudes of community and healthcare providers (HCP) towards them. Additionally, structured closed-ended questions were also asked to elicit some key information (viz. needle/syringe sharing behaviour in the past 6 months and network size). IDUs present in the location during the visit of the study team were recruited purposively for the interviews. Interviews took ~15 minutes. Only IDUs aged 18 years or over who had injected drug at least once in the last 6 months were interviewed. Participants who were under the influence of drug (intoxicated) and aggressive were excluded from interviews. Except for Nagaland (where 2-3 IDU were interviewed), at least one IDU was interviewed from each selected location. To assess the network size, aggregate network data [
12
] was collected from IDUs by asking "How many IDUs do you know personally, and in turn who also knew you?" To assess their needle/syringe sharing practices, IDUs were asked if they had injected with needle/syringes previously used by other IDUs, or passed on their used needle/syringes to others in the last 6 months.
Ethical consideration
The study protocol was reviewed and recommended for implementation by the Institutional Ethical Committee of Regional Medical Research Centre (RMRC) of Indian Council of Medical Research (ICMR). All the interviews were unlinked and anonymous. No names or any other personal identifiers of the participants were recorded anywhere. No information on the target group recruited was shared with any outside groups. The data regarding identified locations were not shared with any outside parties. No interview commenced without prior oral consent of the respondents. The informed consent form was either read aloud or thoroughly explained to the respondents, and once the respondent had provided oral consent, a member of the teams signed the consent form on behalf of the respondent.
Data Analysis
The locations of IDUs were categorized according to various characteristics identified during mapping exercise. All the semi-structured interviews were tape-recorded and transcribed verbatim. The transcripts were cross-checked again with the interview tapes. Transcriptions were coded manually to identify important, recurrent themes and categories pertaining to the questions of interest. All the transcripts were read carefully by 2 independent teams to extract the themes and categories. Initial codes were developed jointly by the investigators to identify the themes and categories based on detailed reviews of 4/5 transcripts from each state. However, codes were further refined as new themes or categories emerged from the data during the coding process. Any disagreement between two coding teams was resolved by discussion. Results of closed-ended-structured questions (e.g. needle/syringe sharing behaviour in the past 6 months and network size) were expressed as a percentage of the total responses. Analyses were done separately for each state.
Results
Discussion
Conclusions
The study has provided useful information on the injecting drug use problem in the Northeastern region of India where injecting drug use is the main driver of the HIV epidemic. The considerable presence of IDUs in the remote and rural areas of the region with difficult terrain underscores the need to expand the harm reduction programs to rural areas. The study has also demonstrated that risky injecting practices, such as the sharing or re-use of needles and syringes, is common among IDUs in all the states. Needles and syringes were mainly procured from non-NSEP sources by IDUs, which contributed to the sharing of needles and syringes. Therefore, there is urgent need to scale up NSEP programs to ensure uninterrupted access to sterile injecting equipment to prevent risky injecting practices among IDUs. Mapping of IDU sites will be useful in designing strategies for reaching them. The study also highlighted the largely unexplored injecting drug use problem of females in this region. A more innovative strategy will be required to reach this relatively inaccessible sub-group. Sharing of the same location by younger and older IDUs, drug and sex interfaces are some important findings of the study.
Funding Agency
Support for this study was provided by Family Health International (FHI) with funds from United States Agency for International Development (USAID) award number HRN-A-00-97-00017-00), although the views expressed in this article do not necessarily reflects those of FHI or USAIDS.
Acknowledgements
We are thankful to FHI and USAIDS for funding the research. We are also grateful to all the collaborators who contributed in the data collection, community mobilization. The authors are thankful to SACS of all the five states, NACO for their help and guidance. We also grateful to all those who helped in conducting the study including NGOs, police & narcotic department and all other stakeholders.
This article is published under license to BioMed Central Ltd. This is an Open Access article distributed under the terms of the Creative Commons Attribution License (
http://​creativecommons.​org/​licenses/​by/​2.​0
), which permits unrestricted use, distribution, and reproduction in any medium, provided the original work is properly cited.
Competing interests
The authors declare that they have no competing interests.
Authors' contributions
JM and RA conceived and designed the study; GKM contributed in study design, oversaw the data collection, led data analysis, drafted the manuscript and incorporated suggestions form other authors. JM reviewed the manuscript. All the co-authors (BSA, BL, KD, CJT and BS) contributed in data collection, interpretation of the data and drafting of the manuscript, and all the authors approved the final version of the manuscript.