01.12.2018 | Research article | Ausgabe 1/2018 Open Access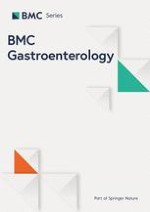 SSH1 expression is associated with gastric cancer progression and predicts a poor prognosis
Zeitschrift:
Autoren:

Yusufu Maimaiti, Maimaitiaili Maimaitiming, Yiliang Li, Saifuding Aibibula, Azatijiang Ainiwaer, Aikebaier Aili, Zhenzhu Sun, Kelimu Abudureyimu
Abstract
Background
Slingshot homolog-1 (SSH1) plays an important role in pathological processes, including in the occurrence and development of tumours. The purpose of this study was to determine whether SSH1 is a key biomarker with prognostic value for survival in patients with gastric cancer.
Methods
We performed immunohistochemistry (IHC) on tissue microarrays containing 100 gastric cancer specimens to evaluate SSH1 protein expression. The association of pathological characteristics with cumulative survival was determined by Kaplan-Meier analysis. A Cox proportional hazards model was generated in the multi-factorial survival analysis to identify univariate prognostic factors of GC.
Results
SSH1 expression level in gastric cancer tissues was significantly associated with lymph node metastasis (
P
 = 0.032). Additionally, multivariate regression analysis clearly indicated that SSH1 expression was significantly correlated with poor clinical outcomes of patients with gastric cancer (
P
 = 0.016). Multivariate analyses showed that SSH1 was the best predictor of poor prognosis in patients with gastric cancer (
P
 = 0.030).
Conclusions
SSH1 expression is associated with gastric cancer progression and predicts a poor prognosis. SSH1 may play an important role in the development of gastric cancer, and it is a promising target for prevention and/or treatment of gastric cancer.