01.12.2017 | Case report | Ausgabe 1/2017 Open Access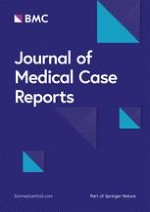 Stab injury to the preauricular region with laceration of the external carotid artery without involvement of the facial nerve: a case report
Zeitschrift:
Autoren:

Diogo Casal, Giovanni Pelliccia, Diogo Pais, Diogo Carrola-Gomes, Maria Angélica-Almeida, José Videira-Castro, João Goyri-O'Neill
Abbreviations
J-FAINT
Joint Facial and Invasive Neck Trauma () Project MM, Masseter muscle
SCM
Sternocleidomastoid muscle
Background
The first description of a penetrating neck injury dates back to 5000 years ago in
The Edwin Smith Surgical Papyrus
[
1
]. Ambroise Paré is credited with the first surgical repair of a major cervical bleeding in the neck region by ligating the carotid artery and the internal jugular vein of a wounded French soldier [
1
–
5
]. Nowadays, penetrating head and neck injuries are relatively rare in most countries, representing 2–10% of all trauma admissions [
2
,
3
,
5
]. Among these injuries, major arterial lesions are also increasingly infrequent in most developed countries [
3
]. However, although rare, they can immediately jeopardize life, mandating prompt diagnosis and repair of the severed arteries and neighboring anatomical structures [
5
–
7
].
In particular, open injuries to the face involving the external carotid artery (ECA) are relatively uncommon [
8
]. They are normally associated with compromise of the facial nerve (FN), owing to the more superficial position of this last structure [
9
]. Hence, ECA lesions are usually associated with FN dysfunction [
10
]. However, even penetrating injuries to the FN are very rare [
11
]. For example, in a 16-year retrospective study in which authors reported 456 consecutive patients with 557 peripheral nerve injuries, no cases of open section of the FN in the preauricular region were described [
11
]. Furthermore, Feldt
et al.
, in reviewing 37,523 head and neck war injuries, found only 35 FN injuries [
12
].
We present an unusual case report in that the patient presented with an injury to the ECA inside the parotid region with no FN compromise. There is a large consensus in the literature that cases such as this one pose a significant clinical challenge because they involve large and important vascular and/or nerve structures in an emergent scenario [
7
,
13
,
14
]. Moreover, clinicians in most centers report limited experience with handling similar cases, which, in turn, causes considerable anxiety in medical personnel [
7
,
15
]. Finally, because these cases are rare, scarce information regarding the surgical anatomy of these wounds is available [
16
]. The aim of the presentation of this clinical case, as well as of an anatomical dissection study performed to explain the clinical findings observed, is to add to the scant literature on emergent lesions to the ECA and the FN.
Case presentation
A 25-year-old Portuguese man with an unremarkable medical, social, family, and environmental history sustained a stab wound injury to his right preauricular region with a broken glass while he was sitting in a bar. Immediate profuse bleeding ensued. Provisory tamponade of the wound was achieved at the place of aggression by two off-duty doctors, who pressed a piece of clothing against the wound. The patient was initially transferred to a district hospital, where profuse arterial bleeding was observed by the general surgeon on call. A temporary compressive dressing was applied under local anesthesia. Subsequently, the patient was transferred to a tertiary hospital.
Two years after surgery, at his last follow-up visit, the patient had an inconspicuous scar and presented with no motor deficits in the territory of the FN. He claimed to be happy with the functional and aesthetic outcomes.
Discussion
Conclusions
To the best of our knowledge, this is the first report in the literature of a section of the ECA in the preauricular region without involvement of the FN. The cadaveric dissection study we performed demonstrates that the anatomical basis for this clinical scenario is the existence of a triangular space between the cervicofacial and temporofacial nerve trunks, in which the ECA is not covered by the FN or its branches.
Furthermore, we believe that this case report eloquently demonstrates that in the presence of major penetrating injuries to the head and neck, sound anatomical knowledge is instrumental in establishing a presumptive diagnosis of the severed structures and of the level of the injury. This knowledge is also the basis for instituting adequate therapeutic measures to prevent potentially fatal hemorrhage while preserving functionally significant structures such as the FN [
49
–
56
]. This avoided the subsequent need to repair the FN either primarily or with resort to nerve grafts or nerve flaps [
24
,
57
].
Acknowledgements
The authors express their gratitude to all the people who donated their bodies for medical research at our medical school, allowing us to perform the dissections described in this report. We are very grateful to Filipe Franco for providing the illustrative drawing shown in Fig.
5
.
Funding
One of the authors (DC) received a grant from the Program for Advanced Medical Education, which is sponsored by Fundação Calouste Gulbenkian, Fundação Champalimaud, Ministério da Saúde e Fundação para a Ciência e Tecnologia, Portugal.
Availability of data and materials
All data generated or analyzed during this study are included in this published article.
Ethics approval and consent to participate
The use of the cadaveric material was approved by the ethics committee at NOVA University Medical School, Lisbon, Portugal (08/2012/CEFCM).
Consent for publication
Written informed consent was obtained from the patient for publication of this case report and any accompanying images. A copy of the written consent is available for review by the Editor-in-Chief of this journal.
Competing interests
The authors declare that they have no competing interests.
Publisher's Note
Springer Nature remains neutral with regard to jurisdictional claims in published maps and institutional affiliations.
Open Access
This article is distributed under the terms of the Creative Commons Attribution 4.0 International License (
http://​creativecommons.​org/​licenses/​by/​4.​0/​
), which permits unrestricted use, distribution, and reproduction in any medium, provided you give appropriate credit to the original author(s) and the source, provide a link to the Creative Commons license, and indicate if changes were made. The Creative Commons Public Domain Dedication waiver (
http://​creativecommons.​org/​publicdomain/​zero/​1.​0/​
) applies to the data made available in this article, unless otherwise stated.