01.12.2019 | Research | Ausgabe 1/2019 Open Access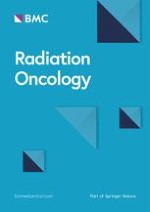 Strategy to avoid local recurrence in patients with locally advanced rectal cancer
Zeitschrift:
Autoren:

Takatoshi Nakamura, Takeo Sato, Kazushige Hayakawa, Wasaburou Koizumi, Yuji Kumagai, Masahiko Watanabe
Abstract
Background
To clarify the short- and long-term outcomes of radical surgery after neoadjuvant chemoradiotherapy (NCRT) with TS-1 and irinotecan, which enhances radiosensitivity, in patients with locally advanced rectal cancer.
Methods
The study group comprised 105 patients with locally advanced rectal cancer who received NCRT followed by radical surgery. NCRT consisted of pelvic radiotherapy (45 Gy in 25 fractions over a period of 5 weeks), S-1 (80 mg/m2) given concurrently for 25 days, and irinotecan (60 mg/m2), given once a week as a continuous intravenous infusion. Radical surgery was performed 8 weeks after treatment.
Results
A pathological complete response was confirmed in 23.8%. The 5-year recurrence-free survival rate was 79.3%, and the 5-year overall survival rate was 87.1%. Multivariate analysis showed that the following 4 variables were independent predictors of recurrence-free survival: Sex (male:
p =
0.0172), Pre-treatment tumor diameter (< 40 mm:
p =
0.0223), Histopathological treatment response (grade 0,1:
p =
0.0169), and ypN (ypN1:
p =
0.1995; ypN2:
p =
0.0007). Only ypN was an independent predictor of overall survival (ypN1:
p =
0.0009; ypN2:
p =
0.0012).
Conclusions
Our treatment strategy combining TS-1 with irinotecan to increase radiosensitivity had a high response rate.