01.12.2014 | Research | Ausgabe 1/2014 Open Access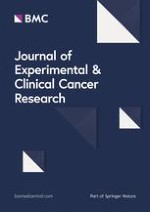 The activation of c-Jun NH2-terminal kinase is required for dihydroartemisinin-induced autophagy in pancreatic cancer cells
Zeitschrift:
Autoren:

Guang Jia, Rui Kong, Zhi-Bin Ma, Bing Han, Yong-Wei Wang, Shang-Ha Pan, Ying-Hua Li, Bei Sun
Wichtige Hinweise
Electronic supplementary material
The online version of this article (doi:
10.​1186/​1756-9966-33-8
) contains supplementary material, which is available to authorized users.
Competing interests
The authors declare that they have no competing interests.
Authors' contributions
GJ: study concept and design, experimental work and acquisition of data, drafting of the manuscript, analysis and interpretation of data. RK, ZBM, BH: experimental work and acquisition of data. YWW, SHP: analysis and interpretation of data. YHL, BS: study concept and design, analysis and interpretation of data, critical revision of the manuscript for important intellectual content of the manuscript. All authors read and approved the final manuscript.
Abstract
Background
c-Jun NH2-terminal kinases (JNKs) are strongly activated by a stressful cellular environment, such as chemotherapy and oxidative stress. Autophagy is a protein-degradation system in which double-membrane vacuoles called autophagosomes are formed. The autophagy-related gene Beclin 1 plays a key role in this process. We previously found that autophagy was induced by dihydroartemisinin (DHA) in pancreatic cancer cells. However, little is known about the complex relationship between ROS, JNK activation, autophagy induction, and Beclin 1 expression.
Methods
Cell viability and CCK-8 assays were carried out to determine the cell proliferation; small interfering RNAs (siRNAs) were used to knockdown c-Jun NH2-terminal kinases (JNK1/2) genes; western blot was performed to detect the protein expression of LC3, JNK, Beclin 1, caspase 3 and β-actin; production of intracellular ROS was analyzed using FACS flow cytometry; autophagy induction was confirmed by electron microscopy.
Results
In the present study, we explored the role of DHA and Beclin 1 expression in autophagy. DHA-treated cells showed autophagy characteristics, and DHA also activated the JNK pathway and up-regulated the expression of Beclin 1. Conversely, blocking JNK signaling inhibited Beclin 1 up-regulation. JNK activation was found to primarily depend on reactive oxygen species (ROS) resulting from the DHA treatment. Moreover, JNK pathway inhibition and Beclin 1 silencing prevented the induction of DHA-induced autophagy.
Conclusions
These results suggest that the induction of autophagy by DHA is required for JNK-mediated Beclin 1 expression.