01.12.2012 | Research article | Ausgabe 1/2012 Open Access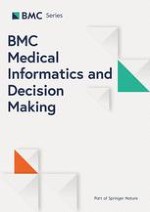 The freetext matching algorithm: a computer program to extract diagnoses and causes of death from unstructured text in electronic health records
Zeitschrift:
Autoren:

Anoop D Shah, Carlos Martinez, Harry Hemingway
Wichtige Hinweise
Electronic supplementary material
The online version of this article (doi:
10.​1186/​1472-6947-12-88
) contains supplementary material, which is available to authorized users.
Competing interests
None of the authors have any competing interests to declare.
Authors' contributions
ADS analysed the GPRD data for cause of death, designed the Freetext Matching Algorithm, and manually annotated the results of analysis. All authors discussed and reviewed the manuscript.
Abbreviations
FMA
Freetext Matching Algorithm
GPRD
General Practice Research Database
ICD-10
International Classification of Diseases, 10th Edition
MCCD
Medical Certificate of Cause of Death
ONS
Office for National Statistics
OXMIS
Oxford Medical Information System
UK
United Kingdom of Great Britain and Northern Ireland
UMLS
Unified Medical Language System.
Background
Our overarching aim was to develop a system for extracting clinical information from free text in electronic patient records. We used cause of death as an initial focus for program development, and have subsequently started to adapt the program to analyse texts associated with other types of clinical event.
Methods
Results
Discussion
Summary of our project
Our novel computer program, the 'Freetext Matching Algorithm', can encode 93% of diagnoses in free text associated with Read terms for death in GPRD, and has over 90% precision on a variety of types of free text in GPRD. It may facilitate research using databases of English electronic health records by reducing the need for time-consuming manual review of free text. In the task of extracting diagnoses from clinical text in patient records, the performance of FMA was similar to MetaMap, but MetaMap is more widely applicable to extracting information from other types of biomedical text.
It is often important to use the free text in database studies in order to avoid missing cases, such as death due to a particular cause [
19
]. The cause of death is available in GPRD for a subset of approximately 50 percent of GP practices in England by linkage to death registrations from 2001 onwards; however for practices not linked to cause of death data in GPRD, previous years, or if a patient dies abroad, researchers have to use the cause as recorded in GPRD. Almost 20% of deaths in the GPRD in 2001 had the cause of death recorded in the free text and not as a Read term (Table
5
); if we assume that the proportion is similar for previous years, we estimate that 30,000 patients have the cause of death recorded only in the free text. The FMA can also extract useful information on the circumstances surrounding death, such as timing and suddenness, which are not available in death registration data.
Limitations
Although our algorithm has the strengths of simplicity and flexibility, it does have important limitations, which we will seek to address with further development. Our algorithm sometimes assigns codes for clinical events which did not happen, or fails to encode clinical events which actually happened to the patient and are stated in the text. The errors occur because free text entries in the GPRD frequently contain spelling errors, abbreviations or complex statements about medical conditions which may or may not apply to the current patient. Our algorithm is conservative and will tend to avoid allocating a code if there is ambiguity in the text, so recall is worse than precision. Performance was better for texts associated with death than with a general sample, probably because texts associated with death frequently contained diagnoses with little extraneous information.
Another limitation is that our algorithm was developed and tested only using free text entries from the GPRD. Further development and testing will be required to ensure that it works on free text from other types of electronic health record (e.g. hospital notes). Our program is written only for UK English; the lookup tables and some aspects of the program would have to be re-written for other languages.
A limitation of our test methodology is that the same person (ADS) wrote the software and reviewed the results of analysis. Also, we reported precision and recall aggregated across the whole test set, rather than separately for specific attributes or diagnoses. It is likely that the accuracy of the algorithm varies by diagnosis, and we have found that it varies based on the source of the free text.
The current implementation of our program is inefficient in its use of computer processing power because it is written in an interpreted language (Microsoft Visual Basic 6.0). On a single-core desktop computer (2.66GHz Intel Celeron, 512MB RAM), it can analyse 2500 words a minute, which is similar to MedLEE (8 seconds per discharge summary on a Sun Blade server with dual 2.1GHz processors [
11
]). Although our program is adequate for analysing a few thousand texts for specific studies, we aim to make it faster by converting it to a compiled language such as C/C++, in order to enable it to be used at the point of data entry or to analyse millions of records for research (e.g. to find cases of a disease among population records).
Research implications
The algorithm may be of use for studies investigating specific diseases in GPRD or similar databases of electronic patient records in the UK. Recall for the diagnosis of interest can be improved by adding additional entries to the synonym table. It will reduce the need for costly anonymisation of the free text, but a random sample of texts used in the study would need to be checked manually to verify the accuracy of conversion. An extension of this use is for the program to be run on the entire set of free text in the GPRD, generating a table of newly Read-coded events. This will make it more efficient to select relevant texts for research studies, compared to the current method of searching on text strings.
Apart from diagnoses, the FMA can also extract test or examination results which are not recorded in the coded data. For example, only 10% of GPRD patients have a record of pulse rate in the structured data, but pulse rate was available in 0.8% of texts in our test set (which contained fragments of the electronic record for a few hundred patients). Most of these were quoted in outpatient clinic letters, and it is likely that a large proportion of patients with heart disease have a pulse rate measurement in the free text at some point in their electronic record. It would be almost impossible to extract this information on a large scale without an automated tool such as FMA.
Clinical implications
With further development, our algorithm may be useful clinically to assist the coding of medical diagnoses. For example, instead of navigating a terminology menu system in order to select an appropriate code, a clinician can simply enter the diagnosis as free text, allow the program to suggest a Read term and confirm that it is correct. Current clinical software systems often have cumbersome time-consuming interfaces for entering structured information, and this hinders the production of structured medical narratives [
29
,
30
]. By allowing clinicians to enter information in a way which is natural to them, real-time natural language processing may help in coding diseases that otherwise would not be recorded, thereby improving the completeness of the medical record. This may improve patient safety by making the information easier to retrieve.
Although FMA is not accurate enough to replace a human coder completely, it may save time by enabling coders to concentrate on quality control rather than manually searching for every individual code. An assisted coding system may also overcome the slowness of conventional coding systems in adapting to new diseases, such as toxicity due to novel recreational drugs [
31
]. A software update may be quicker and easier to deploy than publishing new clinical codes and training staff to use them. Natural language processing might also ease the learning curve in switching to a new coding system, such as the planned transition from Read to SNOMED-CT [
17
]. Rather than having to learn the new terminology hierarchy, clinicians can continue to enter diagnoses in free text and allow the program to map them to the new codes.
Further development
We aim to rewrite the software in a faster programming language and remove its reliance on proprietary software. We believe that it is most productive to advance this project using an open source collaborative approach, both for development and to minimise the cost of deployment, and we have therefore licensed our current code under the GNU General Public License Version 3 (Additional files
2
and
3
).
We may develop our algorithm to extract details from investigation reports (e.g. coronary angiograms) or to encode therapeutic procedures. We may investigate use of parts of the Unified Medical Language System (UMLS) [
21
] to be able to detect a wider range of synonyms for diagnostic terms. The UMLS is a comprehensive medical thesaurus maintained by the U.S. National Library of Medicine, which is used by MedLEE [
11
] and other natural language processing projects. However, as it is such a large database it may significantly increase the size of our program, so its incorporation into our system will have to be considered carefully.
Another desirable feature is for the algorithm to report its confidence in terms selected. Currently, terms may be excluded from the output if there are features in the text which make the diagnosis ambiguous, such as acronyms which can be interpreted in alternative ways. It may be useful to vary the confidence threshold by task; for example identification of texts for manual review requires high recall but precision is less important.
Conclusions
We have developed a program to extract coded information including causes of death and other diagnoses from free text in electronic patient records. It reduces the need for anonymisation of free text and facilitates the use of these data in research. With further development, it is also likely to be useful in clinical applications such as assisted coding.
Acknowledgements
Initial development of the Freetext Matching Algorithm was funded by the GPRD Division of the Medicines and Healthcare products Regulatory Agency and supervised by Carlos Martinez. We would like to thank Stephan Rietbrock for helpful advice and assistance in obtaining free text entries for initial program development. The GPRD group have agreed to enable the source code to be freely available under an open source licence.
The research leading to these results has received funding from the Wellcome Trust (086091/Z/08/Z;
http://​www.​wellcome.​ac.​uk
) and the National Institute of Health Research (RP-PG-0407-10314;
http://​www.​nihr.​ac.​uk
) under the project CALIBER (CArdiovascular disease research using Linked Bespoke studies and Electronic Records). This work was supported in part by the IST Programme of the European Community, under the PASCAL2 Network of Excellence. Anoop Shah is supported by a Wellcome Trust Clinical Research Training Fellowship (0938/30/Z/10/Z). The funders had no role in study design, data collection and analysis, decision to publish, or preparation of the manuscript.
1Clinical Epidemiology Group, Department of Epidemiology and Public Health, University College London, London, UK. 2Consultant Epidemiologist, Frankfurt, Germany.
Competing interests
None of the authors have any competing interests to declare.
Authors' contributions
ADS analysed the GPRD data for cause of death, designed the Freetext Matching Algorithm, and manually annotated the results of analysis. All authors discussed and reviewed the manuscript.