01.12.2016 | Research article | Ausgabe 1/2016 Open Access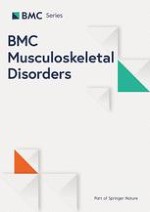 The osteoblast as an inflammatory cell: production of cytokines in response to bacteria and components of bacterial biofilms
Zeitschrift:
Autoren:

Ulrike Dapunt, Thomas Giese, Sabine Stegmaier, Arash Moghaddam, Gertrud Maria Hänsch
Abstract
Background
Implant infections are a major complication in the field of orthopaedics. Bacteria attach to the implant-surface and form biofilm-colonies which makes them difficult to treat. Not only immune cells exclusively respond to bacterial challenges, but also local tissue cells are capable of participating in defense mechanisms. The aim of this study was to evaluate the role of osteoblasts in the context of implant infections.
Methods
Primary osteoblasts were cultivated and stimulated with free-swimming bacteria at 4 °C and 37 °C. Supernatants were harvested for ELISA and expression of pro-inflammatory cytokines evaluated by RT-PCR. Bacterial binding to osteoblasts was evaluated using cytofluorometry and uptake was investigated by
3
H thymidine-labelling of bacteria. Osteoblasts were additionally stimulated with the extracellular polymeric substance (EPS) of
Staphylococcus epidermidis
biofilms, as well as components of the EPS; the bacterial heat shock protein GroEL in particular.
Results
We demonstrated that binding of bacteria to the osteoblast cell surface leads to an increased production of pro-inflammatory cytokines. Bacteria are capable of surviving intracellular. Furthermore, osteoblasts do not only respond to free-swimming, planktonic bacteria, but also to components of the EPS, including lipoteichoic acid and the heat shock protein GroEL.
Conclusion
In conclusion, local tissue cells, specifically osteoblasts, might contribute to the persistence of the inflammatory response associated with implant-infections.