01.12.2019 | Research article | Ausgabe 1/2019 Open Access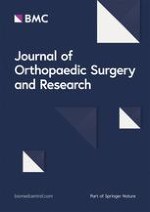 The proper correction of the mechanical axis in high tibial osteotomy with concomitant cartilage procedures
—

a retrospective comparative study
Zeitschrift:
Autoren:

Myung Ku Kim, Bong Sung Ko, Joo Hyun Park
Wichtige Hinweise
Publisher's Note
Springer Nature remains neutral with regard to jurisdictional claims in published maps and institutional affiliations.
Abstract
Background
The guidelines to correct the mechanical axis in high tibial osteotomy (HTO) have changed recently, and some studies have suggested that the correction of the mechanical axis should be based on the severity of cartilage defect. The purpose of this study was (1) to evaluate the radiographic and clinical outcomes of HTO with concomitant cartilage procedures and (2) to compare our method with conventional method regarding the mechanical axis correction.
Methods
Sixty-six knees which underwent opening wedge HTO with cartilage procedures were evaluated retrospectively. The mean age was 56.0 ± 8.3 years, and the average follow-up period was 35.9 ± 22.0 months (range, 24–93 months) with a minimum follow-up of 2 years. All patients were divided into two groups regarding the method of mechanical axis correction; the postoperative mechanical axis was shifted to 50–55% of the tibial plateau width in group I (
n
 = 46) and to 62–66% according to the conventional method in group II (
n
 = 20). Concomitant cartilage procedures were performed, and each technique of those was determined according to the cartilage status.
Results
The functional scores and visual analog scale for pain in all patients showed a significant improvement at the final follow-up, but there was no significant difference between two groups. The postoperative mechanical axis was the valgus axis of 0.7° in group I with average mechanical axis deviation (MAD) of 51.7%, whereas the valgus axis of 4.2° in group II with average MAD of 64.0%. In patients who underwent second-look arthroscopy, the cartilaginous regeneration could be obtained by cartilage procedures.
Conclusion
In HTO with concomitant cartilage procedures, the method to correct postoperative mechanical axis to the neutral or valgus axis less than 3° could be an effective and safe method to obtain reliable clinical outcomes without complications. Therefore, our method can be used as a selective technique to prevent complications related to the postoperative valgus alignment in patients who are needed much correction angle due to the preoperative severe varus alignment.
Study design
Retrospective comparative study, level III.