09.01.2020 | Original Article | Ausgabe 9/2020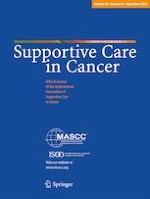 The use of complementary medicine in palliative care in France: an observational cross-sectional study
Zeitschrift:
Autoren:

Marilene Filbet, Janet Schloss, Jean-Baptiste Maret, Helene Diezel, Per J. Palmgren, Amie Steel
Wichtige Hinweise
Key statements
What is already known about the topic?
• Complementary medicine (CM) is used by 10–40% of cancer patients in Europe
• Only one single site study in France has explored CM use in cancer patients, reporting a rate of 34%
• The majority (90.7%) of palliative patients in Lyon, France, use complementary medicine
• Palliative patients using CM more commonly consult with a CM practitioner (86.2%) than use a CM product (64.8%)
Implications for practice, theory, or policy
• The high rate of CM use by palliative patients in France requires an urgent examination of the clinical effectiveness and safety of the CMs being used
• CM literacy among palliative doctors and other health professionals in France must be reviewed to ensure it meets the information needs of patients in their care
Publisher's note
Springer Nature remains neutral with regard to jurisdictional claims in published maps and institutional affiliations.
Abstract
Purpose
Palliative care for cancer deals with physical, psychosocial, and spiritual issues faced by cancer patients, their families, communities, and healthcare providers. Research on complementary medicine (CM) use in France is limited despite high rates of reported CM use in other countries including by palliative patients. This study describes the use of CM by individuals receiving palliative care in Lyon, France.
Design
This study employed an observational cross-sectional survey design.
Setting/participants
The study was conducted in three palliative care centers in Lyon, France; two tertiary hospitals and one palliative care unit (3 sites). Inpatients and outpatients visiting the palliative care clinic with a primary diagnosis of cancer at each study site were invited to participate.
Results
Of 138 eligible patients, 100 completed the survey (RR 72.4%). The majority (90.7%) reported using CM in the previous 6 months or since their primary cancer diagnosis. Participant CM use was either the same (20.7%) or increased since their primary cancer diagnosis (33.7%). Average out-of-pocket expenses associated with CM use in the previous 6 months or since diagnosis were €157.40 (SD €330.15). The most common CM health professional visited was an aromatherapist (72.7%), a
Coupeurs de feu
(38.6%), osteopath (28.6%) and naturopath (15.3%). The most common CM used were aromatherapy oils (33.7%), homeopathy (30.0%), and vitamins (29.4%).
Conclusion
This second survey on CM use in France; is the first conducted in palliative care centers. Results show people with cancer in Lyon, France, have a very high prevalence of CM utilization.