01.12.2018 | Research | Ausgabe 1/2018 Open Access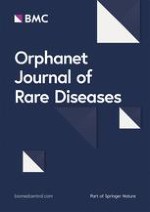 Three unreported cases of TMEM199-CDG, a rare genetic liver disease with abnormal glycosylation
Zeitschrift:
Autoren:

Pietro Vajro, Katarzyna Zielinska, Bobby G. Ng, Marco Maccarana, Per Bengtson, Marco Poeta, Claudia Mandato, Elisa D'Acunto, Hudson H. Freeze, Erik A. Eklund
Abstract
Background
TMEM199
deficiency was recently shown in four patients to cause liver disease with steatosis, elevated serum transaminases, cholesterol and alkaline phosphatase and abnormal protein glycosylation. There is no information on the long-term outcome in this disorder.
Results
We here present three novel patients with TMEM199-CDG. All three patients carried the same set of mutations (c.13-14delTT (p.Ser4Serfs*30) and c.92G > C (p.Arg31Pro), despite only two were related (siblings). One mutation (c.92G > C) was described previously whereas the other was deemed pathogenic due to its early frameshift. Western Blot analysis confirmed a reduced level of TMEM199 protein in patient fibroblasts and all patients showed a similar glycosylation defect. The patients presented with a very similar clinical and biochemical phenotype to the initial publication, confirming that TMEM199-CDG is a non-encephalopathic liver disorder. Two of the patients were clinically assessed over two decades without deterioration.
Conclusion
A rising number of disorders affecting Golgi homeostasis have been published over the last few years. A hallmark finding is deficiency in protein glycosylation, both in N- and O-linked types. Most of these disorders have signs of both liver and brain involvement. However, the present and the four previously reported patients do not show encephalopathy but a chronic, non-progressive (over decades) liver disease with hypertransaminasemia and steatosis. This information is crucial for the patient/families and clinician at diagnosis, as it distinguishes it from other Golgi homeostasis disorders, in having a much more favorable course.