01.12.2018 | Research article | Ausgabe 1/2018 Open Access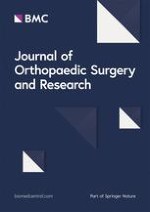 Total hip arthroplasty to treat acetabular protrusions secondary to rheumatoid arthritis
Zeitschrift:
Autoren:

Ping Zhen, Xusheng Li, Shenghu Zhou, Hao Lu, Hui Chen, Jun Liu
Abstract
Background
The treatment of acetabular protrusions during total hip arthroplasty of patients with rheumatoid arthritis is difficult. A lack of bone stock, deficient medial cup support, and medialization of the joint center in those with protrusio acetabuli must be addressed during acetabular reconstruction. The purpose of this study was to assess the short-term clinical results of total hip arthroplasty in patients with severe acetabular protrusions secondary to rheumatoid arthritis.
Methods
From January 2011 to November 2014, 18 patients (20 hips) with severe acetabular protrusions secondary to rheumatoid arthritis underwent total hip arthroplasties using a non-cement impaction and auto-bone-grafting method with resection of the femoral head to treat the acetabular protrusion. The Harris hip scoring system was used to evaluate hip function during follow-up; X-rays were taken to assess the extent of prosthesis loosening and bone graft healing.
Results
The operation time ranged from 55 to 131 min, averaging 89.5 ± 8.1 min. The blood loss was 165–480 mL (295 ± 10.9 mL). No blood vessel or nerve damage and no acetabular or femoral fracture occurred. The follow-up duration was 4.5 ± 1.7 years. Postoperative X-rays revealed autologous bone graft/acetabular fusion at 4.5 months post-surgery. The Harris hip scores increased significantly, from 55.3 ± 9.5 to 92.2 ± 12.7, after the operation (
P
 < 0.01). The distance from the center of the femoral head to Kohler's line increased from 19.87 ± 3.9 mm to 21.5 ± 3.5 mm after the operation (
P
 < 0.01). During follow-up, no hip acetabular prosthesis loosening was evident.
Conclusions
For patients with protrusio acetabuli secondary to rheumatoid arthritis, the use of a cementless, trabecular, metal modular cup allowing peripheral press fitting and restoration of bone stock via impacted autologous bone grafting are both technically straightforward and appear to yield satisfactory short-term results.