01.12.2019 | Study protocol | Ausgabe 1/2019 Open Access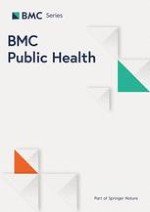 Towards reducing behavioral risk factors of non-communicable diseases among adolescents: protocol for a school-based health education program in Bangladesh
Zeitschrift:
Autoren:

Marium Salwa, Md Atiqul Haque, Md Khalequzzaman, Mohammad Abdullah Al Mamun, Mahfuzur Rahman Bhuiyan, Sohel Reza Choudhury
Wichtige Hinweise
Electronic supplementary material
Publisher's Note
Springer Nature remains neutral with regard to jurisdictional claims in published maps and institutional affiliations.
Abstract
Background
Developing strategies aimed at reducing behavioral risk factors and hence the prevalence of non-communicable diseases (NCDs) is a major challenge to the policy makers today. Like the same age group worldwide, the prevalence of obesity, unhealthy dietary habit, physical inactivity, smoking and alcohol intake is high among the adolescents of Bangladesh. Studies showed promising results of an early intervention at adolescent age in reducing the likelihood of NCDs at adult age. So, this study is designed to implement a behavior change intervention and evaluate the effectiveness of the intervention in reducing the behavioral risk factors of NCDs among the adolescents of Bangladesh.
Methods
A before-after designed intervention study will be conducted in two randomly selected secondary schools- one will be selected randomly as intervention school and the another as control school. A baseline survey will be conducted among the students of both schools by a pre-tested questionnaire to attain their current status of knowledge, attitude and practices related to NCDs. Afterward, students will be enrolled in the intervention group who will meet the eligibility criteria from the intervention school. The intervention will be given through a health promotion session to a group of students, not more than 25 at a time, by trained facilitators. A post-intervention end line survey will be conducted among all the participants from both schools using the same questionnaire 3 months after the baseline survey.
Discussion
An intervention has been developed based on some principals of two psychosocial theory- Motivational Interview and Social Cognitive Theory. Emphasis will be given on motivating the adolescents towards a healthy lifestyle, supporting self-efficacy to be changed, guiding self-regulatory ways along with facilitating desired changing process by empowering them with choices about the preventive measures of NCDs. This intervention is expected to increase awareness by equipping the adolescents with specific knowledge and skills and thus, facilitate an eventual change in their practiced risk behaviors. Besides, this intervention will address multiple behaviors at a time, and will be delivered to a group of adolescents, to attain the cost-effectiveness and thereby making it more realistic in the resource-poor context of Bangladesh.
Trial registration
ClinicalTrials.gov
NCT03975335
, registered on 01.06.2019. Retrospectively registered.