01.12.2017 | Case report | Ausgabe 1/2017 Open Access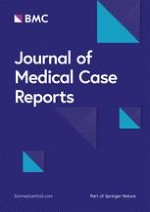 Unusual course of generalized lymph node primary plasmacytoma in a patient with Sjögren's syndrome: a case report
Zeitschrift:
Autoren:

Vadim R. Gorodetskiy, Natalya A. Probatova, Vladimir I. Vasilyev
Abstract
Background
Primary lymph node plasmacytoma is a rare disease that typically involves lymph nodes of the neck. In only 15% of cases is the disease generalized. Here, we present a case of generalized lymph node plasmacytoma in a patient with Sjögren's syndrome with an unusual course.
Case presentation
A 48-year-old white woman presented to our hospital with enlargement of groups of lymph nodes, liver, and spleen. Her medical history was consistent with a 12-year course of Sjögren's syndrome. Blood and urine immunochemistry showed a massive (72 g/l) M-gradient formed from immunoglobulin Aκ in the serum and monoclonal free κ-type light chains in her urine. A skeletal X-ray revealed no bone destruction. Cytological and histological bone marrow assays showed no signs of plasma cell infiltration. The microarchitecture of her neck and inguinal lymph nodes was destroyed. Only small remnants of B cell follicles were found, while the interfollicular areas were expanded and infiltrated by CD138, MuM1, CD43, and IgAκ-positive plasma cells. After nine cycles of doxorubicin, cyclophosphamide, vincristine, and prednisolone chemotherapy, complete remission was achieved. However, the lymphoma relapsed 3 months later, with histological verification in her femoral lymph node. Despite the absence of subsequent adequate therapy, she gradually achieved complete remission of plasmacytoma with the disappearance of paraproteins.
Conclusions
Currently, primary lymph node plasmacytoma is generally considered a nodal marginal zone lymphoma with an extensive plasmacytic differentiation. In our case, despite the critical histological and immunohistochemical evaluation of three lymph node biopsies from different anatomical areas at different times, no signs of nodal marginal zone lymphoma were found. An 18-year follow-up of our patient with primary lymph node plasmacytoma demonstrated an extremely unusual clinical course. Initially, primary lymph node plasmacytoma was refractory to chemotherapy. However, subsequently, she underwent a complete spontaneous remission of plasmacytoma.