01.12.2018 | Research article | Ausgabe 1/2018 Open Access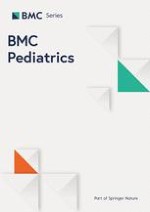 Vitamin D in children with growth hormone deficiency due to pituitary stalk interruption syndrome
Zeitschrift:
Autoren:

Cécile Delecroix, Raja Brauner, Jean-Claude Souberbielle
Abstract
Background
Recent studies have shown a relationship between vitamin D status and growth hormone (GH) and insulin-like growth factor 1 (IGF1). The objective of this study was to assess vitamin D status in children with GH deficiency due to pituitary stalk interruption syndrome (PSIS) and to investigate the relationship between 25-hydroxyvitamin D (25OHD) and 1,25-dihydroxyvitamin D (1,25 (OH) 2D) serum levels and patient characteristics.
Methods
A retrospective single-center study of 25OHD and 1,25(OH)2D serum concentrations in 50 children with PSIS at the initial evaluation before treatment.
Results
Mean concentrations of 33.2 ± 18.0 ng/mL for 25OHD and 74.5 ± 40.7 ng/L for 1,25(OH)
2
D were measured. Additionally, 25OHD concentrations were significantly higher in boys than in girls (
p
 = 0.04) and lower in the cold season than in the sunny season (
p
 = 0.03). Significant positive correlations were observed between the GH peak and serum 1,25 (OH)
2
D concentrations (Rho = 0.35;
p
 = 0.015) and the 1,25(OH)
2
D/25OHD ratio (Rho = 0.29;
p
 < 0.05). No correlation was found for other characteristics, including IGF1.
Conclusions
Vitamin D status in children with hypothalamic-pituitary deficiency due to PSIS was similar to that reported in national and European studies in healthy children. The positive significant correlations between the GH peak and the 1,25 (OH)2D concentration as well as with the 1,25 (OH)2D/25OHD ratio suggest that even in these patients who had severely impaired GH secretion and low IGF1 levels, an interplay between the GH/IGF1 axis and the vitamin D system still exists.