01.12.2017 | Case report | Ausgabe 1/2017 Open Access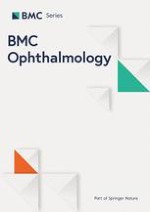 A case of pseudoxanthoma elasticum with proliferative diabetic retinopathy
Zeitschrift:
Autoren:

Keigo Kakurai, Maiko Hayashi, Kanako Yamada, Norihiko Ishizaki, Yumiko Yonemoto, Seita Morishita, Ryohsuke Kohmoto, Takaki Sato, Teruyo Kida, Tsunehiko Ikeda
Abstract
Background
To report the case of a patient with pseudoxanthoma elasticum (PXE) and proliferative diabetic retinopathy (PDR), and discuss the relationship between PXE and diabetic retinopathy (DR).
Case presentation
A 47-year-old man with PXE presented with angioid streaks and DR in both eyes, and bilateral panretinal photocoagulation was performed for treatment. Vitrectomy had previously been performed in his right eye for vitreous hemorrhage due to PDR. Systemic findings included multiple, discrete, symmetrical, small yellow papules bilaterally in the axilla and inguinal region. Examination on presentation showed vitreous hemorrhage in his left eye, and vitrectomy was performed for treatment. Intraoperative findings showed fibrovascular membrane around the optic disc and vascular arcade. A mottled fundus (peau d'orange appearance) associated with angioid streaks was also present, yet there was no evident choroidal neovascularization (CNV). The postoperative course was satisfactory, and corrected visual acuity improved from 0.02 to 0.7 diopters.
Conclusion
Despite the peau d'orange appearance in both eyes of this case, no CNV was evident. The vitreous hemorrhage was thus attributed to PDR. Moreover, we reviewed the published literature and discuss the relationship between PXE and DR.