01.12.2018 | Case report | Ausgabe 1/2018 Open Access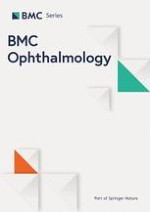 A case of scleritis associated rheumatoid arthritis accompanying an intraocular elevated lesion
Zeitschrift:
Autoren:

Takatoshi Kobayashi, Nanae Takai, Rei Tada, Hiromi Shoda, Teruyo Kida, Tsunehiko Ikeda, Takurou Ozaki, Shigeki Makino
Abstract
Background
Scleritis and/or uveitis sometimes accompanies patients who suffer from rheumatoid arthritis. However, few studies have reported scleritis and/or uveitis accompanying a fundus elevated lesion, such as an intraocular tumor. In this study, we report a case of rheumatoid uveitis associated with an intraocular elevated lesion.
Case presentation
A 66-year-old female visited another eye clinic and was diagnosed as bilateral anterior uveitis, and was prescribed steroid eye drops for treatment. She had previously been diagnosed as rheumatoid arthritis at the age of 30 years. Due to vitreous opacity that appeared in her right eye, we increased the instillation of steroid eye drops and the amount of oral prednisolone. Although the inflammation had improved, anterior uveitis relapsed, and an intraocular whitish elevated lesion resembling an intraocular tumor at the superior nasal retina appeared. We speculated this lesion to be a granuloma complicated with rheumatoid arthritis. Thus, we increased the amount of prednisolone administration, and the lesion began to shrink and ultimately fully disappeared.
Conclusions
We strongly believe that our case's lesion was a subretinal granuloma related with rheumatoid arthritis, as it disappeared by increased corticosteroid treatment. Our findings show that we should consider rheumatoid arthritis in a differential diagnosis of such types of fundus elevated lesions.