01.12.2018 | Primary Research | Ausgabe 1/2018 Open Access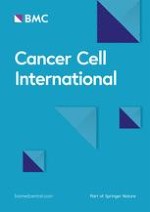 A cross-talk between integrin β4 and epidermal growth factor receptor induces gefitinib chemoresistance to gastric cancer
Zeitschrift:
Autoren:

Jia Huafeng, Zhang Deqing, Ding Yong, Zhang Yulian, Hu Ailing
Wichtige Hinweise
Jia Huafeng and Zhang Deqing made same contribution to the work
Background
In recent years, EGF receptor inhibitors such as gefitinib, erlotinib have obtained rapid clinical application because of high efficiency and low toxicity. The research related to EGF receptor inhibitors has become a focus in the field of malignant tumor. Gefitinib is one of the representative drugs which is a selective inhibitor of EGFR and typically acts as antiproliferative agent and induces cell apoptosis. Gefitinib is indicated for the treatment of patients suffering from cancer due to EGFR mutations but with clinical treatment the drug resistance is found in most of patients. Therefore, the resistance mechanism of the tumor invasion and metastasis is the main obstacle of cancer treatment.
Materials and methods
Cell lines
The gastric cancer cell line SGC7901 was cultured in RPMI-1640 medium and supplemented with 10% heat-inactivated fetal bovine serum (FBS), 100 IU penicillin/ml and 100 μg/ml streptomycin. The gefitinib-resistant variant SGC7901R was obtained from SGC7901 by exposing them to increasing concentrations of gefitinib (0.1, 1, 5 and 10 μM) (Sigma, MO, USA). Briefly, the cells were co-cultured with 0.1 μM of gefitinib for 24 h which was later on replaced by fresh medium. When living cells reached 80%, the monolayer cultures were passaged and cultured to logarithmic phase, then treated with 1 μM of gefitinib for 24 h. We repeated the same operations at the concentrations of 5 and 10 μM of gefitinib.
Proliferation assay
SGC7901 and SGC7901R cells were seeded into a 96-well plate at a density of 1000/well and then incubated at 37 °C in 95% air and 5% CO2 respectively. After that, gefitinib was added to make the final concentrations of 0, 0.5, 1, 2 and 4 μM. After 48 h of incubation, the cell viability was then evaluated by MTT assay. 20 μl of MTT solution was added to 100 μl culture media which were further incubated for 4 h at 37 °C. Later on, 200 μl DMSO was added to each well after removing the culture medium and the plates were shaken for 10 min. The absorbance (OD) value was then measured at A490 nm. Three replicates of each sample were analyzed in each assay.
Apoptosis assay
In order to assay apoptosis, SGC7901 or SGC7901R cells were treated with various chemicals and labeled with 4 μl of FITC-Annexin V and 8 μl of PI for 5-min in a dark place at room temperature. The specimens were then detected by using one flow cytometer for apoptosis assay. Normal living cells as well as early apoptotic cells resisted the staining by PI, but necrotic cells could not resist the staining [
10
].
Integrin β4 siRNA or over-expressed vector
The full-length cDNA of integrin β4 was amplified from SGC7901/gefitinib cells and cloned into the
Xho
l I/
Bam
H I sites of the vector pcDNA3 in order to generate integrin β4 high expressed vector.
siRNA sequence targeting human integrin β4 was purchased from Santa Cruz biotechnology. The integrin β4 siRNA was transfected into gastric cancer cells with lipofectamine 2000. Corresponding negative-control siRNA was used as a negative control. After that, the total cellular extracts were prepared and the expressions of EGFR and integrin β4 were tested by western blot and real-time PCR.
Real-time PCR
Real-time PCR monitored the amplification of a targeted DNA molecule during the PCR. RNA was removed from above samples by using Trizol so as to perform Real Time PCR. After RNA extraction, reverse transcription was performed by AMV reverse transcriptase. Real-time PCR was then carried out by using SYBR Green Real Time PCR Kit. The primers that were synthesized from the RNA are as follows: P-gp: 5′-ATGAGGGAGTATCTTCCTTACCTTCA-3, 3′-GCCCATCTCACCAACCAGTG-5; GAPDH: 5′-CCACTCCTCCACCTTTGAC-3′, 5′-ACCCTGTTGCTGTAGCCA-3. During this procedure, 1 µl of the reverse-transcriptase was added to a 2 µl PCR mixture for 40 cycles. Each cycle included 93 °C for 30 s, 60 °C for 60 s. Negative controls were used to compare the effect of a particular reaction. Negative controls consisted of an equal volume of water replaced for the volume of RNA in the RT reaction. The mRNA expression normalization data was achieved by comparing the copy numbers of target mRNAs with that of human GAPDH for each run [
11
].
Western blot assays
Western blot assays are used to detect specific proteins in a tissue sample. In this study, western blot assays were used to monitor the expression of EGFR as well as integrin β4. The gastric cancer cell lines were cultured overnight to a confluence of 1 × 107 cells/cm2 in RPMI-1640 medium containing 10% FBS before the experiment. Then the RPMI-1640 medium was removed and cells were arranged spherically as well as lyzed in lysis buffer. All the samples were centrifuged at 10,000 × rpm for 10 min. The protein was separated by sodium dodecyl sulfate–polyacrylamide gel electrophoresis. The Protein which was present on SDS-PAGE was placed to nitrocellulose and blocked with 3% bovine serum albumin in TBST. TBST is a mixture of tris-buffered saline (TBS) and Polysorbate 20. The protein was then added to rabbit anti-human antibodies. After that, it was rotated for 1 h at room temperature and washed with TBST three times. Finally an electrochemiluminescence kit including a goat anti-rabbit antibody detected the proteins on the nitrocellulose.
Immunoprecipitation
Cells or clinic samples were lysed in RIPA buffer at 0 °C for 1 h, then centrifuged for 20 min at 15,000
g
. The supernatants were precleared with Sepharose 4B for 1 h and then incubated with monoclonal anti-EGFR antibody for 2 h followed by incubation with Sepharose 4B-conjugated secondary antibody. The Sepharose beads were washed three times, then boiled for 5 min in SDS-PAGE sample buffer. Samples were subjected to SDS-PAGE and western blotting by using mouse monoclonal anti-integrin β4 antibody.
Clinic samples
Gastric cancer patients (16 men, 34 women) with 38 cases that were resistant to gefitinib were included in the study. The median age at surgery was 55 years old. The majority (70%) of patients had advanced TNM stage, and unexpected metastases were found in five cases (10%) during the surgery and postoperative pathology examination.
Indirect immunofluorescence
After cells were grown to 80% confluence in 96-well round-bottom plates, anti-p-EGFR or anti-integrin β4 monoclonal antibody was added at 4 °C overnight followed by FITC-conjugated secondary antibody at 37 °C and 5% CO2 for 2 h, and then directly analyzed with fluorescence microscopy (Acasultm312,USA).
Statistical analysis
The results were analyzed by ANOVA and Student's
t
test. P value of less than 0.05 was considered statistically significant. Calculations were performed using SPSS software. Each experiment was repeated three times unless indicated otherwise.
Results
Conclusion
In summary, our present study showes that there is a crosstalk between EGFR and integrin β4 pathways, which may induce drug resistance. Our report may give fresh ideas for treatment of gastric cancer with molecular-targeted therapy.
Authors' contributions
Conception and design: HA; Collection and assembly of data: JH, ZD, DY, ZY; Data analysis and interpretation: JH; Manuscript writing: JH; All authors read and approved the final manuscript.
Acknowledgements
Not applicable.
Competing interests
The authors declare that they have no competing interests.
Availability of data and materials
All datasets on which the conclusions of the manuscript rely were presented in the main paper.
Consent for publication
Not applicable.
Ethics approval and consent to participate
The protocol was approved by the Ethics Committee Institute of Hongze District People's Hospital (Permit Number: CTHZ-110043-24).
Publisher's Note
Springer Nature remains neutral with regard to jurisdictional claims in published maps and institutional affiliations.
Open Access
This article is distributed under the terms of the Creative Commons Attribution 4.0 International License (
http://​creativecommons.​org/​licenses/​by/​4.​0/​
), which permits unrestricted use, distribution, and reproduction in any medium, provided you give appropriate credit to the original author(s) and the source, provide a link to the Creative Commons license, and indicate if changes were made. The Creative Commons Public Domain Dedication waiver (
http://​creativecommons.​org/​publicdomain/​zero/​1.​0/​
) applies to the data made available in this article, unless otherwise stated.