01.12.2016 | Research | Ausgabe 1/2016 Open Access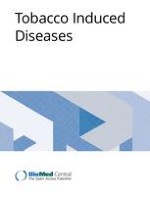 A neglected opportunity for China's tobacco control? Shift in smoking behavior during and after wives' pregnancy
Zeitschrift:
Autoren:

Hao Yin, Xiao Chen, Pinpin Zheng, Michelle Kegler, Qinfeng Shen, Biao Xu
Background
Method
Participants
Five community health centers in two districts of Shanghai were purposively selected to represent both urban and suburban populations. During July to August 2011, all mothers with children aged 3–18 months who came to the community health center for childhood vaccinations under the national immunization program were asked by the doctor or nurse on site to participate in this study. It was assumed that 38% of the male smokers might quit smoking or reduce tobacco consumption, and the no response rate of the participating women was 10%, thus, the sample size was estimated as 718 (652 + 66). According to the annual report of Shanghai Municipal Center for Disease Prevention and Control, the national immunization program had a nearly full coverage (100%) in Shanghai suggesting good representativeness [
20
]. Women who had been living with a husband/partner in Shanghai for at least one year before the last pregnancy, and also living together during pregnancy and at least three months after were eligible for participation regardless of having a valid Shanghai residence identity.
Procedure and survey content
Eligible mothers were asked to complete a self-administrated anonymous questionnaire after their child's vaccinations were completed. Trained medical students were on site for assistance. The questionnaire included not only questions regarding socio-demographics; women's own smoking status and that of their husbands and extended family members; ETS exposure at home; requests made to husband/partner to stop smoking in their presence; knowledge and attitude about smoking and second hand smoke; but also men's tobacco smoking and quitting during pregnancy; counselling receiving. Counselling refers to education on harms of tobacco towards the pregnant women and husbands which was but not limited to counselling from doctors, midwives and other health professionals.
For those with a husband who smoked, additional information regarding the husband's quitting behavior during and after the pregnancy was collected. This information included, but was not limited to alterations in numbers and locations of smoking, and factors the mother believed were related to these alterations. Additionally, Women who reported that their husband quit smoking during their pregnancy were asked to report whether a relapse had happened after delivery and the duration between delivery and relapse. In the context of Chinese culture, men living with their female partners in this study were called "husband" regardless of marital status.
We hypothesized that both individual and socio-environmental factors could contribute to expectant fathers' quitting smoking during pregnancy. Therefore, we listed individual reasons such as age, education, income and current or ever smoker; and socio-environmental reasons such as influences from family members, working environment, social context and living pressure.
Definition of measures
Ever smokers were persons who smoked at least 100 cigarettes in their lifetime. Current smokers were ever smokers who were smoking at the time of the survey. Smoking status was classified as daily smokers or occasional smokers. Daily smokers were further classified as light, moderate or heavy smokers for less than 10, 10–20 and more than 20 cigarettes smoked per day respectively, in accordance with the definition used in GATS China 2010 and 2002 National Surveys [
6
,
21
]. Occasional smokers were defined as persons who were currently smoking some days during a week. Quitting smoking was defined as smokers who had not smoked for at least three months.
Environmental factors were assessed with the following items: "My husband quit smoking because he cannot stand the price of cigarettes", "My husband quit smoking because we discourage his smoking including persuading him not to smoke, setting non-smoking rules at home or asking him to smoke in other places away from me"; "My husband cannot quit smoking because he needs to use cigarettes as a means for social interactions", "My husband cannot quit smoking because he needs to use cigarettes as a relief for the enhanced financial pressure of being a father" (since the newborn would force him to be financially supportive to the family as a man in the context of China). The five available responses were "do not agree, slightly agree, somewhat agree, mostly agree, completely agree". We dichotomized these responses into do not agree, slightly agree, somewhat agree in one group, and mostly agree, completely agree in the other group.
Statistical analyses
Descriptive statistics were used to describe participants' demographic characteristics, knowledge and beliefs about smoking, their partners' smoking prevalence before, during and after pregnancy, and the percentage that had quit smoking. Chi-square tests were used for univariate comparisons and non-conditional logistical regression analysis was applied to identify demographic and socio-economic factors associated with quitting and relapse. Crude and adjusted odds ratios (OR) were calculated with 95% confidence interval (95%CI). All the statistical analyses were performed with SPSS Version 19.0 (SPSS, Chicago, IL, USA).
Results
All 832 post-natal mothers who attended the clinic for child vaccination were approached during the study period. Twenty-one of the total 832 women did not meet the eligibility criteria (two were under the age of 18 and nineteen had resided in Shanghai for less than one year). Forty-six females refused to participate for reasons including insufficient time available, concerns about information disclosure and lack of interest. Consequently, 765 women completed the questionnaire, with a response rate of 94.3%.
The average age of the women surveyed was 28.6 (SD = 3.1) years. Over half (56.4%) had a college degree. Compared with nonsmoking husbands, husbands who smoked were less likely to have an education beyond high school (
P
< 0.0001) or to hold a valid Shanghai residence (
P
< 0.0001), and more likely to have monthly income less than 5000 CNY (
P
< 0.0001, equivalent of 750 USD). No statistically significant differences were observed between male smokers and nonsmokers regarding age, study site or frequency of receiving counseling on quitting smoking during wives' pregnancy (Table
1
).
Table 1
Characteristics of men's smoking status reported by their wives
Characteristics

No.

%

No.

%

Age (years)

 < 30

111

27.5

104

28.7

0.326

 30–35

230

57.1

199

54.9

 35+

62

15.4

59

16.2

Education

 Secondary School or Less

55

13.6

95

26.2

<0.0001

 High School Graduate

65

16.1

101

27.9

 College Graduate

160

39.7

112

30.9

 Above college

123

30.5

54

14.9

Residence

 Shanghai

207

51.4

134

37.0

<0.0001

 Non-Shanghai

196

48.6

228

63.0

Study site

 District 1

171

42.4

176

48.6

0.086

 District 2

232

57.6

186

51.4

Household income/M (CNY) ab

 < 5000

105

26.6

140

39.5

<0.0001

 5000–10000

119

30.1

121

34.2

 10000+

171

43.3

93

26.3

Counseling received during pregnancy

 Yes

286

71.0

249

68.8

0.511

 No

117

29.0

113

31.2
Three hundred and sixty-two of the 765 respondents (47.32%) reported their husbands as current or ever smokers. The prevalence of husband smoking in one year before, during and at least three months after their wives' pregnancy were 42.87% (328/765), 36.34% (
n
= 278/765) and 43.79% (
n
= 335/765) respectively. Of the male smokers the average number of cigarettes smoked per day at these three stages was 9.16, 7.22 and 8.48 respectively. During their wives' pregnancy, a large proportion of the 328 smoking husbands altered their smoking behaviors: 15.24% (50/328) quit smoking, 29.88% (98/328) reduced the daily number of cigarettes smoked, and 45.12% (148/328) relocated to smoke when their wives were nearby. In contrast, only 8.54% (28/328) of the smoking husbands made no behavior change, whereas 1.22% (4/328) increased the number of cigarettes smoked. According to the age of infants, husbands were classified into three group: 3–6 months, 6–12months and 12–18months. Despite initial changes, however, smoking relapse happened at 75% (12/16), 50% (7/14) and 85% (17/20) of the husbands respectively. The average proportion of quitting was 78% and most of the relapses occurred in the first six months after delivery (Table
2
).
Table 2
The proportion of smoking relapse in men by the age of child (Months)
Time after the birth of infant (months)

Proportion of relapse by the age of child

3–6

6–12

12–18

0–3

11

2

5

3–6

1

3

11

6–12

-

2

0

12–18

-

-

1

None

4

7

3

Total

16

14

20

Relapse Rate

75%

50%

85%
To those whose husband were smokers, 70% of the women reported that they had received counseling and/or information during pregnancy from doctors, co-workers, mass media and Internet but no significant association was found with the husbands' quitting (
P
= 0.24). The top three reasons that women believe in hindering husband to quit smoking were tobacco addiction (52%), not knowing how to quit (50%) and social context (46%). Another 48% agreed that smoking causes addiction and therefore medical assistance is necessary.
Multivariate analysis was conducted to understand the association between individual and environmental factors and quitting smoking (Table
3
). After adjusting for potential confounders, those who quit smoking during their wives' pregnancy were more likely those who were occasional smokers (OR = 4.83, 95%CI [2.22, 10.48]), who had smoked less than ten years (OR = 2.80, 95%CI [1.19, 6.58]), who did not smoke at home (OR = 4.48, 95%CI [1.94, 10.39]), did not use cigarettes as a social tool (OR = 4.05, 95%CI [1.74, 9.41]), who did not report an enhanced financial pressure of being a father (OR = 5.28, 95%CI [2.14, 13.02]), and who were influenced by family members (OR = 2.82, 95%CI [1.25, 6.38]).
Table 3
Multivariate analysis for factors associated with spouses quitting during their wives pregnancy, China (
n
=328)
Factors

Quitting smoking

Adjusted OR a

Yes

No

(95%CI)

Age (years)

 < 30

13

82

1.00

0.653

 30–35

29

148

1.07 (0.44,2.58)

 35+

8

48

1.70 (0.51,5.63)

Education

 < =Secondary School

6

80

1.00

0.451

 High School

19

70

1.05 (0.23,4.76)

 College

17

87

1.94 (0.54,6.96)

 Above College

8

41

0.86 (0.27,2.71)

Income (CNY)

 < 5000

20

109

1.00

0.151

 5000–10000

12

97

0.40 (0.14,1.13)

 10000+

18

72

0.74 (0.27,2.55)

Residence

 Non-Shanghai

29

176

1.00

0.033

 Shanghai

21

102

2.76 (1.08,7.04)

Study site

 District 1

30

130

1.00

0.039

 District 2

20

148

2.24 (1.04,4.85)

Smoking status before pregnancy

 Daily smoker

15

220

1.00

<0.0001

 Occasional smoker

35

58

4.83 (2.22,10.48)

Smoking years

 ≥ 10

14

154

1.00

0.018

 < 10

36

124

2.80 (1.19, 6.58)

Smoking at home

 Yes

15

174

1.00

<0.0001

 No

35

104

4.48 (1.94,10.39)

Wife received education on harms of tobacco

 No

13

90

1.00

0.238

 Yes

37

188

1.68 (0.71,4.01)

Social use

 Yes

17

152

1.00

0.001

 No

33

126

4.05 (1.74,9.41)

Under financial pressure

 High

21

83

1.00

<0.0001

 Low

29

195

5.28 (2.14,13.02)

Perception of cigarette price

 Expensive

37

202

1.00

0.245

 Not expensive

13

76

1.70 (0.70,4.01)

Influenced by family members b

 No

18

154

1.00

0.013

 Yes

32

124

2.82 (1.25,6.38)
Discussion
Conclusion
Pregnancy is a neglected opportunity for Chinese men to quit smoking. A 15.24% quitting rate was observed in expectant fathers in this study, along with another 75% changing their smoking behavior in some way. However, cessation was followed by a 78% cumulative relapse after delivery. Tobacco control interventions during pregnancy should be tailored to meet the needs of both the husband and the wife. They should be individualized respectively for light and heavy smokers. Professional and societal supports should be offered to the new parents to sustain quitting. A tobacco-free environment could make remarkable impacts on men's quitting smoking during their wives' pregnancy.
Acknowledgements
Not applicable.
Funding
This work was supported by a Distinguished Professorship Award to the corresponding author granted by the China Medical Board [grant numbers G16916403] which supported design of the study, analysis and interpretation of data. And also Fudan University's Undergraduate Research Opportunities Program from 2011 to 2012 [grant numbers (2012) S231] which supported data collection including transportation of investigators (university students) and questionnaire printing.
Availability of data and materials
Data can be shared upon research questions. Please contact the corresponding author at
bxu@shmu.edu.cn
.
Authors' contributions
YH designed the study, collected the data, analyzed data and wrote the manuscript. CX and SQ were involved in data collection and data analysis. XB was the advisor of the study involving in study design, data analysis and manuscript writing. ZPP and MK commented on the data and assisted with writing the manuscript. All authors read and approved the final version of the manuscript.
Competing interests
The authors declare that they have no competing interests.
Consent for publication
Not applicable.
Ethics approval and consent to participate
The study was approved by the Institutional Review Board of the School of Public Health, Fudan University. Written informed consent was obtained from all eligible women before they answered the anonymous questionnaire in the community health centers.
Open Access
This article is distributed under the terms of the Creative Commons Attribution 4.0 International License (
http://​creativecommons.​org/​licenses/​by/​4.​0/​
), which permits unrestricted use, distribution, and reproduction in any medium, provided you give appropriate credit to the original author(s) and the source, provide a link to the Creative Commons license, and indicate if changes were made. The Creative Commons Public Domain Dedication waiver (
http://​creativecommons.​org/​publicdomain/​zero/​1.​0/​
) applies to the data made available in this article, unless otherwise stated.