01.12.2018 | Case report | Ausgabe 1/2018 Open Access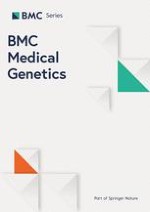 A novel mutation in the
TG

gene (G2322S) causing congenital hypothyroidism in a Sudanese family: a case report
Zeitschrift:
Autoren:

Y. Watanabe, E. Sharwood, B. Goodwin, M. K. Creech, H. Y. Hassan, M. G. Netea, M. Jaeger, A. Dumitrescu, S. Refetoff, T. Huynh, R. E. Weiss
Wichtige Hinweise
Electronic supplementary material
Abstract
Background
Congenital hypothyroidism (CH) has an incidence of approximately 1:3000, but only 15% have mutations in the thyroid hormone synthesis pathways. Genetic analysis allows for the precise diagnosis.
Case presentation
A 3-week old girl presented with a large goiter, serum TSH > 100 mIU/L (reference range: 0.7–5.9 mIU/L); free T
4
 < 3.2 pmol/L (reference range: 8.7–16 pmol/L); thyroglobulin (TG) 101 μg/L. Thyroid Tc-99 m scan showed increased radiotracer uptake. One brother had CH and both affected siblings have been clinically and biochemically euthyroid on levothyroxine replacement. Another sibling had normal thyroid function. Both Sudanese parents reported non-consanguinity. Peripheral blood DNA from the proposita was subjected to whole exome sequencing (WES). WES identified a novel homozygous missense mutation of the
TG
gene: c.7021G > A, p.Gly2322Ser, which was subsequently confirmed by Sanger sequencing and present in one allele of both parents. DNA samples from 354 alleles in four Sudanese ethnic groups (Nilotes, Darfurians, Nuba, and Halfawien) failed to demonstrate the presence of the mutant allele. Haplotyping showed a 1.71 centiMorgans stretch of homozygosity in the
TG
locus suggesting that this mutation occurred identical by descent and the possibility of common ancestry of the parents. The mutation is located in the cholinesterase-like (ChEL) domain of TG.
Conclusions
A novel rare missense mutation in the
TG
gene was identified. The ChEL domain is critical for protein folding and patients with CH due to misfolded TG may present without low serum TG despite the
TG
gene mutations.