01.12.2017 | Research article | Ausgabe 1/2017 Open Access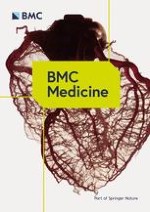 A nurse-delivered, clinic-based intervention to address intimate partner violence among low-income women in Mexico City: findings from a cluster randomized controlled trial
Zeitschrift:
Autoren:

Jhumka Gupta, Kathryn L. Falb, Oriana Ponta, Ziming Xuan, Paola Abril Campos, Annabel Arellano Gomez, Jimena Valades, Gisele Cariño, Claudia Diaz Olavarrieta
Wichtige Hinweise
Electronic supplementary material
The online version of this article (doi:
10.​1186/​s12916-017-0880-y
) contains supplementary material, which is available to authorized users.
Abbreviations
IPV
intimate partner violence
LMICs
low- and middle-income countries
RCT
randomized controlled trial
Background
The harmful public health impacts of male-perpetrated intimate partner violence (IPV) against women have been extensively documented, and include increased vulnerability to poor mental health, HIV, sexual and reproductive health problems, injury, and death [
1
,
2
]. Globally, one in three women report experiencing such violence, with greater prevalence found in low- and middle-income countries (LMICs) [
1
].
The healthcare sector has long been highlighted for its critical role in combating IPV. This is due in part to the high prevalence of IPV among women who seek health services and because healthcare providers have access to this otherwise isolated population [
3
,
4
]. However, sufficient evidence does not exist to guide healthcare providers on how to most effectively meet the needs of such women. A review of existing data from randomized trials on routine screening of all women for IPV experiences by healthcare providers indicated that reductions in IPV and improvements in other health behaviors and outcomes have not been consistent [
5
]. As such, even though the World Health Organization provides clinical guidelines for addressing IPV within primary care [
6
], it does not support routine screening for IPV. Common approaches within primary care settings include healthcare provider delivered education and counselling regarding IPV and related health concerns [
7
]. To date, however, healthcare sector interventions within primary care settings that focus on intervening with women identified for IPV through screening have also yielded mixed or sub-optimal findings regarding improvements in mental health, reduced experiences of IPV, and help seeking and safety planning behaviors [
8
–
11
].
Within LMICs, rigorous evaluations of health sector interventions to address IPV are particularly scarce. Numerous challenges exist in these contexts to implementing health sector IPV programming and in conducting rigorous evaluation trials that include overburdened health facilities, high staff turnover, lack of private spaces within healthcare facilities, victim-blaming attitudes held by providers, and weak referral networks [
3
]. Public (i.e., government run) facilities may face additional challenges with the follow-up of women since they may serve a lower-income and more vulnerable portion of the population than privately run healthcare facilities [
12
]. Moreover, as shown in a Mexico-based study [
13
], nursing staff may experience IPV at a level similar to the general population, which may pose personal obstacles to an IPV response due to normalization of such behavior. Regardless of such challenges, there is increasing evidence of high-level commitment to addressing IPV within governments, as Mexico ratified the Convention to End All forms of Discrimination Against Women and Children in 1981 and the Optional Protocol 2002 [
14
], and in 2007, the Mexican government passed the General Law on Women's Access to a Life Free From Violence [
15
]. The implementation of clinic-based IPV programming in LMICs is also increasingly being documented, and their governments are also being called upon to increase the prioritization of IPV within health sector budgets and policies [
3
,
7
,
16
]. A recent review conducted by the Pan American World Health Organization of clinical guidelines for responding to IPV in 12 out of 18 Latin American and Caribbean countries also underscored the importance of increased training of healthcare providers [
17
]. To optimally inform such efforts, data from rigorous evaluations of health sector responses to IPV within LMICs are urgently needed.
The current study aimed to address this important gap in the intervention literature through conducting a clinic-based randomized controlled trial (RCT) to assess the impact of a nurse-delivered intervention to women identified as experiencing recent IPV through screening within public health clinics in Mexico City. The intervention aimed to reduce IPV, improve use of community resources, increase safety planning, decrease reproductive coercion, and improve mental quality of life more so than the provision of resources alone.
Methods
Results
Discussion
Qualitative interviews (data not shown) with control participants also suggest that the experiences of being asked about IPV within a healthcare setting by the survey, research staff and the nurses also triggered self-reflection and behavioral changes within this vulnerable population. Due to ethical reasons, a "pure" control arm was not included in this study, and the control arm's standard of care was more than most women would typically receive within these clinics. In addition, while overall loss to follow-up was minimal, there was differential attrition between control and treatment groups, such that women in the control arm who dropped out of the study experienced more IPV. Thus, since these women were no longer in the 15-month follow-up, the effects of the intervention may be attenuated.
The findings of this randomized trial must be considered within the context of important limitations. In addition to the aforementioned limitations, the intervention was only delivered by select nurses and was not a system-wide intervention. While guidelines recommend moving more towards a system-wide approach to preventing and responding to IPV within the health sector, such an approach was not feasible in our study setting. It should also be noted that neither the researchers nor the clinic staff were blinded to their study condition. Thus, there may be a possibility of contamination, as control nurses may have provided more comprehensive counselling to participants beyond what the study protocol asked of them. The current study also remained in frequent contact and offered monetary compensation to all study participants as a means to reduce attrition. The attrition rate of this RCT was low; however, ongoing contact from the research team may have also promoted behavior change for participants in both control and treatment arms. Significant findings pertaining to safety planning and mental quality of life, furthermore, may be restricted to statistical significance only, as the clinical significance of such changes are currently unclear. Finally, behaviors may have been carried out but not captured by the survey items due to the time period of assessments. For instance, use of community resources was only assessed as "in the past 6 months". This may have underestimated the impact of the intervention on these behaviors.
These limitations notwithstanding, strengths of this trial include a large sample size, successful randomization, low attrition, high fidelity to the intervention by the nurses, the ability to conduct this work in a complex setting, and long term follow-up. We also adhered to strict ethical guidelines for conducting research on IPV.
Conclusions
These study findings do not lend support to utilizing an enhanced nurse delivered intervention over standard of care to reduce IPV. However, it should be noted that pre-post improvements in outcomes in both control and treatment arms do lend support to the idea that nurses, and more broadly, the health sector, can play a supportive role in assisting women with IPV experiences. Moreover, findings highlight that this nurse-delivered intervention has the potential to improve mental health and safety planning behaviors in the short term, but not in the longer term, although the extent to which statistically significant findings translate to clinically significant findings is currently not clear. Future work should consider examining interventions that involve healthcare provider responses bundled with other sectors (e.g., economic empowerment, policy, housing, social norms) to more holistically address the needs of women with IPV experiences within LMICs.
Acknowledgements
The authors thank the Mexico City Ministry of Health and MEXFAM for their collaboration. The authors would also like to thank Helena Acosta from International Planned Parenthood International for training the nurses in our study, and to Lauren Gurfein, MSW, for her support with literature reviews and formatting. The authors would also like to thank the women and nurses who participated in this study.
Funding
The study was funded by an anonymous donor administered by the Vanguard Charitable Endowment Program. Based on the stipulations set forth by the donor, we are not permitted to disclose the funder (PI: JG). This work was supported, in part, by Yale University's Center for Interdisciplinary Research on AIDS (CIRA), through grants from the National Institute of Mental Health, Paul Cleary, Ph.D., Principal Investigator (P30MH062294). The funders had no role in study design, data collection, analysis, interpretation, or writing of the report.
Availability of data and materials
The datasets generated and analyzed during the current study are not publicly available due to confidentiality concerns, but are available from the corresponding author on reasonable request.
Authors' contributions
JG had full access to all of the data in the study and takes responsibility for the integrity of the data and the accuracy of the data analysis. Study concept and design: JG, KLF, CDO. Acquisition of data: JG, OP, PAC, AAG, CDO. Analysis and interpretation of data: JG, KLF, OP, PAC, ZX, JV, GC, AAG, CDO. Drafting of the manuscript: JG, KLF, CDO. Critical revision of the manuscript for important intellectual content: JG, KLF, OP, PAC, ZX, JV, GC, AAG, CDO. Statistical analysis: JG, OP, ZX. Obtained funding: JG, CDO. Administrative, technical, or material support: JG, KLF, OP, PAC, AAG, CDO. Study supervision: JG, CDO. All authors read and approved the final manuscript.
Competing interests
The authors declare that they have no competing interests.
Publisher's Note
Springer Nature remains neutral with regard to jurisdictional claims in published maps and institutional affiliations.
Open Access
This article is distributed under the terms of the Creative Commons Attribution 4.0 International License (
http://​creativecommons.​org/​licenses/​by/​4.​0/​
), which permits unrestricted use, distribution, and reproduction in any medium, provided you give appropriate credit to the original author(s) and the source, provide a link to the Creative Commons license, and indicate if changes were made. The Creative Commons Public Domain Dedication waiver (
http://​creativecommons.​org/​publicdomain/​zero/​1.​0/​
) applies to the data made available in this article, unless otherwise stated.