19.01.2017 | PHASE I STUDIES | Ausgabe 4/2017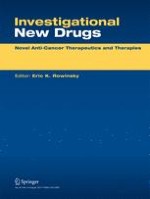 A phase I and pharmacokinetic study of afilbercept with FOLFIRI: comparison of Chinese and Caucasian populations
Zeitschrift:
Autoren:

Jianming Xu, Yingxin Li, Xing Sun, Dongsheng Zhang, Rongrui Liu, Samira Ziti-Ljajic, Dongmei Shi, Fengying Xue, Nathalie Le bail, Ruihua Xu
Wichtige Hinweise
Electronic supplementary material
The online version of this article (doi:
10.​1007/​s10637-016-0421-0
) contains supplementary material, which is available to authorized users.
Summary
Background
This study assessed the preliminary safety, pharmacokinetics (PK) and anti-tumor effects of aflibercept in combination with 5-fluorouracil, leucovorin and irinotecan (FOLFIRI) in Chinese patients with previously-treated advanced solid malignancies.
Patients and Methods
This open-label single-arm Phase I study conducted at two centers in China included adult (≥18 years) patients with metastatic or unresectable solid malignancies who had received ≥1 prior treatment. Patients received aflibercept 4 mg/kg IV on Day 1 followed by FOLFIRI over Days 1 and 2 every 2 weeks, and were assessed for safety, tumor response, PK parameters and immunogenicity. Post-hoc analyses included calculation of progression-free survival (PFS) for patients with colorectal cancer (CRC).
Results
A total of 20 patients were enrolled. The most common Grade 3/4 adverse events included neutropenia (35%), hypertension (30%), stomatitis (20%) and proteinuria (20%), and no anti-aflibercept antibodies were detected. Six patients achieved a partial response, and in 15 patients with CRC median PFS was 5.95 months (95% CI: 5.29–8.77). Free aflibercept remained in excess of VEGF-bound aflibercept for the majority of the study treatment duration. The mean free aflibercept values for C
max
(64.8 μg/mL) AUC (291 μg.day/mL), CL (0.92 L/day) and V
ss
(5.9 L) were similar to those measured in Caucasian patients. The addition of aflibercept did not influence the PK of the chemotherapy agents.
Conclusion
For Chinese patients with pre-treated advanced solid malignancies, 4 mg/kg of aflibercept in combination with FOLFIRI was well-tolerated, demonstrated preliminary anti-tumor activity and had a PK profile consistent with that in Caucasian patients.