28.11.2016 | Original Article – Clinical Oncology | Ausgabe 3/2017 Open Access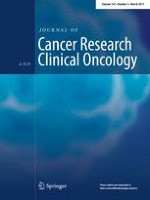 A phase III, open label, randomized multicenter controlled trial of oral versus intravenous treosulfan in heavily pretreated recurrent ovarian cancer: a study of the North-Eastern German Society of Gynecological Oncology (NOGGO)
Zeitschrift:
Autoren:

Jalid Sehouli, Oliver Tomè, Desislava Dimitrova, Oumar Camara, Ingo Bernhard Runnebaum, Hans Werner Tessen, Beate Rautenberg, Radoslav Chekerov, Mustafa Zelal Muallem, Michael Patrick Lux, Tanja Trarbach, Gerald Gitsch
Wichtige Hinweise
Electronic supplementary material
The online version of this article (doi:
10.​1007/​s00432-016-2307-0
) contains supplementary material, which is available to authorized users.
Results of this study were presented at the IGCS 2014 in Melbourne.
iOMEDICO Clinical Research, Freiburg, Germany is associated to University Hospital Essen, West German Cancer Center, Clinic for Internal Medicine (Tumor Research), Essen, Germany.
Abstract
Objective
In recurrent ovarian cancer (ROC), there is a high demand on effective therapies with a mild toxicity profile. Treosulfan is an alkylating agent approved as oral (p.o.) and intravenous (i.v.) formulation for the treatment of recurrent ovarian cancer. Data on safety and efficacy for either formulation are rare. For the first time we conducted a randomized phase III study comparing both formulations in women with ROC.
Methods
Patients having received at least two previous lines of chemotherapy were randomly assigned to one of two treatment arms: treosulfan i.v. 7000 mg/m2 d1 q4w or treosulfan p.o. 600 mg/m2 d1-28 q8w. Primary endpoint was safety regarding hematological and gastrointestinal toxicity grade III/IV, secondary endpoints were other toxicities, clinical benefit rate (CBR), time to progression (TTP), overall survival (OS) and quality of life.
Results
250 patients were treated with treosulfan i.v. (128) or treosulfan p.o. (122). In general treosulfan therapy was well tolerated in both treatment arms. Leukopenia grade III/IV occurred significantly more frequently in the p.o. arm (3.9% i.v. arm, 14.8% p.o. arm,
p
= 0.002). Other toxicities were similar in both arms. CBR was comparable between arms (41.4% i.v. arm, 36.9% p.o. arm). No difference in TTP (3.7 months i.v. arm, 3.5 months p.o. arm) or OS (13.6 months i.v. arm, 10.4 months p.o. arm,
p
= 0.087) occurred.
Conclusions
Given the safety and efficacy results treosulfan is an acceptable option for heavily pretreated OC patients. Regarding the toxicity profile the i.v. application was better tolerated with less grade III and IV toxicities.