01.12.2018 | Case report | Ausgabe 1/2018 Open Access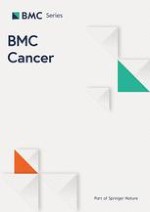 A primary undifferentiated pleomorphic sarcoma of the lumbosacral region harboring a LMNA-NTRK1 gene fusion with durable clinical response to crizotinib: a case report
Zeitschrift:
Autoren:

Ning Zhou, Reinhold Schäfer, Tao Li, Meiyu Fang, Luying Liu
Wichtige Hinweise
Electronic supplementary material
Abbreviations
CCR
Complete clinical response
G-CSF
Granulocyte colony-stimulating factor
MAPK
Mitogen-activated protein kinase
MFH
Malignant fibrous histiocytoma
MRI
Magnetic resonance imaging
NGS
Next-generation sequencing
PET/CT
Positron emission tomography−computed tomography
PI3K
Phosphatidylinositol 3-kinase
TrkA
Tropomyosin receptor kinase A
UPS
Undifferentiated pleomorphic sarcoma
Background
Undifferentiated pleomorphic sarcoma (UPS), which is also referred to as malignant fibrous histiocytoma (MFH) according to the 2002 World Health Organization classification, is a rare and aggressive type of mesenchymal malignancy with no definitive cell of origin or specific recurrent genetic hallmarks. Extensive immunohistochemical characterization is required to differentiate UPS from other tumors. While UPS can occur throughout the body, these tumors are commonly found in the extremities and in the retroperitoneum [
1
,
2
], and superficial lesions (subcutaneous) are rare. High-grade spindle cell sarcomas are one subtype of UPSs that is particularly challenging to accurately diagnose and effectively treat. The current 5-year overall survival rate for patients with UPSs is only 65–70%, highlighting the need for more effective treatment options [
3
].
At present, UPSs should be treated according to current guidelines for soft tissue sarcoma (STS), because no standard treatment strategy specific for UPSs has been established. Extensive excision and radiotherapy remain the cornerstones of treatment for non-metastatic tumors. With the majority of these tumors being high grade at diagnosis, localized treatments commonly result in poor local control and poor survival. Perioperative chemotherapy was recently reported to be beneficial in terms of overall survival [
4
], and doxorubicin as a single agent or in combination with ifosfamide is the first choice of chemotherapy in cases of UPS metastasis. A more complete understanding of the molecular characteristics and cytogenetics of these tumors will aid in the differentiation of sarcoma subtypes and development of specifically targeted therapies. Here we report a rare case of UPS in the lumbrosacral region and review the diagnostic procedures applied in this case as well as the treatment decisions and outcomes.
Case presentation
A 45-year-old male patient presented with a complaint of progressive pain and soreness in the lumbosacral region persisting for more than 3 months. The pain radiated to the left thigh and perineum but did not affect walking. Magnetic resonance imaging (MRI) and computed tomography (CT) scans with and without intravenous contrast showed a tumor mass adjacent to the left side of the fifth lumbar spinous process. The tumor was located in the lower left part of the erector spinae and extended onto the fifth lumbar vertebra, the first sacral vertebra, and the iliac wing. Positron emission tomography with CT (PET/CT) showed a hypermetabolic lesion in the erector spinae adjacent to the left side of the fifth lumbar spinous process. No sites of regional or distant metastases were found. A core biopsy of the tumor mass revealed spindle-shaped cells with infiltrating inflammatory cells. Together the morphological and immunohistochemical features indicated a low-grade inflammatory myofibroblastic tumor. The expression profile based on immunostaining was as follows: overall positive for vimentin, CD34, ALK (SP8), and p53; focally positive for smooth muscle actin (SMA); sporadically positive for S-100; partially positive for CD68; and negative for cytokeratin (CK) (AE1/AE3), desmin, and CD117. The Ki-67 nuclear labeling index was 10%.
The patient reported no other symptoms. Physical examinations revealed no neuro-pathological signs or symptoms. He denied smoking, alcohol, or illicit drug usage. He also denied recent radiation or toxin exposure. He had no history of unintentional weight loss, fever, or chills. He had no family history of malignant or other chronic diseases, with the exception of a sister who had breast cancer.
Discussion and conclusions
In summary, this case provides robust evidence for the importance of molecular evaluation in cases of these rare but aggressive lesions and stresses the need for the development of drugs for better molecularly targeted STS treatment, especially when standard-of-care options have been exhausted or treatment options are unavailable.
Acknowledgments
The first author is an MD candidate in Charité Universitätsmedizin Berlin and is sponsored by Zhejiang Cancer Hospital.
Availability of data and materials
The datasets used and/or analyzed during the current study are available from the corresponding authors on reasonable request.
Ethics approval and consent to participate
Informed consent as documented by signature was obtained from this patient.
Consent for publication
Written informed consent was obtained from the patient for publication of the Case Report and any accompanying images.
Competing interests
The authors declare that they have no competing interests.
Publisher's note
Springer Nature remains neutral with regard to jurisdictional claims in published maps and institutional affiliations.
Open Access
This article is distributed under the terms of the Creative Commons Attribution 4.0 International License (
http://​creativecommons.​org/​licenses/​by/​4.​0/​
), which permits unrestricted use, distribution, and reproduction in any medium, provided you give appropriate credit to the original author(s) and the source, provide a link to the Creative Commons license, and indicate if changes were made. The Creative Commons Public Domain Dedication waiver (
http://​creativecommons.​org/​publicdomain/​zero/​1.​0/​
) applies to the data made available in this article, unless otherwise stated.