01.12.2018 | Case report | Ausgabe 1/2018 Open Access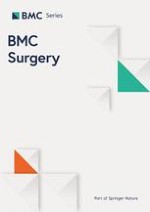 A two-stage inversion technique for total auricular reconstruction: case report and literature review
Zeitschrift:
Autoren:

Yanlu Lyu, Lingguo Ma, Chaoyang Ke, Wei Zhang, Ming Liu
Abstract
Background
The reconstruction of a total amputated auricle is aesthetically demanding for otorhinolaryngology surgeons. Although various reattachment methods have been introduced since 1898, only a few have achieved satisfactory aesthetic outcomes. This study aimed to present a successful case of auricular reconstruction using a two-stage inversion technique.
Case presentation
The patient's left ear was extensively lacerated in a violent event 3 h before admission. The first-stage surgery was performed within 6 h of ischemic time. The amputated segment was prepared and trimmed carefully, and the anterior aspect of the avulsed auricle was directly sutured. The posterior skin of the ear was separated from the cartilage to close the wound. Then, using an inversion maneuver, the cartilage was pushed into a postauricular underlying muscle bed. In the second-stage surgery 27 days after the first procedure, the auricle was released and the normal ear structure was restored using full-thickness skin grafting. During a follow-up of more than 9 years, the patient showed satisfactory postoperative results in terms of cosmetic and functional outcomes of the reattached auricle. The size of his left ear was about 90% of the size of his right ear.
Conclusions
The reconstruction of a total amputated auricle is challenging. The key to surgery lies in the sufficient preservation of the meticulous shape of the cartilage. The microsurgical anastomosis is a good choice only in selected cases. It is believed that the two-stage inversion technique can be a simple alternative to reconstruct the auricle in most situations when it is lacerated and contaminated.