01.12.2017 | Research article | Ausgabe 1/2017 Open Access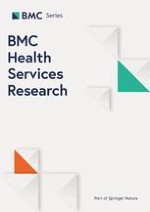 Academic detailers' and general practitioners' views and experiences of their academic detailing visits to improve the quality of analgesic use: process evaluation alongside a pragmatic cluster randomized controlled trial
Zeitschrift:
Autoren:

Sibyl Anthierens, Veronique Verhoeven, Olivier Schmitz, Samuel Coenen
Abstract
Background
Continuous medical education strategies, including academic detailing (AD), have mixed effects on the quality of prescribing in general practice. Alongside a cluster-randomized controlled trial (cRCT) to assess the effectiveness of AD visits (on appropriate prescribing of analgesics for chronic pain in osteoarthritis) by Farmaka, an independent drug information center, we performed a process evaluation to identify possible barriers and success factors to improve these AD visits, both from the perspective of the academic detailers delivering the visits and the general practitioners (GPs) receiving them.
Methods
We performed semi-structured interviews with 20 GPs who participated in the cRCT and 13 academic detailers. The interviews were transcribed verbatim and analysed using thematic analysis.
Results
GPs viewed AD visits as a practical and useful CME strategy, that is less time consuming than other CME activities, and the visitors as providers of objective and independent information relevant to their daily practice with whom they can have meaningful discussion. Academic detailers saw themselves as content experts, mainly informing GPs about the topic and not emphasizing on behavior change. Both GPs and academic detailers believed that the AD visits could have better interaction and discussion if performed in small groups. According to the GPs, the visits on analgesic use provided some new and relevant information as well as clarifying some misconceptions. They increased awareness of the disadvantages of particular non-steroidal anti-inflammatory drugs and of the lower doses of paracetamol that should be prescribed for chronic use, which may have changed their beliefs and/or attitudes towards more appropriate prescribing for osteoarthritis. However, the transfer of knowledge into practice was seen as not so straightforward.
Conclusions
GPs view AD visits as a credible and interesting way of CME that enhances their knowledge and increases reflection on their prescribing behavior.