01.12.2018 | Study protocol | Ausgabe 1/2018 Open Access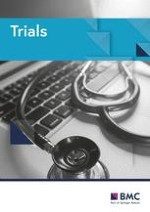 Acupuncture as an early treatment for idiopathic sudden sensorineural hearing loss (ISSNHL) patients with flat or high-frequency drop audiograms: study protocol for a randomized controlled trial
Zeitschrift:
Autoren:

Kai Shang, Xin Ma, Hui-Lin Liu, Yuan-Yuan Jing, Lin Zeng, Nan Li, De-An Zhou, Jia Wei, Chen Zhang
Wichtige Hinweise
Electronic supplementary material
Kai Shang and Xin Ma contributed equally to this work.
Abstract
Background
Idiopathic sudden sensorineural hearing loss (ISSNHL) is a common form of deafness. Acupuncture has been used as a salvage therapy for ISSNHL in China since 200 BCE. However, the efficacy of acupuncture has not been confirmed in strictly controlled trials. We designed a randomized controlled clinical trial to evaluate the efficacy and long-term effects of acupuncture in patients with early ISSNHL.
Methods/Design
In this randomized controlled clinical trial, we will enroll 124 participants with ISSNHL diagnosed 2 to 4 weeks prior to enrollment, who have shown little hearing improvement after routine Western medical treatment (i.e., corticosteroids). 62 of these participants will have flat audiogram and the other 62 will have a high-frequency drop audiogram; they will all take Methycobal while half of the flat type and half of the high-frequency drop type will also receive acupuncture treatments for 4 weeks in a four-group design. The primary outcome measure will be the effective rate of hearing improvement (defined as the proportion of patients with at least 15-dB improvement in the hearing loss frequency band). The secondary outcome will measure the improvements in Pure Tone Average, Word Recognition Score, and Tinnitus Handicap Inventory. The assessments of the participants will be made at baseline, after treatment (week 4), and at follow-up (week 28).
Discussion
This study aims to explore the efficacy and long-term effects of acupuncture in patients with ISSNHL. This study will be a randomized controlled trial with strict methodology and few design deficits. If our study yields positive results, acupuncture could be recommended as a salvage therapy for patients with ISSNHL.