01.12.2018 | Research | Ausgabe 1/2018 Open Access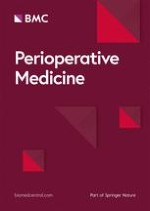 Acute kidney injury in postoperative shock: is hyperoncotic albumin administration an unrecognized resuscitation risk factor?
Zeitschrift:
Autoren:

Chiedozie I. Udeh, Jing You, Matthew R. Wanek, Jarrod Dalton, Belinda L. Udeh, Sevag Demirjian, Nadeem Rahman, J. Steven Hata
Abbreviations
ASD
Absolute standardized difference
CRYCO
Crystalloids or Colloids study
KDIGO
Kidney Disease Improving Global Outcomes
Background
Resuscitation with administration of hyperoncotic albumin is controversial with regard to clinical outcomes and organ injury in shock. Hyperoncotic colloids exert higher osmotic pressure relative to human plasma, a characteristic exponentially and directly related to the colloid concentration. Thus, 5% albumin with a colloid osmotic pressure similar to plasma is isooncotic. Whereas 20% albumin with osmotic pressure nearly 8-fold higher than plasma is classified as hyperoncotic, as are hydroxyethyl starch solutions at 6% or greater (Hiippala et al.
1991
; Tonnessen et al.
1993
). Owing to this characteristic, hyperoncotic fluids have been used for resuscitation. Proponents contend that albumin could limit organ damage in shock states, by achieving hemodynamic goals with smaller fluid volumes and avoiding adverse consequences of hypervolemia.
The use of 25% albumin is partly based on the presumption that distribution of administered albumin is primarily intravascular. If so, albumin should raise colloid oncotic pressure and expand plasma volume in shock. However, evolving understanding of endothelial glycocalyx physiology has upended the classic Starling principles of trans-endothelial fluid and protein flux (Woodcock and Woodcock
2012
; Chappell et al.
2008
; Levick and Michel
2010
; Becker et al.
2010
). It is now established that the kinetics of albumin differ markedly between health and critical illness states; such that the normal trans-capillary escape rate of albumin increases 100–300% in shock states due to increased permeability (Nicholson et al.
2000
). Consequently, the effectiveness of resuscitation with hyperoncotic albumin has been questioned. Clinically, this is underscored by the fact that when compared to less costly crystalloids, hyperoncotic albumin solutions have not conferred mortality or other outcome benefits in shock (Myburgh
2008
; Roch et al.
2011
; Polito and Martin
2013
; Raghunathan et al.
2015
; Schortgen et al.
2010
). Indeed, outcomes and adverse effects of hyperoncotic albumin, other colloids, and crystalloids in acute resuscitation have been found to be similar (Finfer et al.
2004
; Bunn and Trivedi
2012
; Patel et al.
2014
; Jiang et al.
2014
; Stockwell et al.
1992a
; Stockwell et al.
1992b
).
Additionally, concerns have been raised periodically about this paucity of benefit, yet possible harm from hyperoncotic colloids, including potential nephrotoxicity and mortality (Brochard et al.
2010
; Hartog et al.
2011
; Perel et al.
2013
; Zarychanski et al.
2013
; Moran and Kapsner
1987
). These culminated in systematic reviews and prompted consensus recommendations against continued use of hetastarches due to nephrotoxicity. As a result, hyperoncotic albumin may be the sole colloid in many hospitals (Brochard et al.
2010
; Hartog et al.
2011
; Perel et al.
2013
; Zarychanski et al.
2013
). However, other observational cohort studies of resuscitation have suggested increased risks of acute kidney injury (AKI) associated with hyperoncotic albumin in shock (Frenette et al.
2014
; Schortgen et al.
2008
). It is therefore crucial to clarify any renal impact of hyperoncotic albumin administration during the high-risk period of shock. Accordingly, the goal of this study was to evaluate the association between early exposure to hyperoncotic albumin (within the first 48 h of onset of shock) and acute organ dysfunction in post-surgical patients with shock.
Methods
Results
Discussion
The strengths of our study include evaluating effect of 25% albumin exposure early during the course of shock, addressing the period of greatest hemodynamic instability, and potential for renal injury. We leveraged a large high-risk patient population and electronic medical records of our institution. To limit bias and misclassification risk, we analyzed consecutive patients, identified using objective criteria. Also, diagnostic codes for the clinical covariates were applied by professionals blinded to the study. The analysis used propensity matching of covariates to limit differences in severity of illness among the patient samples. Moreover, we set a threshold for assessing imbalance after propensity score matching by using an absolute standardized difference of < 0.05 between the groups. This is far stricter than the conventional threshold of 0.2.
Our study has inherent limitations because it is a single center, retrospective study which limits generalizability. Although we matched for potential confounders, the role of other clinical factors, not retrievable from our institution's database, cannot be excluded as effect modifiers or confounders. We could not quantify the dose of 25% albumin, or characterize the type, and dose of crystalloids administered (0.9% saline or lactated Ringer's solution). This precluded assessment of dose-dependency with outcomes. This was also the case with hetastarches; however, our institutional protocols for hetastarches then, limited their use to no more than 1 L to avoid coagulopathy.
The findings of this study are germane in supporting an association between hyperoncotic albumin exposure and AKI in early perioperative shock. Given the nephrotoxicity risks of hetastarches, the concordance of our findings with similar studies of resuscitation in shock supports a re-examination of the therapeutic indications of hyperoncotic albumin.
Conclusions
The use of hyperoncotic albumin for acute resuscitation in shock is controversial given its economic costs, absence of beneficial clinical outcomes relative to crystalloids, and the potential for nephrotoxicity. Our study suggests that exposure to hyperoncotic albumin during the first 48 h of perioperative shock may be associated with an increased risk of acute kidney injury, particularly among post-cardiac surgery patients. Within the matched groups, we did not detect differences in risk of liver injury, ICU length of stay or in-hospital mortality. Given the retrospective nature of the study, we view our findings as preliminary, and indicative of a need for prospective, randomized studies to achieve greater validity, and to identify the mechanisms for this apparent toxicity.
Acknowledgements
The authors thank Ms. Xiahong Li for her invaluable assistance with data collection and preparation.
Funding
This study was solely supported by institutional funds.
Availability of data and materials
The datasets used and/or analyzed during the current study are available from the corresponding author on reasonable request.
Ethics approval and consent to participate
The Cleveland Clinic Institution Review Board approved this study and waived informed consent.
Consent for publication
Not applicable
Competing interests
The authors declare that they have no competing interests.
Publisher's Note
Springer Nature remains neutral with regard to jurisdictional claims in published maps and institutional affiliations.
Open Access
This article is distributed under the terms of the Creative Commons Attribution 4.0 International License (
http://​creativecommons.​org/​licenses/​by/​4.​0/​
), which permits unrestricted use, distribution, and reproduction in any medium, provided you give appropriate credit to the original author(s) and the source, provide a link to the Creative Commons license, and indicate if changes were made. The Creative Commons Public Domain Dedication waiver (
http://​creativecommons.​org/​publicdomain/​zero/​1.​0/​
) applies to the data made available in this article, unless otherwise stated.