01.03.2015 | Review | Ausgabe 2/2015 Open Access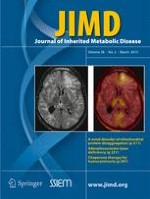 Adenylosuccinate lyase deficiency
Zeitschrift:
Autoren:

Agnieszka Jurecka, Marie Zikanova, Stanislav Kmoch, Anna Tylki-Szymańska
Wichtige Hinweise
Communicated by: Jaak Jaeken
References to electronic databases
: adenylosuccinate lyase deficiency: OMIM 103 050. Adenylosuccinate lyase: EC 4.3.2.2.
Disease name with synonyms
: Adenylosuccinate lyase deficiency; ADSL deficiency; adenylosuccinase deficiency
Abstract
Adenylosuccinate lyase ADSL) deficiency is a defect of purine metabolism affecting purinosome assembly and reducing metabolite fluxes through purine
de novo
synthesis and purine nucleotide recycling pathways. Biochemically this defect manifests by the presence in the biologic fluids of two dephosphorylated substrates of ADSL enzyme: succinylaminoimidazole carboxamide riboside (SAICAr) and succinyladenosine (S-Ado). More than 80 individuals with ADSL deficiency have been identified, but incidence of the disease remains unknown. The disorder shows a wide spectrum of symptoms from slowly to rapidly progressing forms. The fatal neonatal form has onset from birth and presents with fatal neonatal encephalopathy with a lack of spontaneous movement, respiratory failure, and intractable seizures resulting in early death within the first weeks of life. Patients with type I (severe form) present with a purely neurologic clinical picture characterized by severe psychomotor retardation, microcephaly, early onset of seizures, and autistic features. A more slowly progressing form has also been described (type II, moderate or mild form), as having later onset, usually within the first years of life, slight to moderate psychomotor retardation and transient contact disturbances. Diagnosis is facilitated by demonstration of SAICAr and S-Ado in extracellular fluids such as plasma, cerebrospinal fluid and/or followed by genomic and/or cDNA sequencing and characterization of mutant proteins. Over 50 ADSL mutations have been identified and their effects on protein biogenesis, structural stability and activity as well as on purinosome assembly were characterized. To date there is no specific and effective therapy for ADSL deficiency.