01.12.2019 | Case report | Ausgabe 1/2019 Open Access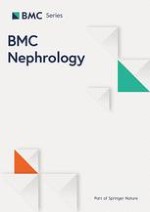 Albumin losses during hemodiafiltration: all dialyzers are not created equal - a case report
Zeitschrift:
Autoren:

Charles Cuvelier, Michel Tintillier, Gabriela Migali, Charlotte Van Ende, Jean-Michel Pochet
Wichtige Hinweise
Publisher's Note
Springer Nature remains neutral with regard to jurisdictional claims in published maps and institutional affiliations.
Abbreviations
FCR
Fractional catabolic rate
HPMs
High-performance membranes
LMWPs
Low molecular weight proteins
Background
Hemodiafiltration (HDF) provides better clearance of medium-high molecular weight solutes than conventional hemodialysis (HD), by a combination of diffusive and convective solutes transport through a high flux (HF) membrane [
1
] and might improve survival [
2
–
4
]. However, online hemodiafiltration (OL-HDF) can lead to an increase in albumin loss across the dialyzer, especially with high permeability membrane and high convective volume (CV) [
5
,
6
]. We report the case of a 71-year old woman who developed severe hypoalbuminemia resulting from massive albumin loss during dialysis while treated by high-volume post-dilutional OL-HDF with a large surface steam sterilized polyphenylene HF dialyzer, the Phylther HF20SD (Bellco). We will discuss the issue of albumin leakage through the hemodialysis membrane with different extracorporeal dialysis modalities and argue against the use of this specific membrane, the Phylther SD, for OL-HDF.
Case presentation
This 71-year-old woman with ESRD related to chronic interstitial nephritis started renal replacement therapy in December 2016. Her past medical history included high blood pressure, paroxysmal junctional tachycardia, peptic esophagitis and multinodular goiter.
She was treated from the beginning by post-dilution OL-HDF through a left arm fistula, 4 h, 3 times per week. Her dry weight was around 62 kg. The dialysis monitor was a 5008 Cordiax equipped with 'AutoSub plus' (Fresenius Medical Care) to maximize HDF substitution volume which was usually 28–30 l per session. The dialyzer was a Phylther HF20SD (a 2.0 m 2 heat sterilized HF polyphenylene membrane from Bellco).
At the initiation of dialysis, total serum protein and albumin were 6.0 g/dl and 4.0 g/dl, respectively. Urine albumin was 0.38 g/l, 3 months before starting dialysis. During the following months, the patient developed severe hypoalbuminemia. The lowest value observed was 2.26 g/dl in July 2017 (see Fig.
1
.). At that time, albuminuria was measured at 105 mg/24 h. There was no symptom of malabsorption. A 72-h stool collection show no steatorrhea. Duodenal biopsies were normal. There was no sign of liver failure.
×
We hypothesized that hypoalbuminemia might result from albumin loss across the dialyzer. In September 2017, the patient was shifted from OL-HDF to standard HF HD, keeping the same dialyzer and dialysis schedule. During the following months, we observed a progressive correction of the hypoalbuminemia as illustrated in Fig.
1
.
In October 2018, we shifted the patient on a medium cut-off (MCO) filter, the Theranova 400 (a 1.7 m 2 polyarylethersulfone – polyvinylpyrrolidone membrane from Baxter). The albuminemia remained stable.
To better delineate the impact of the epuration technique on the albumin losses we measured recently in this patient the amount of albumin in the total dialysate collection during one session with the Phylther HF20SD on OL-HDF and one session with the same filter but on standard HD. The convective volume was 29.0 l for the HDF session. The total albumin losses were 23.6 g on OL-HDF and 4.6 g on HD.
Discussion and conclusions
In conclusion, the current case illustrates that OL-HDF can lead to significant albumin loss into the dialysate and cause hypoalbuminemia, especially with high convective volume and high permeability membrane, as the Phylther SD membrane. Indeed, despite in vitro characteristics of a traditional HF dialyzer, this polyphenylene membrane behaves like a PLM in vivo. When prescribing post-dilutional OL-HDF, the choice of the dialyzer membrane should be made with caution. Users of the steam sterilized polyphenylene membrane, the Phylther SD, should be informed of the risk of large albumin loss with this membrane during post-dilution OL-HDF.
Acknowledgements
The authors acknowledge Mr. Gabriel Senzot, hemodialysis technician, for technical assistance.
Ethics approval and consent to participate
Not applicable.
Consent for publication
Consent was obtained from the patient presented in this case report. A signed BMC Nephrology Consent from is available on request.
Competing interests
The authors declare that they have no competing interests.
Open Access
This article is distributed under the terms of the Creative Commons Attribution 4.0 International License (
http://​creativecommons.​org/​licenses/​by/​4.​0/​
), which permits unrestricted use, distribution, and reproduction in any medium, provided you give appropriate credit to the original author(s) and the source, provide a link to the Creative Commons license, and indicate if changes were made. The Creative Commons Public Domain Dedication waiver (
http://​creativecommons.​org/​publicdomain/​zero/​1.​0/​
) applies to the data made available in this article, unless otherwise stated.
Publisher's Note
Springer Nature remains neutral with regard to jurisdictional claims in published maps and institutional affiliations.