30.04.2016 | Original Article | Ausgabe 1/2017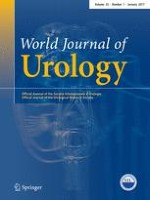 American Confederation of Urology (CAU) experience in minimally invasive partial nephrectomy
Zeitschrift:
Autoren:

Fernando P. Secin, Octavio A. Castillo, José J. Rozanec, Marcelo Featherston, Pablo Holst, José Cocisfran Alves Milfont, Patricio García Marchiñena, Alberto Jurado Navarro, Anamaría Autrán, Agustín R. Rovegno, Oscar Rodríguez Faba, Joan Palou, Victor Teixeira Dubeux, Luciano Nuñez Bragayrac, Rene Sotelo, Stenio Zequi, Gustavo Cardoso Guimarães, Mario Álvarez-Maestro, Luis Martínez-Piñeiro, Gustavo Villoldo, Alberto Villaronga, Diego Abreu Clavijo, Ricardo Decia, Rodrigo Frota, Ivar Vidal-Mora, Diana Finkelstein, Juan I. Monzó Gardiner, Oscar Schatloff, Andres Hernández-Porrás, Félix Santaella-Torres, Emilio T. Quesada, Rodolfo Sánchez-Salas, Hugo Dávila, Humberto Villavicencio Mavric
Abstract
Purpose
To describe the perioperative and oncology outcomes in a series of laparoscopic or robotic partial nephrectomies (PN) for renal tumors treated in diverse institutions of Hispanic America from the beginning of their minimally invasive (MI) PN experience through December 2014.
Methods
Seventeen institutions participated in the CAU generated a MI PN database. We estimated proportions, medians, 95 % confidence intervals, Kaplan–Meier curves, multivariate logistic and Cox regression analyses. Clavien–Dindo classification was used.
Results
We evaluated 1501 laparoscopic (98 %) or robotic (2 %) PNs. Median age: 58 years. Median surgical time, warm ischemia and intraoperative bleeding were 150, 20 min and 200 cc. 81 % of the lesions were malignant, with clear cell histology being 65 % of the total. Median maximum tumor diameter is 2.7 cm, positive margin is 8.2 %, and median hospitalization is 3 days. One or more postoperative complication was recorded in 19.8 % of the patients: Clavien 1: 5.6 %; Clavien 2: 8.4 %; Clavien 3A: 1.5 %; Clavien 3B: 3.2 %; Clavien 4A: 1 %; Clavien 4B: 0.1 %; Clavien 5: 0 %. Bleeding was the main cause of a reoperation (5.5 %), conversion to radical nephrectomy (3 %) or open partial nephrectomy (6 %). Transfusion rate is 10 %. In multivariate analysis, RENAL nephrometry score was the only variable associated with complications (OR 1.1; 95 % CI 1.02–1.2;
p
= 0.02). Nineteen patients presented disease progression or died of disease in a median follow-up of 1.37 years. The 5-year progression or kidney cancer mortality-free rate was 94 % (95 % CI 90, 97). Positive margins (HR 4.98; 95 % CI 1.3–19;
p
= 0.02) and females (HR 5.6; 95 % CI 1.7–19;
p
= 0.005) were associated with disease progression or kidney cancer mortality after adjusting for maximum tumor diameter.
Conclusion
Laparoscopic PN in these centers of Hispanic America seem to have acceptable perioperative complications and short-term oncologic outcomes.